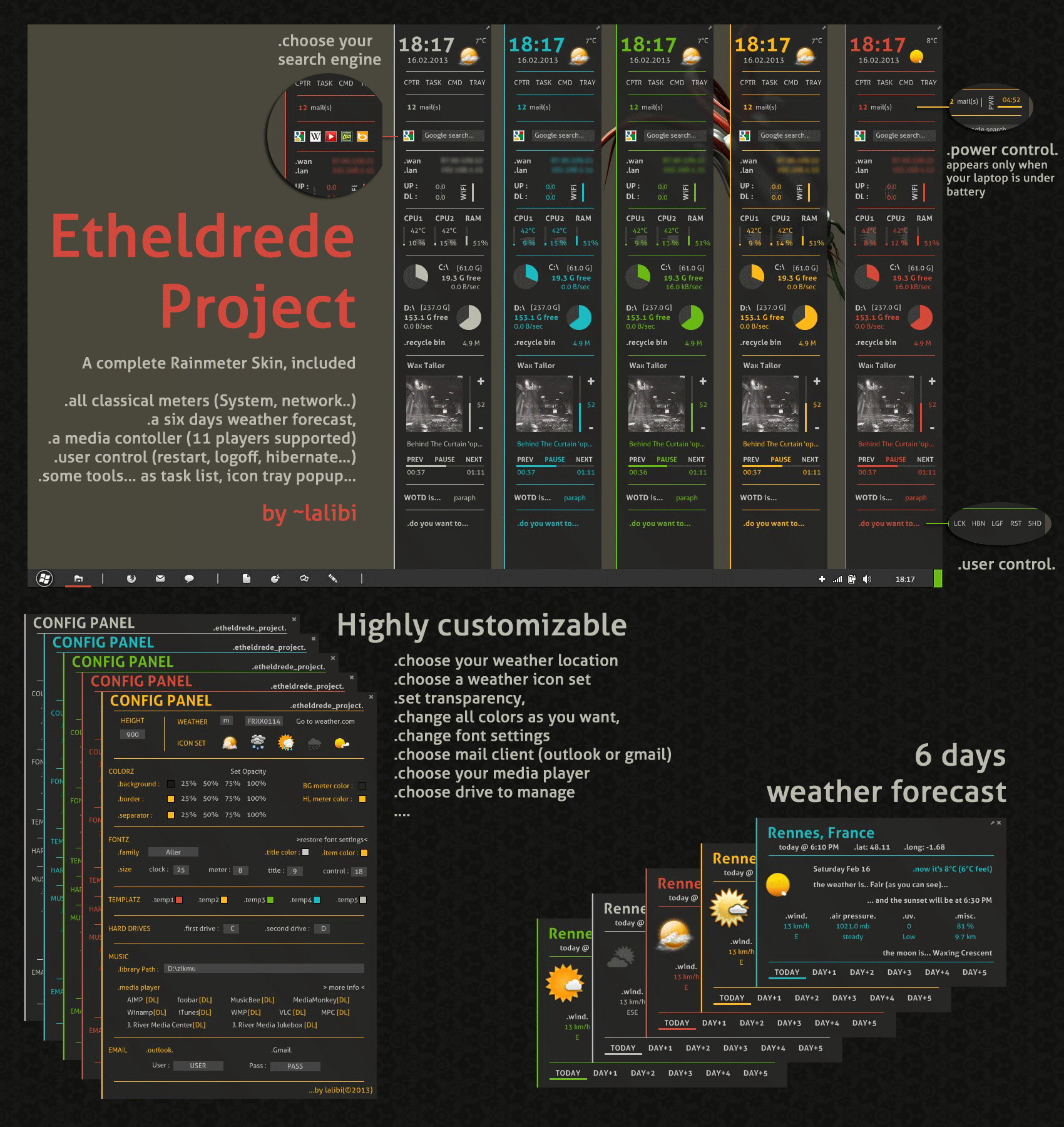 Watch
Added 25/02/203 : 621 downloads and a few (but quality) comments.
Please let a message of your feelings... or simply a thanks if you like my job
...maybe i'm working on a deviation of Etheldrede_Project...
################# UPDATE V1.02 #################
Added in one by one version :
- 4 CPU +RAM + SWAP
- 6 CPU + RAM + SWAP +VIRTUAL MEMORY
#############################################
################# UPDATE V1.01 #################
Major upgrades :
First, as asking by yorgash
[link]
, you can now choose wich meters you want to view.
After installation, you can view 2 themes :
- Etheldrede_Project(AIO) : this is the classical Bar with all meters included - Default one -
- Etheldrede_Project(oneBYone) : this theme launches background border and some meters (but not all)... so there in the skin menu you can choose which meter you want to view. As they are draggable, you can adjust them as you want.
Second upgrade, asking by akhmedcfiej
[link]
, some meters have 2 variants (normal or mini) : network, Hard Drive (you can now monitor them one by one or together)...
You can now also choose to align the color border at right or left.
#############################################
First I created this skin for my personnal used... and I decided to share it (thanx friends)
This skin is in third part :
the Bar whit a lot of meters, i let you discover them...
the weather panel, with a six days weather forecast,
the config panel,
I worked hard on it for you to share (for my personnal use, I work with Notepad++), but it is highly customizable :
- adjust heigth,
- choose your weather location,
- choose a weather icon set,
- you can change all font settings (family, size, colors...),
- you can change all colors (meters, bakground, font...),
- you can change the transparency, (thanks to poiru for ConfigTool
[link]
)
- you can choose betweenn 11 media players,
- you can choose between outlook or Gmail for mails,
NB :
- deactivate your wifi and signal strength disappears
- unplug your laptop, and battery meter appears.
#UPDATE 2013.02.17#
oops, I forget all the credits :
for inspiration:
- +1 visual style by Aaron
[link]
- Areao by j3concepts
[link]
for there tools (and some methods and Bangs) :
- poiru
[link]
- gnu32
[link]
- kaelri
[link]
...