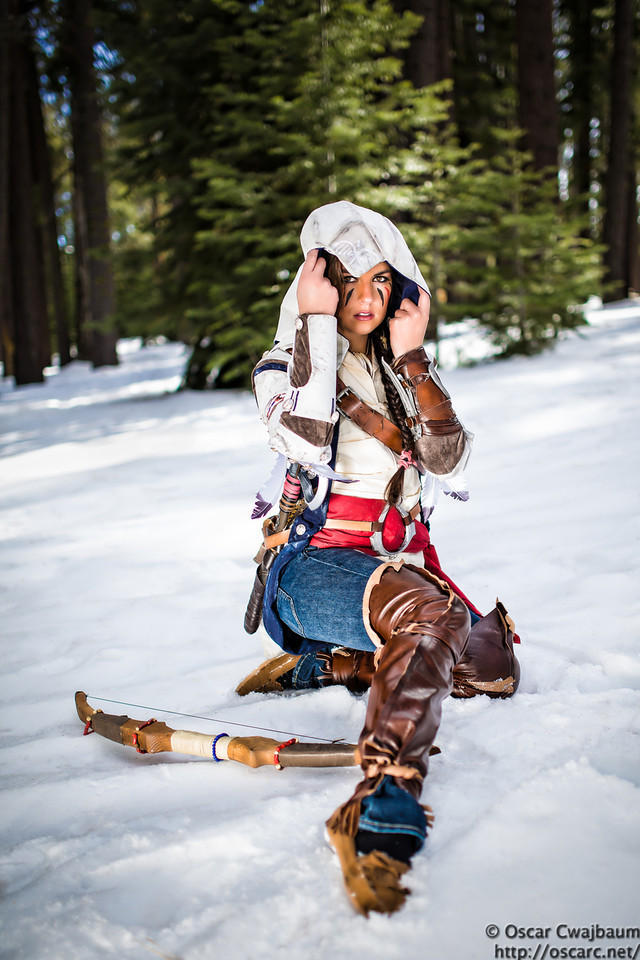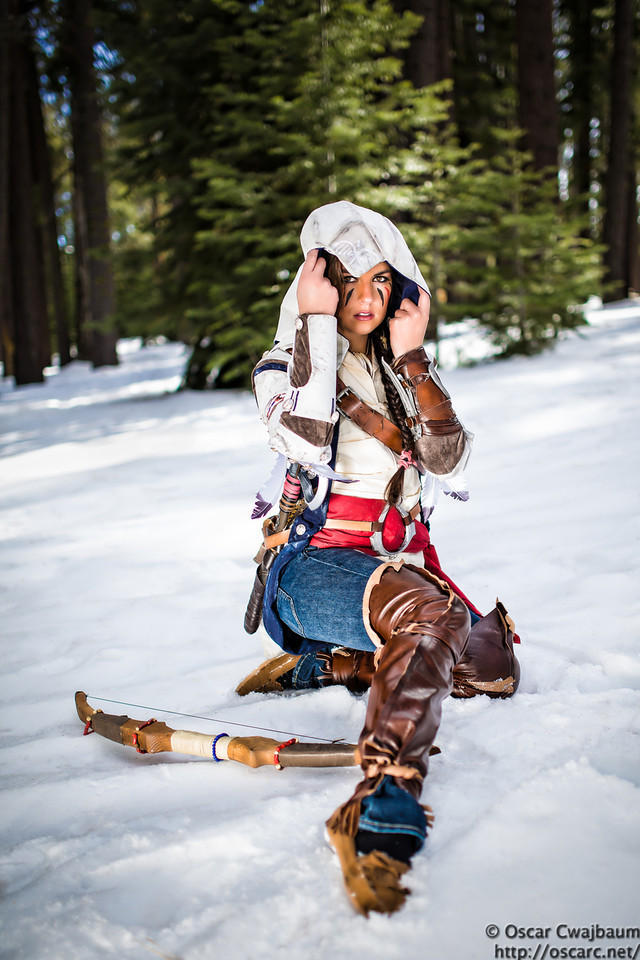 Watch
Photo by Oscar [link]

This costume may not seem like much at first, but I've learned so many valuable lessons from it! This is my first experience working with leather, and the patterning really pushed the limits! What a difficult coat! I guess first I'll talk about the inspiration and thoughts going into this costume.

I'm a HUGE fan of the Assassins Creed series, definitely in my top 3 of video games. I've loved all the designs from the games, and have wanted to do a cosplay from the series for awhile now. It was just so hard picking which one! When ACIII screenshots and promotional images started hitting the internet I was intrigued by Connor's designs. When I actually put the game in that first day, 13 hrs later I was sure this was the costume I wanted to do! I've been going to school working towards a degree in History, and I've always really been interested in Colonial America and Northern Native American history (I'm ¼ Native myself). I decided I would NOT go the route of crossplay, since that doesn't really suite me. So gender bent it was! Yet I didn't want to over sexualize the character, since Connor is no Ezio when it comes to the ladies. So a simple accurate version, while maintaining my femininity was my goal.
The Coat: The coat is made from faux suede in a light gray, and a dark blue jean material, with real brown suede on some of the detailing. I wanted materials that looked accurate to the time period and had a good weight to them. Obviously Conner was running around in the snow and woods he would be wearing something that was comfortable yet warm and protective. I started with a basic coat pattern and altered, altered, altered, altered! Many pieces I had to draft from scratch, and it took much trial and error. The hood is 11 separate pieces, and then lined, 22 pieces! The buttons were provided by my Mom, and they have a Bald Eagle encircled by 13 stars, how perfect!

The leather work for this costume was done all by me, I deglazed leather and darkened it with leather dye, and for the belts and part of the hidden blade brace I dyed the raw leather. For now the hidden blade and the assassin belt are just craft foam, but when I wear the costume next I'll change them out to sturdier and better looking materials. The top is a cotton twill, with inverted pleats, and the sash is cotton. As for the pants…well I ran out of time for those but for next time I will make them out of the same dark blue jean material I used for the coat.

The gun is a little flintlock pistol I got from Walmart and originally was florescent orange! The tomahawk is from Think Geek! I just didn't have the time, resources or funds to make my own tomahawk. Overall I'm super impressed by the quality of it, although I did add real leather strips ad a real feather to it. I also gave it a coat of silver paint since I think they had some parts of the blade too dark. The bow was originally a 2X8X8 piece of wood I cut out with a jigsaw, and then sanded down with a table sander. I stained it and sealed it, and added all the details. The arrows are wooden dowels stained and all the feathers for this costume I dip dyed myself. The arm bands I hand beaded and each one has over 1,045 beads!

Overall I'm very happy with this costume, I probably spent 50+ hours on this costume and many sleepless nights trying to figure out the pattern! I had a lot of fun in it, and it was surprisingly comfortable! I can't wait to wear it again!