Man, no easy task for the fox this time, heavens there are so many I want to give prizes! Was tough fitting that much stuff into one picture and not making it look cluttered or like a sticker book in the hands of a 3 year old

But you guys did it! AWESOME Work! Least with them all so good, it made it easier to narrow things down a bit by going with the most number of pieces to get the decision manageable.
Leading the pack on number of pieces:
Peacock Fairy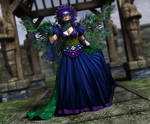 with 42
Enjoying the Spring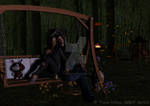 with 48
Steampunk Cowboys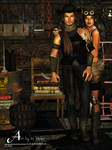 with 59
Pathfinder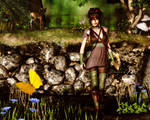 with 44
Elven Raider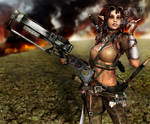 with 41
Stand and Fight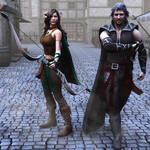 with 40
Sorted through them and unfortunately had to disqualify
Enjoying the Spring
from the running, the render was so dark that I'm afraid you could put three dragons and a T-Rex in there and I couldn't have seen them. Think this one while great composition, the lighting worked against ya. Sorry hon.
Some seriously strong contenders here though. Took a lot of thought and while the sheer number of things in Steampunk Cowboys is astounding, it did look a little bit like they were locked in our downstairs storage room (poor dears! I am such a pack rat!). However it was such a strong effort, so well done composition wise that I couldn't bare see them not get a prize, so
3rd Place goes to Steampunk Cowboy!
Heavens that leaves first and second place and this was no easy choice here. These folks were all within 4 items of each other, and all so good, so having to go purely on what the Littlefox clan voted (yes wrangled in my husband and my eldest to vote, so fair warning

)
Second place is Stand and Fight.
There was much praise spoken of the power of such a strong pair of figures supported by the environment. Not cluttered in the least and every element was well chosen. (Think my eldest is getting into his D&D phase so you had a strong supporter pulling for you hon

First place was a real fight though, there were several here that just wowed me and the family. Just how many things were worked into one cohesive image. In the end though, the one that got the choice of the household for
1st place was Elven Raider!
That one while the background was simple, the flow of all the pieces to support that single character, every one of them seeming to add a bit more to her personality and individuality. An awesome personification of the concept of this contest. Excellent work.
Thank you again to everyone that took the time to enter this little contest. Hope everyone enjoyed it and you came away with a smile on your face after completing your render.
Winners, I will be sending out a note to you with instructions on your prizes.

Now for some other news!! RDNA's Real Deal of the week is
COOKIE!

If you have ever wanted to expand your Cookie Collection, now is the time! Head on over to
www.runtimedna.com/Real-Deal-S…
and see what you can get.
WINNERS
CSS by
Hilaya