My name is Laurence
Age: 23
Birthday: 10th November
I live in Luxembourg
I've got 2 brothers
I'm now working as educator
I like to play PS2, PC, watching TV and lots of other stuff. I love to play psp

I'm an anime fan and i like to play fantasy games like final fantasy series or kingdom hearts. I love Disney films and the disney musics and musicals.
I'm an Anime Artist, I draw some things from myself, from time to time I use other artists bases but surely not without giving link back to his profile. I mostly draw pics from DBZ, I draw my pics by hand and colour them on pc with my photoshop. I'm not so good at shading but i'm trying to improve my technique slowly
I also draw pics from digimon 1&2 and sailor moon as well as yugi-oh.
Current Residence: Luxembourg
Favourite genre of music: PUnk/Rock, Filmmusic, Disney Music and Musicals
Favourite style of art: Anime
Operating System: Windows Vista, Windows 7
Favourite cartoon character: Trunks!!!! Goku, Tai, Makoto and Serena, Luchia and Coco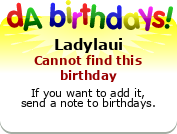 Favourite Visual Artist
Akira Toriyama, Rumiko Takahashi, Naoko Takeuchi
Favourite Movies
DBZ, POTC, TRANSFORMERS1/2
Favourite TV Shows
Charmed, Heroes, Desperate Housewives, Moonlight, Smallville, Everwood
Favourite Bands / Musical Artists
Green Day, Avril Lavigne, Pink, Linkin Park
Favourite Books
Harry Potter, Twilight, The Hunger Games
Favourite Writers
J.K Rowling
Favourite Games
DBZ Budokai Tenkaichi 1-3, The Sims2, Final Fantasy, Dissidia Final Fantasy 1+2, Kingdom Hearts
Favourite Gaming Platform
Playstation 2 and 3, PC, PSP
Tools of the Trade
pencil, photoshop, copics, china ink and g-pen
Other Interests
Manga/Anime, Music, videogames, cooking and baking