153 Favourites
27 Comments
1K Views
✦
PATREON
✦
GUMROAD
✦
DEVIANTART
✦
MERCH/PRINTS
✦
YOUTUBE
✦
PICARTO
✦
TWITCH
✦
TWITTER
✦
INSTAGRAM
✦
ARTSTATION
✦
---

You can download this version in 3000px Hi-Res here at Deviantart (for a small amount of points).

⚫ Tutorial:

This is an example of a 3 Characters Full Body / Digital /Complex Background Painting (LadyKraken Commission Info).

Disclaimer 1: Commission for Deltara .

Disclaimer 2: Characters belong to their respective owners - Teela, Sorceress and Evil-lyn are fictional characters in the Master of the Universe cartoon and toys.

About this painting - This painting can be shared with credit (without removing signature or links).


Patrons will Get with July 2019 Rewards:
⚫ Sketches + Line Art + Base Colors
⚫ Step By Step JPG Complete Progression Pictures
⚫ HI-RES .png 3000px 300ppi
July 2019 Rewards will be send between days 3-5 of August 2019, once the pledges are processed.

Commissions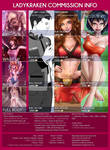 Related Content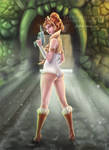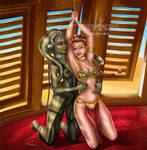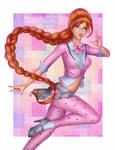 IMAGE DETAILS
Image size
900x808px 351.87 KB