✦
PATREON
✦
GUMROAD
✦
DEVIANTART
✦
MERCH/PRINTS
✦
YOUTUBE
✦
FACEBOOK
✦
TWITTER
✦
INSTAGRAM
✦
ARTSTATION
✦
---

You can download this version in 3000px Hi-Res here at Deviantart (for a small amount of points).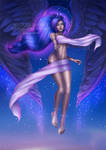 ⚫ Tutorial:

❤ ❤
I'll be doing a Bikini version, Nip Cover version, NSFW nude version, only for patrons.
❤ ❤
This is an example of a 1 Character Full Body / Digital / Complex Background Painting (LadyKraken Commission Info).

Disclaimer: This is inspired by the character from My Little Pony: Friendship Is Magic, an animated fantasy television series created by Lauren Faust for Hasbro.
About this painting - This painting can be shared with credit (without removing signature or links).
Patrons will Get with December 2019 Rewards:
⚫ Full digital version
⚫ 3 Alternative NSFW version
⚫ Sketches + Line Art + Base Colors
⚫ Step By Step JPG Complete Progression Pictures
⚫ HI-RES .png 3000px 300ppi
December 2019 Rewards will be send between days 6-9 of January 2019, once the pledges are processed.
Commissions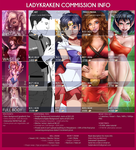 Image details
Image size
636x900px 257.15 KB