Description
✦ PATREON ✦ GUMROAD ✦ DEVIANTART ✦ MERCH/PRINTS ✦ YOUTUBE ✦ PICARTO ✦ TWITCH ✦ TWITTER ✦ ARTSTATION ✦

---
I use a Current Commissions list and a Waiting List - They're on my main page.
PLEASE, contact me and we can start working on your commission ASAP!
Watch and follow my account, I'll keep you updated in Journals and Status Updates.

Prices ($ USD / € EUROS / DeviantART points)
✦

✦Conversion Rates done with Paypal Calculator✦✦


Discounts

Basic Background (gradient): free

Extra character: 20% discount for the characters in the same artwork.

GIF animation: ask.

Line art + flat colors: add flat colors to lineart for small fee.

Paying various commissions at once: can have discounts for quantity depending on subjects (ie. similar backgrounds, sharing characters, etc.) Ask me
Additional fees
Simple Background (minimalist).
Medium/complex Background.

Very Complex Characters.

Mecha / armor.

Concept art / full design.
Private work (I can't upload anything to DA/patreon): + 30% of the final price (remaining anonymous doesn't increment price)
What you get
2 sketches
lineart + flats
WIPs
5000px HI-RES PNG
Sometimes:
If SFW: video tutorial

If NSFW: alternative version
Will draw
Fanart / OC / Anthro / Mecha / Armor

Erotic / Fetish / BDSM (Full List of Fetishes)

Horror / Gore

Shape swap (shifting / transformation)
Won't draw
Age progression / regression
Loli / Shota

Diaper / Inflation

NonCon / Hate art
EroGuro / Erotic+Gore+Horror
Contact
I share all my commissions with DA and Patreon (and other social media), so if you want to keep it private, tell me right away

Please: keep depictions clear and concise & read full info at fav.me/db2eve2 (this page)

For any question, send me a note (or an email to: ladykrakeninfo@gmail.com )
Important about fetishes
I have no problem in drawing fetishes as long as they don't glorify Non-Consensual actions (or are plain NonCon) and they don't involve scat, death, incest and minors.

I'm probably forgetting something, (I sure don't know everything about fetishes), so if you have any question, you can send me a note!
Commissioned image and final work Info
All commissions options are done with a simple free background if not stated the contrary.

Max of 3 characters per image, unless is an age progression / regression / shape swap transformation (up to 5 stages).

Changes will only be accepted on the sketch stage (for line/design changes) and on the flat colors stage (for colors changes).

You'll get a full resolution image, with a small signature and without watermarks. About A3 / 5000px large / 300ppi / PNG.

The small signature I put on them, must not be removed.
The finished image is not meant to be used as a NFT by anyone.
Rights and sharing Info
I reserve the right to refuse a commission.

I reserve the right to share a smaller copy with a watermark on it at my Patreon page, and make a tutorial of the painting process for Youtube. But I won't use it for prints, or promotional material at sites as Redbubble or Society6, when the pictures depict Original Characters from the clients or other users and they haven't give me direct permission.

You can upload the finished work to your DeviantART gallery or share it outside DeviantART, as long as you give me credit, and it's not shared at full HD.

WIP shots will be sent periodically, and sometimes shared on my social media accounts. If you want to keep your commission private, tell me.
Payment Info
Payment is done before I start working.
Payment USD via PayPal & dA points. No refunds or exchanges allowed.

Payment after I accept the commission and before I start drawing.

Prices are subject to change. (Previously paid commissions will retain previous price. Commissions in process still not paid will benefit from the lower price (old or new). New commissions will be subject to new price.)

Prices don't include the rights to the artwork. As the artist, I still hold rights to the image. This means, the image is yours for personal use, but you can't mass print, sell, resell, or make money off it in any way. If you plan to publish / make money with the image, additional fees may apply.
Other Stuff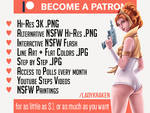 Image details
Image size
3497x3832px 1.87 MB