I dont want anyone to say im picking on anyone or bullying this person so i wont link the person
BUT DONT BE LIKE THIS PERSON!!!!
I wanted to acknowledge that the similarities are too close.. This is a damn shame, this was a commissioners character so its rippin off their oc. I know people use references and everything but dont take the image for exactly or trace it. This is constantly a issue in the art community, I wish people would understand how offending it is to the artist who work hard on their craft. Like dude
Credit
the artist!!!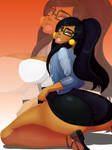 <da:thumb id="390799956126138"/><da:thumb id="1969898881330155"/>
mines i did last year and he/she posted theirs 11 hours ago. and i get it noone owns a pose however i feel if the
general idea of the picture
is the same as the original then yea its a problem
Me and
TovioRogers
mario collab
<da:thumb id="4966839956776705"/><da:thumb id="2049658319173381"/><da:thumb id="957089225073345"/><da:thumb id="204622256609611"/>
my Luigi and His Mario are on the left and he/she on the right
again i get it we as artist use references but dont copy it completely !
--------------------------------------------------------------------------------------
Ive been dealing with all kinds of weirdos on the internet recently just yesterday i had a guy posting my art on his account and i asked him to remove it and said no , yes he credited me but only after i kept asking him on different post to remove my art.
<da:thumb id="8773653144699057"/>
thats the response i got
I had to contact Instagram to remove and then he goes and put it right back up.
idk what to do with people