Realms of Fantasy and Myth: Week 24 - Drow
Welcome to the twenty-forth issue of my weekly news article! I hope you enjoy it, and please, show the featured artists some love and recognition through pageviews,

's and

's!
If you like this article, please show support by clicking the heart icon on the left to add it to your favorites. Thanks!
*****************************************************************************************************************************************************************
This week's creature feature is: Drow
Note: I am aware that Drow and Dark Elves can technically be two separate creatures depending on the context. However, for the sake of simplicity, because of their similar physical appearances, I am featuring both together in this article.
From Wikipedia
en.wikipedia.org/wiki/Dark_Elv…
:
In modern fiction, particularly because of the influence from J. R. R. Tolkien's The Lord of the Rings, elves are modeled mostly after the Light elves of Norse mythology: tall, slender, human-like creatures of otherworldly beauty. Along with this development, Dark elves are now often modeled as a more sinister counterpart to the High elves, but are still modeled more-or-less after the Norse light elves, moreso than the Drow or the Trow, which are the fairy-like dark elves of British folklore, or the traditional dark elves or black elves of Norse mythology, which are more dwarf-like or troll-like.
Dark elves are known for their aggression, deceit, and stealth. They are very brutal and cruel by nature, having little mercy when it comes to cheating, battling, or anything dealing with the life of another being. They have little respect for even their own kind, at times waging war against each other. However, clans are known to band together, to combat invasions and attacks by other races. They do not mix blood with other races. They lurk in dark places and love the shadows. Rarely will they come into the light for needless purposes, but it is not generally believed light will harm or weaken them. Their weakness varies upon legend, and may include excessive heat, rain, nettles, or the blossoms of some plants and trees. Dark elves generally travel in pairs or groups, as their tendencies towards cheating and theft make them targets for retaliation and violence at the hands of other races.
In (some popular games and fiction), dark elves are commonly called drow. They are dark-skinned and white-haired and are generally, but not exclusively, evil. Many other games and works of mainstream fantasy fiction derive their "dark elves" or "night elves" from the drow of Dungeons & Dragons. The drow are depicted as worshipers of the spider goddess Lolth and live in matriarchal societies. (In other fiction) Drow are dark elves that live in subterranean caverns deep beneath the surface known as the "Underdark" of the Forgotten Realms.
Now, for the features! Works are featured from various categories, in no particular order:
:thumb138625937: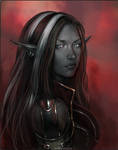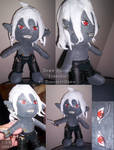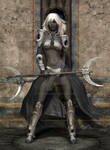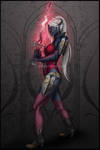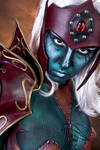 :thumb41998250: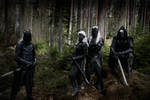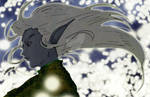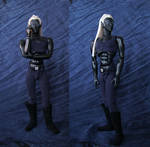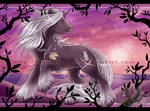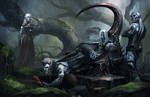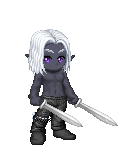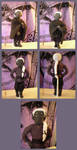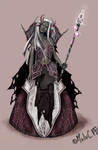 :thumb61425102: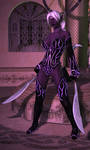 :thumb34298652: :thumb11176959:
:thumb54104515: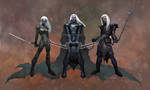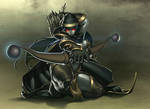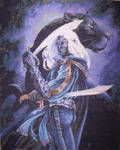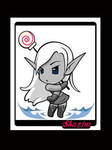 :thumb129940118: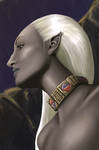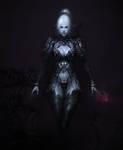 :thumb79860393: :thumb133873203: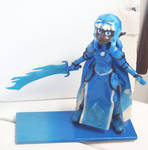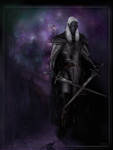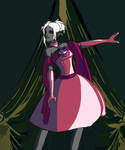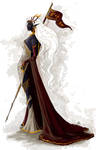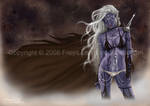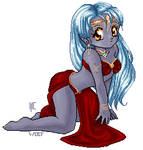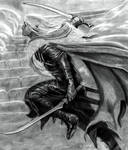 :thumb141332620: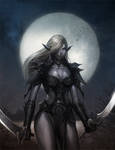 :thumb102651029: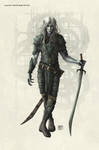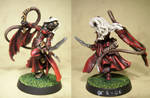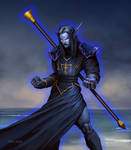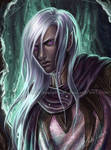 NOTICE: I NEED YOUR IDEAS!

Did you get featured and want to pay it forward? Do you know of an artist with amazing fantasy art? Are YOU one? Read on!
I've been having some health issues over the last few weeks, and I haven't had as much time as I'd like to work on these articles. So here's the deal: I'm planning on doing a "Reader's Pick" article, with a bunch of fantasy or mythical creatures combined into one feature. The only rules are these: No nudity (just no naughty bits showing), no excessive blood or gore, and they MUST COME FROM A CATEGORY I'VE ALREADY DONE. These should be the ones I've "missed", if you will. All visual media. Just leave a comment on this article with a link to your favorite deviation or deviant, and I'll pick out the ones that really stand out to me to feature! Of course, if I don't have enough, I'll wait until I do.
Also, do you have a favorite fantasy creature that I haven't covered yet? Leave a comment suggesting which ones you would like to see!

If you suggest a deviation or a topic, and I use it, I will include your icon at the top of the news article that I feature it in! Think of it as a little free exposure!
*****************************************************************************************************************************************************************
Thank you so much for viewing, and come back next week for a different inhabitant of the Realms of Fantasy and Myth!

~Arah

Previous Issues:
Week 1 - Unicorns:
news.deviantart.com/article/78…
Week 2 - Merfolk:
news.deviantart.com/article/79…
Week 3 - Eastern Dragons:
news.deviantart.com/article/79…
Week 4 - Kitsune:
news.deviantart.com/article/80…
Week 5 - Alicorn:
news.deviantart.com/article/81…
Week 6 - Gnomes:
news.deviantart.com/article/82…
Week 7 - Tanuki:
news.deviantart.com/article/83…
Week 8 - Centaurs:
news.deviantart.com/article/84…
Week 9 - Special Edition:
news.deviantart.com/article/84…
Week 10 - Orcs:
news.deviantart.com/article/85…
Week 11 - Dryad:
news.deviantart.com/article/87…
Week 12 - Halflings:
news.deviantart.com/article/87…
Week 13 - Elves:
news.deviantart.com/article/88…
Week 14 - Faeries:
news.deviantart.com/article/92…
Week 15 - Vampires:
news.deviantart.com/article/93…
Week 16 - Sphinx:
news.deviantart.com/article/94…
Week 17 - Griffin:
news.deviantart.com/article/94…
Week 18 - Phoenix:
news.deviantart.com/article/95…
Week 19 - Djinn:
news.deviantart.com/article/97…
Week 20 - Werewolves:
news.deviantart.com/article/97…
Week 21 - Selkie:
news.deviantart.com/article/98…
Week 22 - Gargoyles:
news.deviantart.com/article/99…
Week 23 - Western Dragons:
news.deviantart.com/article/10…