First of all
I've been on DeviantART for a week now and among the journals, I see a lot of featuring-articles. I like them. Before I decided to make one myself I was looking for a kind of netiquette about it, what is considered standard procedure. But I cannot find any. So if by any change you feel I've been handling this the wrong way, gone beyond boundries acceptable or whatever, please tell me so. All I want to do is see pretty art, have a nice way to store them, besides a 'favorites-dump' and share my findings. So bare with me, I mean well

Subject
I do not just want to include a lot of random art in one featuring-article. Since I've been working on my Project GoT, I have been viewing a lot of GoT artworks. So eventhough I'm tempted to take that as my first subject, it also feels kind of lame. I wanted to make a special drawing for this kind of journals, but I got headaches throughout the day. So then I thought: Why not take that as the first subject: Surfing
Featuring Deviants
Of course the kind of surfing I meant in the first place was 'surfing the internet'.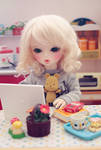 The other kind of surfing was on a board in the water.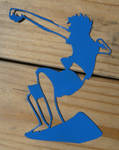 And I learned that also animals love to go surfing

Furthermore, there isn't only art ABOUT surfing but also ON surfing-boards:
<da:thumb id="353232005"/> 
Nota Bene
I searched for 'surfing' by 'undiscovered' and scrolled the first 1000 deviants, I chose the ones that caught my eye. If you know more nice surfing art, feel free to show me in the comments

I think it is nice to let the deviants know I featured them right? But due to my headache, I will go to bed first. It is sunday, but just barely here in the Netherlands. It's 0:30h now.