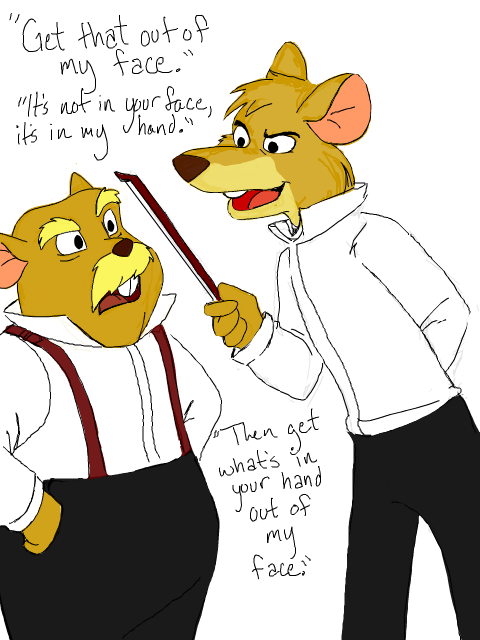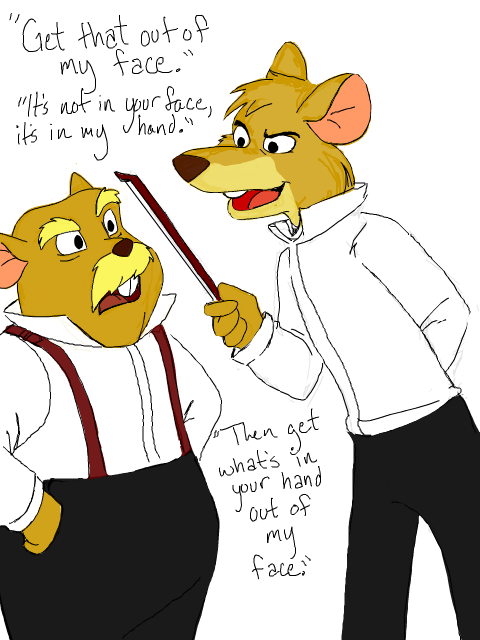 Watch
OH GOSH GUYS DO YOU REMEMBER THE GREAT MOUSE DETECTIVE?
YOU BETTER.
THIS IS BASIL AND DAWSON IN CASE YOU DON'T KNOW THEM, AND THEY ROCK.
It was an awesome movie And I loved the crap out of it when I was little, And today

reminded me of it and I totes had to watch it, and then draw it, and then turn it into a Sherlock Holmes movie crossover thing.
and I want to do more of this.
This is one of the most clever and well-matched crossovers I've ever seen. The characters are drawn in an individual, charming style while retaining the charm of both films conveyed. I especially like the choice of dressing the Great Mouse Detective Characters in Sherlock Holmes attire. The background is a simple white and the characters are confined within a small space, implying a comic tone to the overall effect. The scene chosen is also well-recognized and adds to the comic "format". All in all, a clever, well thought out, and humorous homage to my two most favorite movies. Well done!
The Artist thought this was FAIR
4 out of 4 deviants thought this was fair.