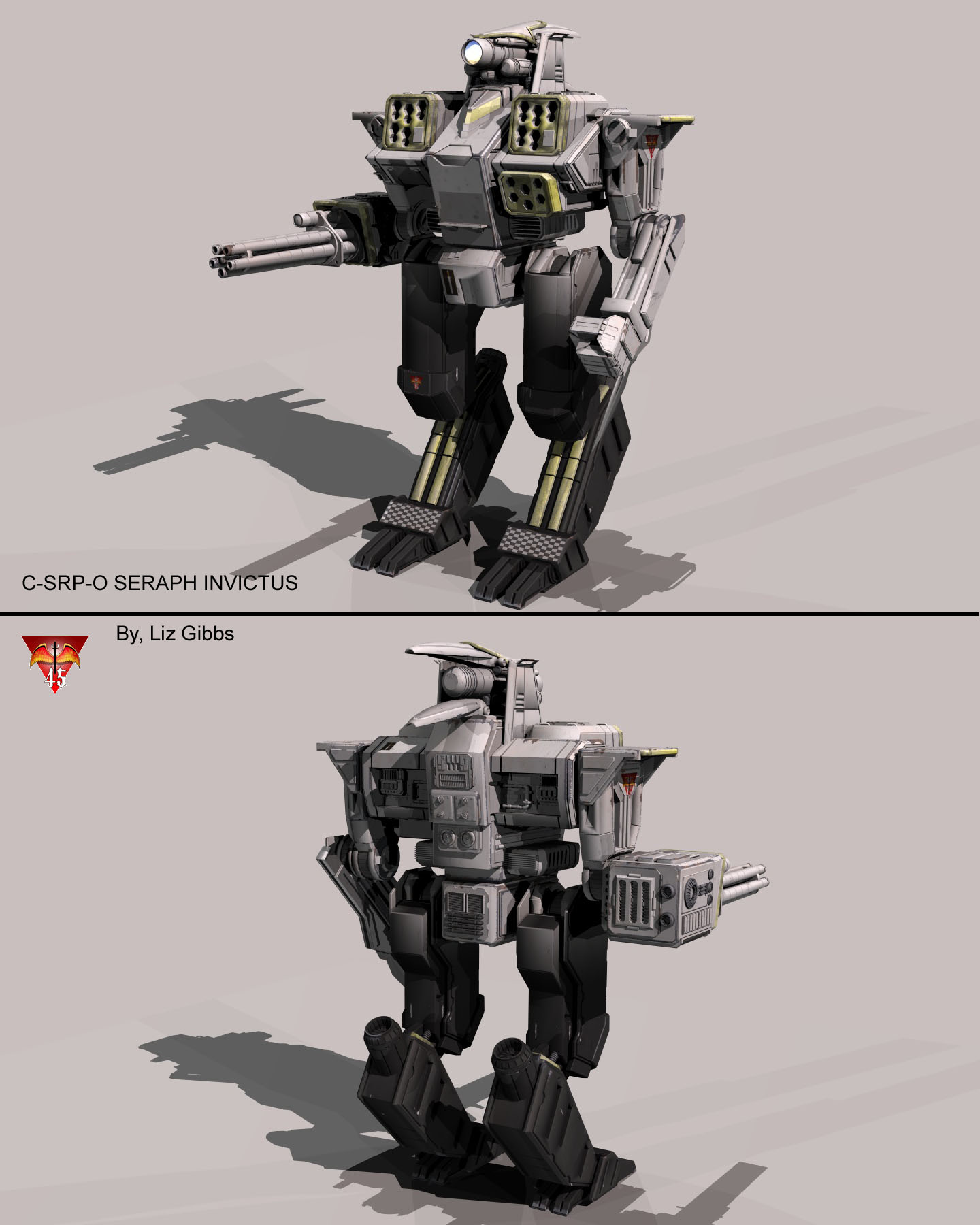 C-SRP-O SERAPH INVICTUS

The Seraph is one of the new Word of Blake Omnimechs. It's armed with 2 Multi-Missile launchers, a short range missile launcher, an ultra autocannon, and a snub-nosed particle cannon in the head. To top it off, it has a nifty retractable blade for a physical weapon.

The blade itself is designed like a lock blade. I figure it'd be more reliable than an out-the-front switchblade design.

This model tops off at 307,143 polygons and is textured in the Word of Blake paint scheme. Black on the bottom and gradates to a lighter color on top (in this case, white).

BattleTech and other related: © & ® WizKids Games (www.wizkidsgames.com)
This image and models © Liz Gibbs

Reply

always loved that style of robot head, nice design

Reply

My goal for this model was to match the official artwork, then expand on it a bit. I think I succeeded.
Reply

Looks great. but the Archangel would look a lot better in 3d.
Reply

At the time there was precious few images of any of the WoB omnimechs. At least if I were to take on the Archangel, I'd already have half of it done!
Reply

As much as I hate the WoB, this is really great.
Reply

Looks awesome, though the beautiful textures are a little let down by an awkward lighting set up. You may want to look at Ambient Occlusion (AO) techniques as these can give you a really nice all-over light with soft shadows.

I'm not sure what software package you're using, but some give an AO option along with the camera settings to add shadows in recessed areas and bring out the highlights on areas that jut out.
Reply

Unfortunately, trueSpace 6.6 doesn't have AO that I know of. For that I'd need to upgrade to tS7 or find some sort of plugin.
Reply

I sometimes use a faked AO dome when baking textures, it's more memory hungry method of getting recessed shadows.

Basically it's just a transparent half sphere with a light duplicated at each vertice. It means there is a small amount of light coming from every direction which builds up as the lights combine on exposed areas.

Just Google search for Faked AO dome... It's a technique which can be replicated in almost any package.
Reply

Isn't that from C&C Tiberium Sun?
Reply

Nope. It's from BattleTech. The mecha in C&C just has the side gun, is round in shape, and has no hand.
Reply

Oh, it's so good! I love this style. I also like how you did the dark texture to light. Very good idea.

Reply