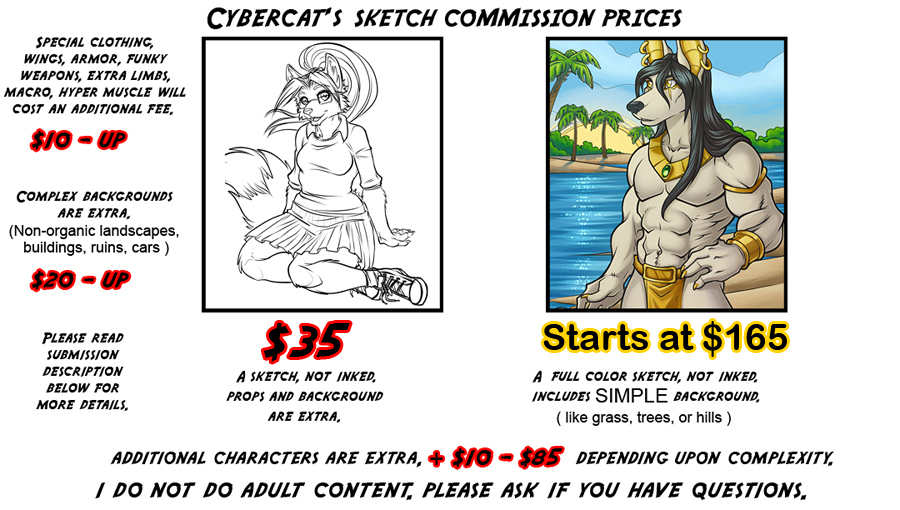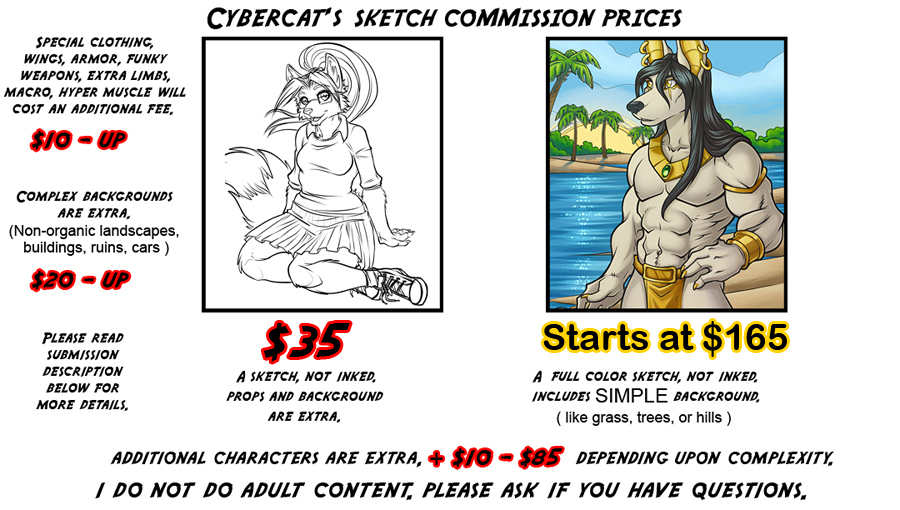 Watch
Price Guide For Sketch Commissions
How to commission Cybercat:
You can leave me a +note here or email me at cybercatgraphics at yahoo dot com.
I reserve the right to refuse to draw anything I do not feel comfortable with. I do not draw fully exposed nudes, genitalia, copulation, bondage, scatology, gore or any thing of an x-rated nature. No cub / young children.
Terms of Service. Read This before commissioning me.
Cybercat's TERMS OF SERVICE and COMMISSION RULES:
I some times Livestream my commissions. If I am streaming here are the rules:
Stream rules:
-- Please do ask questions about art.

-- Have Fun!
-- Please show respect to my Moderator / helper, Ralloonx and everyone else in the stream.
-- Ask before you post links. This is not an ad opportunity for you.
-- Please do not Role-Play.
-- Please do not self promote. DA has a wonderful variety of Groups you can use to tell people about your art!
-- No drama.
-- English please. (Other languages are awesome, but sadly I can't understand them.)
-- No religion. No politics.
-- I do not draw 'porn' or 'Adult' work. No cub / young children
CHECK OUT THESE OTHER EXCITING WAYS TO EXPERIENCE CYBERCAT'S ART!!
YOUTUBE TUTORIALS:
www.youtube.com/user/StephieAr…
ETSY SHOP: (Originals, Prints & More! )
www.etsy.com/shop/CybercatGrap…
REBUBBLE (T-shirts & Stickers) :
www.redbubble.com/people/cyber…

I got a question. its mainly for a friend. Does a Fullbody character commish also include coloring in the price?
Reply

ermager your prices arent bad at all o.o
I miiight have to see about snagging art from ya sometime.... *taps chin thoughtfully*
Do cybernetic parts cost extra? Like my Pitbull gals here:
sta.sh/07j6z5kywtw
Reply

Some times yes. If it's just a sketch then no, it's considered part of the char and not a prop. If it's inked, yes that does contribute to the price

Reply

Um... do you take... points instead? I don't have any deviantART money, but I have 25 points on me. Will that work?
Reply

Is there a way to request a commissions if you aren't able to go on a livestream? I don't think it works on iPads.
Reply