Well look that that, the last time I wrote a journal entry was for the birthday event last year! So I suppose I'm due for a new one. So here's my
#deviantartistquestionnaire
1. How long have you been on DeviantArt?
This account is 7 years old, but I was on dA under Freakezette for a while before that (I started a new account before you were allowed to change your username). August 9th (tomorrow) is actually my 11th year anniversary on dA!
2. What does your username mean?
One day I was looking at my full name and realized the letter A is the second letter in my first, middle, and last name. Thus Ladama came about. But sometimes Ladama is taken on social media stuff so I go with Ladamania because it sounds fun.

3. Describe yourself in three words.
Bad at questions (like these).
Or I guess "honest", "creative", "funny"

4. Are you left or right handed?
I'm a terminal righty. As a kid I tried to use my left hand in a futile attempt to become ambidextrous but it definitely didn't work. XD
5. What was your first deviation?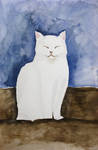 This watercolor of my kitty

6. What is your favourite type of art to create?
I like traditional media (mostly because I'm not so awesome at the digital stuff) and I guess you could say realistic illustrations. I do greatly admire (and am a bit envious of) people who can draw in a more cartoony style, though!

7. If you could instantly master a different art style, what would it be?
Well, like I said, if I could manage anything in a more cartoony style that be great. I really like the style of
Phobs
,
nicholaskole
and anything like that really.
8. What was your first favourite?
This adorableness!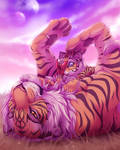 9. What type of art do you tend to favourite the most?
Ha, um, usually fanart (especially Disney stuff) or cute illustrations or photos.

10. Who is your all-time favourite deviant artist?
That's a hard question as there are so many amazing people on here and I definitely go through phases of what I like. I love the illustrations Qinni, viria13, Charlie-Bowater, RoryonaRainbow, loish, Gold-Seven, faboarts and like a hundred others. I love the animal photos of Sooper-Deviant and hoschie

11. If you could meet anyone on DeviantArt in person, who would it be?
No idea, I'd love to meet anyone!

12. How has a fellow deviant impacted your life?
Really probably everyone I follow has impacted me by inspiring me to draw more. I also great appreciate any deviant who has shared things like their artistic process, their favorite resources, even just sharing that sometimes they are unsure about their work, all those things have helped me learn and to improve my confidence as an artist.

13. What are your preferred tools to create art?
Recently I've been loving Derwent Drawing Pencils. Colored pencils are tricky, it has this tendency to look a touch amateurish, maybe because it's one of the first art tools children learn with, but I love the colors and the way Derwent drawing pencils blend, especially on toned paper.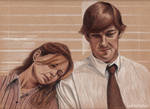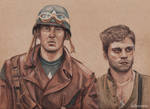 I do want to improve in watercolor and gouache, I think that will be the next medium I focus on.

14. What is the most inspirational place for you to create art?
I'm not really a fan of drawing in public, I'm still very shy about my art, so really I do my best drawing just at my art desk at home.

15. What is your favourite DeviantArt memory?
Probably just the general reaction I've gotten from what's still by far my most popular piece.



The fact that people still fave this makes me think "Hey, people like my work, I should keep going!"

Well that's it! Happy birthday, dA!