So, I'm a self-taught artist (sculptor) and Halloween freak. I am always learning, making mistakes, and hopefully improving in my work. I sculpt dark, gothic and macabre figures and enjoy making dragons as well. (You might notice some faeries way back in the beginning of my gallery--not exactly my cup of tea but making them was the beginning of my education in the art doll world.)
My work can be found on my web site www.labyrinth-creations
www.labyrinth-creations.com/we…
. My work has also been featured in the book, "Vampire Art Now" by Jasmine Becket-Griffith. Some of my creations are also featured at Epilogue: Fantasy & Sci-Fi at their Best
www.epilogue.net/cgi/database/…
. Any sculpts currently available for sale can be found in my Etsy shop.
www.etsy.com/shop/Labart
You also can follow me at my blog
www.labyrinthcreations.blogspo…
The Halloween aspect of my artistic nature completely consumes me from August through 31 October and then some. The sculpting is neglected and I focus on making props for my little 'garage of evil' and yard haunt. This consists of corpsifying Bucky skeletons, making tombstones and so on. It is an absolute blast--scaring the S_ _ T out of people makes me very happy.

"While life is with us we must struggle to make our mark so that death finds little it can wipe away" -- Pliny the Younger
"whatsoever thy hande findeth to do, do it with thy might: for there is no worke nor device, nor knowledge, nor wisdom in the grave whither thou goest..."
unknown author...(can't recall the book I found this in! my apologies to the author)
"Artists are the antennae of the race." - Ezra Pound
"I will show you fear in a handful of dust." - T.S. Eliot
"Everywhere I see bliss, from which I alone am irrevocably excluded" - Mary Shelley
"Happiness is beneficial for the body, but it is grief that develops the powers of the mind" - Marcel Proust
"The prince of darkness is a gentleman" - Shakespeare
"and nothing is
But what is not" - Shakespeare
"and I am re-begot
Of absence, darknesse, death; things which are not." - John Donne
"Because I could not stop for Death,
he kindly stopped for me;
The carriage held but just ourselves
And Immortality."
- Emily Dickinson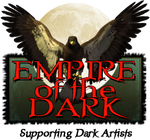 deviantWEAR sizing preference: small/medium
Favourite genre of music: dark ambient, classical, gregorian chant, celtic-type, some jazz
Favourite style of art: dark
Skin of choice: the one I'm in, I guess, although I wouldn't mind having a younger edition...hehehe
Favourite cartoon character: hekyll and jekyll