I'm having a Your Character Here Commission Sale!
$20 for a flat color drawing of any character of your choice, which includes a free tiny/micro free of charge upon your request. Any who are interested Please either comment below or Note me the details.
I only accept payment via Paypal.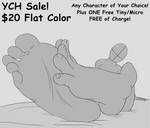 Slot 1:

Slot 2:

Slot 3:
Slot 4:
Slot 5: