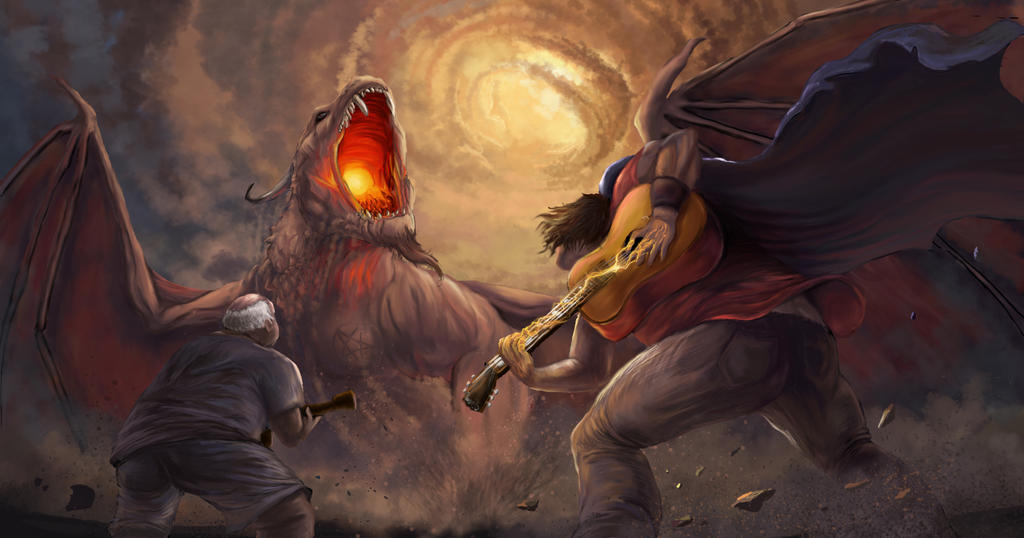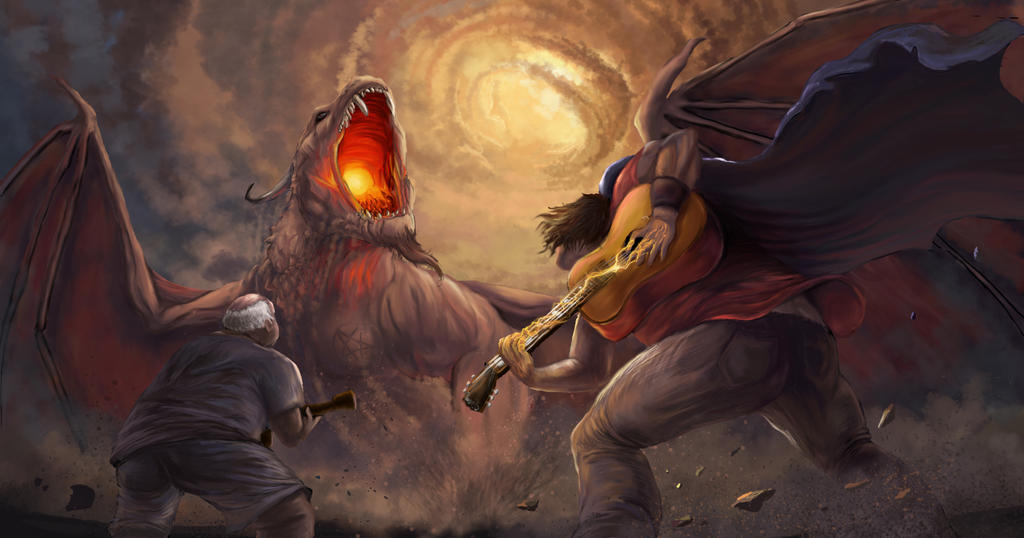 Watch
Long time ago me and my brother Kyle here,
we was hitchhikin' down a long and lonesome road.
When all of a sudden, there shined a shiny demon... in the middle... of the road.
-Tenacious D

Media: Photoshop CS5
Time: 20 hours+
Original:
kyrisnowpaw.deviantart.com/art…
Revamp 1:
kyrisnowpaw.deviantart.com/art…
Revamp 2:
kyrisnowpaw.deviantart.com/art…
Analysis:
DEMON-critics. Kept in dragon form to show largest obstacle, Majority of the piece Shows its overpowering presence.
FANGS- critique/ loss of inspiration.
GLOWING MAW- unfillable void of human-nature: greed (They tried to fill this with earthly materials. Drugs,Alcohol, etc.)
BULL HORNS- Strength, competition and deception (Matador inference)
TENACIOUS D- kept in their raw form for authenticity and symbol of irony towards the clash of reality and story. Shows that they are nothing special besides their fiery burning passion to rock and make people laugh.(Laughter is the best medicine)W
earing blue which signifies loyalty, wisdom, and depth. They are often perceived as vulgar, immature and unintelligent, but they are in reality, quite the opposite.

THE SKY- shows isolation, and introspection through the toughest of times, though a beacon of light through music.
COLOR SCHEME- demon- Fleshy skin tone shows that it is an obstacle that is defeatable by mere mortals.
SETTING- (Placed in the same setting as the Tenacious D-Tribute music video) They are surrounded by tan/orange which signifies self-indulgence, pessimism and arrogance. This veils who they really are, but they produced that shroud themselves. Hidden in the shroud of tan/orange is also the positives, which are seen by few which include- enthusiasm, cheerfulness, and warm-hearted souls. Unfortunately, sex sells and their image or personas are important to maintain if they want to keep their fan base and support. The line between the real and the fake gets blurred severely at times, but can be kept separate and be brought to justice if you look close enough. This lesson is important to know and keep, the underdog story is one to hold close, as we all have been there at one time.