WELCOME TO MY HIPPITY HOUSE
I'm just a teen with a bunch of big floofy haired gay furries.
Yo yo yo! Kyrifian here. Go ahead and take a look around, maybe you'll find somethin' ya like! If not...the door is that way, sweetheart. See thyself out~
Feel free to check my stuff out or to just pop by and say whuddup! I Don't bite! Often at least. I love making new friends so if you ever wanna talk, go on ahead and drop me a comment on my front page! I'll gladly reply as soon as I can!
Heck, if you're looking for another Pokemon or Voltron Legendary Defender (mostly Keith) fangirl, then you've come to the right place, my friendy!
I mostly specialize in furry art but I throw some random stuff in the mix.
My OC's are my babies, you hurt them and I might have to gnaw your arm off.
Also, *tosses this (
KyrifianDoots
) at you* Check out the dumping ground whenever you want never before seen stuff! OvO
If you're wondering: "How the crap do I pronounce Kyrifian?!?!" >:U Well! I shall tell you, dear enchilada! It tis, KAI-RIFF-EE-AN Kyrifian! SAY IT! Sound better? XD Sure it does!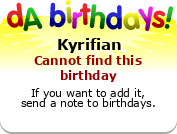 :thumb681300530: THIS ICON WAS MADE FOR ME BY THE BEAUTIFUL AND TALENTED
Goodquestionmydude
!!!!!!! GO COMMISSION HIM!