Registered Name
: Velestu
Nicknames
: Velee
Owner
: Tyoka-ARPG / TyokaYuka
┌╌╌╌
ID#
: 058
├╌╌╌
Rite of Endearment
: ✓
├╌╌╌
Hierarchy level
: 1 - Amateur
└╌╌╌
Health Stats
: Healthy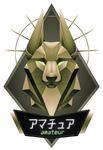 Species
:
KyotaFalls
┌╌╌╌
Gender
: M - ♂
├╌╌╌
Build
: Standard
├╌╌╌
Mane
: Natural
├╌╌╌╌╌
Genotype
:
Oo/cc/Ss/nBh/nMn/nMtr
├╌╌╌╌╌
Phenotype
:
Maned Sterling with Bleach and Meteorite
└╌╌╌╌╌
Mutations
:
Traits
:
Item Applications
:
Personality
: Colorful | Inoffensive | Patient | Unpolished | Leaderly


Kind and well-meaning, Velestu simply loves to be around other Kyota's, showing his very colorful personality. He seems to be excited all the time and doesn't mean any harm when it comes to playing around or being overly jokey. Along with his very light and seemingly never ending energy, he watches over pups from packs and nearby familes, using his patience to his advantage when it comes to the new packmates. Even though the male means well, he is rarely unpolished and leaderlike. If he needs to be this way, he absolutley will be this way, and only think for his allies instead of himself during these times. His name means well for his rare personaliy, a sharpened ox.
Lineage
:
┌╌╌╌╌╌╌╌╌╌╌╌╌╌╌╌
SSS
: Wild
├╌╌╌╌
SS
: Wild
└╌╌╌╌╌╌╌╌╌╌╌╌╌╌╌
SSD
: Wild
SIRE
: Raizo 008
┌╌╌╌╌╌╌╌╌╌╌╌╌╌╌╌
SDS
: Wild
├╌╌╌╌
SD
: Wild
└╌╌╌╌╌╌╌╌╌╌╌╌╌╌╌
SDD
: Wild
┌╌╌╌╌╌╌╌╌╌╌╌╌╌╌╌
DSS
: Wild
├╌╌╌╌
DS
: Wild
└╌╌╌╌╌╌╌╌╌╌╌╌╌╌╌
DSD
: Wild
DAM
: Wild
┌╌╌╌╌╌╌╌╌╌╌╌╌╌╌╌
DDS
: Wild
├╌╌╌╌
DD
: Wild
└╌╌╌╌╌╌╌╌╌╌╌╌╌╌╌
DDD
: Wild
Designer © Tyoka-ARPG
Image details
Image size
2850x2450px 6.36 MB