Registered name
: Hile
Nicknames
: --
Owner
:
Shadzerios
┌╌╌╌
ID#
: 017
├╌╌╌
Rite of Endearment
: ✓(✘)
├╌╌╌
Ascension level
: 0 - Novice
└╌╌╌
Health stats
: Healthy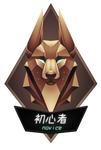 Species
:
KyotaFalls
┌╌╌╌
Gender
:
M - ♂
├╌╌╌
Build
: Standard
├╌╌╌
Mane
: Natural
├╌╌╌╌╌
Genotype
:
oo/cc/Ss/nA/nBk/nFr/nMtr
├╌╌╌╌╌
Phenotype
:
Ivory with Accents, Blanket, Frost, and Meteorite
└╌╌╌╌╌
Mutations
: x
Traits
:
Item Applications
:
Personality
: Stuborn | Prideful | Coward | Nerd
Hile is very stuborn and silent for usual male individuals. He tends to stick with himself and have larger ego than his willpower could usually carry. He is often loud mouth and claims of doing things that he most likely has never done -- or claims of doing things that someone lse in his family line has done and he just wants to take all the credit when no one is watching. Hile does have his share of contacts that are useful to him, which gives him 'his ways' of getting knowledge that he uses to his advantage. He would never agree that he would be a coward thought. His large mouth oftne talks high and migthy but in reality his bark is far louder than his bite if he even has one. Hile's rider named him after after
skim of ice
that translates into
hile
in Finnish due to this male's good looks often betraying what lies beneath a beauty.
"Certain flaws are necessary for the whole. It would seem strange if old friends lacked certain quirks." ~Goethe
Lineage
:
┌╌╌╌╌╌╌╌╌╌╌╌╌╌╌╌
SSS
: Wild
├╌╌╌╌
SS
: Wild
└╌╌╌╌╌╌╌╌╌╌╌╌╌╌╌
SSD
: Wild
SIRE
: Wild
┌╌╌╌╌╌╌╌╌╌╌╌╌╌╌╌
SDS
: Wild
├╌╌╌╌
SD
: Wild
└╌╌╌╌╌╌╌╌╌╌╌╌╌╌╌
SDD
: Wild
┌╌╌╌╌╌╌╌╌╌╌╌╌╌╌╌
DSS
: Wild
├╌╌╌╌
DS
:
Wataru 009
└╌╌╌╌╌╌╌╌╌╌╌╌╌╌╌
DSD
: Wild
DAM
: Wild
┌╌╌╌╌╌╌╌╌╌╌╌╌╌╌╌
DDS
: Wild
├╌╌╌╌
DD
: Wild
└╌╌╌╌╌╌╌╌╌╌╌╌╌╌╌
DDD
: Wild
Designer © Shadzerios
Image details
Image size
2850x1950px 1.95 MB