Hi there. My name is Kyle, but you may refer to me as Kyleboy21. I'm am very happy to be an artist here on dA. I'm getting more practice with drawing cartoons, as I like these Toons, but it will probably take a while before I master the skill of cartooning.

/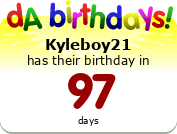 Click Me!
Friends:













































To do:
Requests:
None
Point Commissions:
None
Stamps:



:thumb193684742::thumb320755584:




:thumb98282781:









:thumb175818827:

:thumb313469659:

:thumb308832846:




Favourite genre of music: Any genre
Operating System: Windows 7
MP3 player of choice: iPod
Favourite cartoon character: Stocking (PSG)
Personal Quote: "Keep on trying when it comes to drawing."