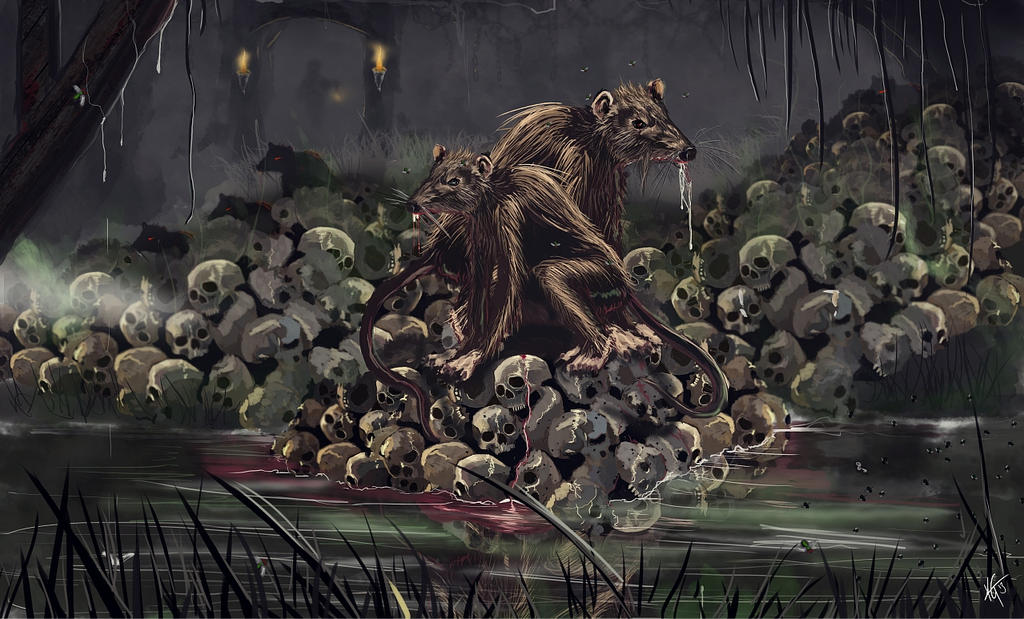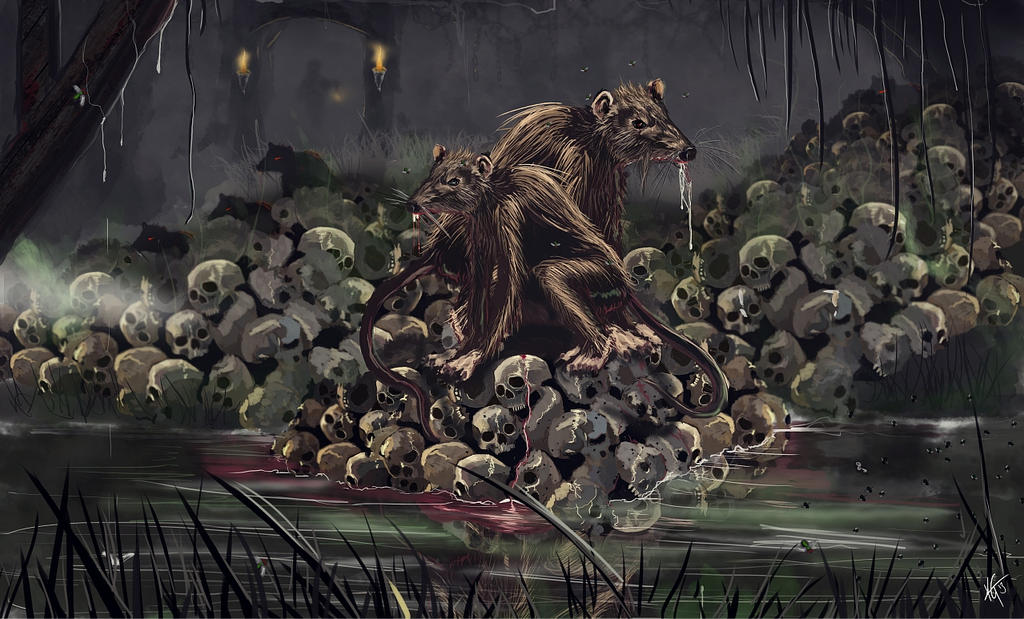 Watch
"My searchlight expired, but still I ran. I heard voices, and yowls, and echoes, but above all there gently rose that impious, insidious scurrying, gently rising, rising as a stiff bloated corpse gently rises above an oily river that flowsunder endless onyx bridges to a black putrid sea. Something bumped into me - something soft and plump. It must have been the rats; the viscous, gelatinous, ravenous army that feast on the dead and the living..." - The Rats In The Walls - H.P Lovecraft 1923
My rendition of ' The rats in the wall ' by HP.Lovecraft
pscs5
As part of my thesis 'Illustrating Literary Works' It would be very awesome if you guys could provide me with some feed back as to what you think about the illustration and if have indeed managed to capture the feel and environment of the story... also any suggestions and constructive criticism is very welcome

thanks!

I would say this captures the atmosphere pretty well. Would you mind if I shared this on my band's facebook page?
Reply

I think you did well to create a creepy atmosphere- I especially like the greenish mist against the red blood in the water. There are all sorts of shadowy horrors hiding just beyond in the mist...

And the dripping and the flies are a nice touch to make it a vile place. I think a lot of times people forget that such foul places should attract a veritable pestilence of flies. Only suggestion I have is that I think the skulls should get smaller, even tiny, more quickly the further away they are- it'll allow you to add more mounds of them so the body count would look even more numerous and horrifying

Though that would probably be a pain to actually paint, even if you use copy + paste for some of them.

Reply

Hey thank you for your feedback i really appreciate it!... yes, u actually start seeing the mistakes after you finish everything hehe, I spend so much time working on a piece of work that silly mistakes become invisible, but thats how we can all improve aye

. thanks again.
Reply

Those are some big ass rats!! Love the shading!!

Reply

this is great...love how you manage the shadows....
Reply

"No, no, I tell you, I am not that Daemon Swineherd in the twilit grotto!"

'Daemon Swineherd' has to be one of the best word combinations ever.
Love the atmosphere you've captured, it's genuinely dank and haunting.
Reply

nice! glad I stumbled upon your art. great work
Reply

Those are some big rats...
Is Brown Jenkins among them?
Reply

hahaha xD didn't think of that!
Reply

I think he is currently residing in some strangely angulared witch-house if I a am not mistaken.
Reply

I dreamt of him once. I dreamed I was in my great-grandmother's bedroom in Brooklyn and, admidst robed and hooded figures about a bed, I whipped the sheets off it and there he was ! He leaped at my neck and I woke up grabbing at my throat !

I am blessed that I do not have the same dream twice. A few times a dream-implanted false memory says otherwise.
Reply