12.1.2014: Contest is now closed

Thank you for all the wonderful entries!!!
11.1.2014:
Only today left! Get your entries in!
Edit 24.11.13:
Updated prizes + put the date in proper format; updated rules - one line added:

"Entries that keep too closely to the inspirational source (i.e. the ones that basically copy the image by just switching the stock) will be rejected."
I have decided to wait a little longer before adding any judges so you are not limited by maybe wanting to avoid certain people as inspirational sources


Edit 4.12.13:
Please, please, please, read the rules before you start!
I hate to decline work on the grounds of formalities (especially when I can see you put a lot of effort
in your work) - this includes the
DO NOT COPY
part!
Edit 14.12.13:
Updated prizes

The Idea

When we browse dA, we constantly get inspired to create something ourselves. Sometimes this inspiration is very obvious, for example liking a colour scheme or lighting concept in another piece and trying to use that in ones own creation. Sometimes the inspiration is more obscure, for example when you see an image and its theme resonates with you and pushes you to create something of your own that catches that mood or atmosphere.
For this contest, I challenge you to browse deviantArt (any category) and find a deviation or an artist that inspires you. Then you create something based on this inspiration, but without copying the deviation or actually using it in your entry. Describe in your artist's comment how your image was inspired by the one you chose and link the deviation you were inspired by.

This does NOT mean you should go out there and find an image to copy or incorporate - it means you should find an aspect of an image and use it in your own art: the colour scheme, the atmosphere, the topic, the way perspective was used, a certain technique you want to try for yourself,...
We want to see your creative interpretations of your inspiration!
- Note: This is a contest for photomanipulators only (mixed media allowed as long as the main part is a manip) -

The Contest

Theme: Creative Inspiration - show us what inspires you!

Medium: Photomanipulation (with additional digital media if you want - but the main part has to be a manip)
Deadline: The contest runs from November 9th, 2013 until January 11th, 2014 23:59 CET --> countdown
What we will be judging on: Of course your entry needs to fit the theme, brining your inspiration into a deviation of your own, using photomanipulation (with additional digital media if you want). We'll be looking at creativity and technical skills (like blending, use of light and shadows in a logical mannor, etc).

Make sure you read the rules below carefully to avoid having your entry rejected!
The Rules

The entry has to be a photomanipulation - that means it has to use photos: at least two and they have to come from an actual camera (i.e. no "in game photography" like you can do in Second Life for example). Also, for this, 3D stock does not count. You can however use any other digital techniques to finish your piece off. Meaning you can add some 3D stock, painted elements, fractals, or whatever else you like BUT the main part has to be a photomanipulation or it will not be accepted.

Crediting all your stock sources is a must (if you use your own images, please say so)! It should go without saying that the stock sources have to be legitimate stock, but it seems I have to point it out anyway. If you are unsure about which stock you can use and what is not stock at all, please read Of Copyrights & Premades as well as Photomanipulation for Beginners. This also means that if you use pre-cut stock or premades you need to be sure that the original images were either shot by the resource provider or provided by sources that allow such use. Taking images from google, sxc.hu or other stockers who do not allow redistribution is a no-no!

You can enter as many times as you like, but you can only win once. If you want to avoid competing against yourself, you might want to choose just one entry, your best.
In your artist's comment, include the deviation you chose as your inspirational source (with link or thumb) as well as some explanation on what inspired you and what you were trying to do with your entry.
The inspirational source has to be a deviation or an artist from dA - no outside sources allowed.
The inspirational source deviation may not be used directly in your manip or if you choose an artist as inspiration none of his work may be used in your entry- it is just there to provide inspiration, not to be copied or used as stock. Entries that keep too closely to the inspirational source (i.e. the ones that basically copy the image by just switching the stock) will be rejected. You can use an image from the resources category or a resource artist as inspiration, but you cannot incorporate the image(s in the artist's gallery) into your entry - that would be too easy, sorry. You cannot use other people's artwork as a basis for any photomanipulation - this is a copyright infringement.
You need to show us the inspirational source by linking it in your artist's comment.If it's a deviation, please use a direkt text link or thumb, if it is an artist, use :devartistname: or :iconartistname:. Also, please add a few lines about why you chose this particular deviation or artist and how this has influenced your entry (we want to know your thought process behind the piece because the connection does not have to be blatantly obvious).

Your artist's comment needs to include a statement that this is an entry for the Creative Inspiration Contest held by kuschelirmel.

The entry has to be made for this contest and this contest alone - uploaded after the start date and before the deadline and only submitted to this contest, not to multiple other ones.
How to Enter
Upload your image on dA (photomanipulation category) and specify in the artist's comment that this is an entry for the Creative Inspiration Contest held by kuschelirmel. Don't forget to include a little information about how your contest entry relates to your chosen inspirational deviation / artist as well as the deviation (with link or thumb) or artist (with :devartistname: or :iconartistname.
Finally, note me on my main account kuschelirmel with your entry so I can add it to the Contest Collection.
All entries can be found here

The Prizes
...so far...
First Place

Second Place

Third Place

There will also be journal features for honorable mentions.
Thank you to the lovely donators!

If anyone else feels like donating, please contact me via note (I'd rather have a note so I can keep track more easily than with comments) - no llamas please!

Example: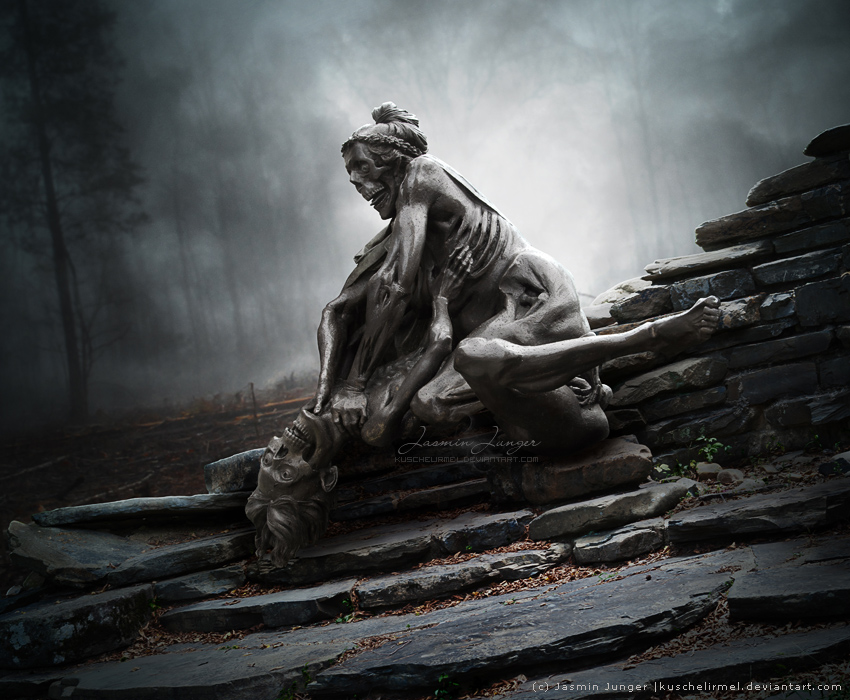 "Till Death Do Us Apart" was inspired by the work of
J-u-d-a-s and his way to use muted colours :
<da:thumb id="301043937"/> <da:thumb id="310171362"/> <da:thumb id="271557244"/>


If you have another example I could add here, please let me know