Lately, the amount of DD suggestions that say something along the lines of
"I just started photomanipulation/I know my work is not perfect/I know it's not really what you're looking for in a DD, BUT I still would like to get one for [link] so I can get more feedback!"
have been increasing daily. So I thought it was time I said a thing or two about getting a DD and about feedback, too:
Do you really want to put yourself in this position?!
Daily Deviations here on dA have a long tradition of featuring art that is outstanding on some level, be it technical or emotional. A DD is generally thought to be a feature that points the masses towards art they should see so they can be "wowed". And it is the community that thinks so, not just gallery mods like me who want to push some invisible standards or some such thing. Plus, it seems to be the case that the community feels that a DD should be on a level where nothing major
can
be critiqued any more.
Think about that for a second: if the community expects an outstanding piece of art that blows them away and you already say that "I know I'm not quite DD material yet" what could happen is this: While you want feedback, the community (or a large portion of it) expects a piece where no feedback in that sense is needed any more. So, how valuable will this feedback be for you if they were expecting something very different to begin with? There may even be those who start to shout at you for not keeping to whatever DD standards they think you should be held to and this kind of feedback can definitely ruin your day.
The notes in my inbox...
So, if you know that you're looking for
feedback
, then ask for feedback, not for a DD. I always try to answer notes with requests for critiques, but personally, I feel hard-pressed to say something to someone who has asked for a DD with the wish for feedback thrown in. For one, they seem to want feedback from the community and maybe not from me directly, so is it my place to tell them "the lighting here is off, the blending isn't quite right,..."? Even if I always try to tell them what they can try to make it better, I still feel like I'm intruding. Plus (and this is point two), if someone asks for a DD and gets in return a longish list of things to do better, it may come across as "not only is your image not quite what I'm looking for, it actually is miles off and really bad!" and I do not EVER want to say this to anyone! Not literally, not implied. Not ever.
So, if you want my help/feedback, just note me! If you want feedback from more people, find a group where they will give you feedback (some have "critique requested" folders). Set your deviation to "critique desired" either using the tool you get when you're subscribed or by asking in the artist's comment! You can also try the dA chatrooms and find one where manipulators hang out and you'll soon find that live feedback can be invaluable. To get the most out of a request for feedback, you can ask for feedback on specific aspects, like lighting, blending etc.
Once you feel secure in your work, send me a note and
suggest yourself for DD [click for more info]
.
Everyone starts somewhere
Have you looked at my first manips (those I left in the gallery anyway)? The oldest still available is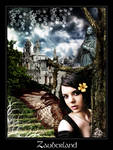 Oh boy was I proud of this one

The list of flaws is long though: the cutting of objects wasn't very precise, some stuff blurs together while others has too sharp edges; the colours don't blend at all, the lighting is pretty much non-existant. Shadows are missing all over the place and the brushes are used randomly at best. And I could go on

But the point here is that I still have it in my gallery because I still like it despite all of the above! I like it because I like the idea behind it, I like to remember the time when I created it and how it came to be. I like that it's not polished perfect and that it shows my progress when compared to newer work.
And I guess the real point here is: Not every deviation has to be DD material, it just has to be something
you
like. And there's always the next image and the next, always progress, never giving up.

Jasmin
EDIT: If you want feedback on your manips (and are willing to return the favour!), check out my group the
FeedbackHub