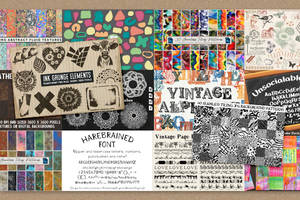 HG Designs Subscriber Area
Lots of high resolution goodies for graphic design including textures, photoshop brushes, seamless patterns and more.
---
Suggested Premium Downloads

Description
Brushes for Adobe Photoshop CS5 and up (sorry, no earlier version available). They will most likely not work in other programmes, but you can always try

But don't ask me: I simply don't know!

How to install, use, create brushes in Photoshop:
[link]
I've had those lying around for a while now - they're nothing special, just the standard brushes with different settings. Maybe you'll find them useful and they help you find out more about the power of the brush tool


IMPORTANT NOTICE:
the brushes tagged as "Fading" react on pen pressure -> they adjust opacity
the brushes tagges as "Colour" will take both foreground AND background colour and thus make the bokeh multicoloured!

Please read my rules (on my front page is a condensed version and
here is the full journal
) before downloading them - I do not want to find them elsewhere on the web, redistributed in packs or what not!
I hope you'll have fun with these - please show me what you create with them

Download and unzip to get the abr file
Rules are in my journal

How to install, use, create brushes:
[link]

More Photoshop Brushes (PS7 and up) here




No stock from stock, no premades, no redistribution!!!M O R Eb r u s h e s
For even more Photoshop brushes, visit my
brush collection