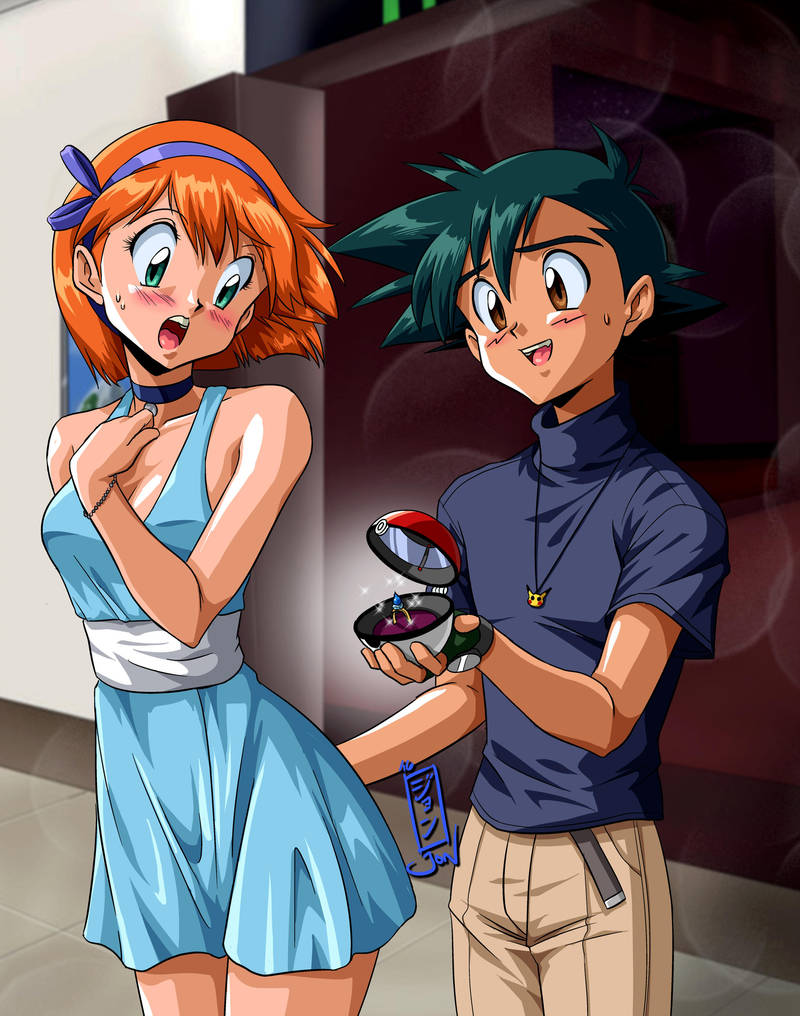 Watch
.:*:.
As Ash and Misty walked out of the theater together after finishing the film they had both agreed to see on their date, Ash's pace slowed down a bit causing him to fall behind.

"What's wrong, Ash?" Misty asked, as she stopped to look at him, "Did you eat too much candy during the movie?"

"What?" Ash's eyebrows furrowed for a second. "Why would you think that was my problem?"

Misty's eyes narrowed. "Ash, I was just kidding. Please, get a sense of humor.
It's almost as if all that time traveling around with Brock meant nothing to you."

"You're right, I'm not chasing after ever pretty girl I see!" Ash laughed.

"Oh, is that so?!" Misty's short, orange hair swiveled around her head as she turned quickly, a loud "Hmph!" echoing throughout the entryway.
"Seeing as how I'm not pretty enough to chase after, I guess I'll be heading back to Cerulean City tonight." Misty's heels clacked loudly against the mall tile. "Goodbye, Ash."

"Wait."

A familiar hand grasped her wrist, sending a shiver down Misty's back.

"I choose you."

Misty's eyes widened as she turned around, catching a glimpse of the open PokéBall with the ring sitting inside. A small replica of the Cascade Badge sat on top the sparkling diamond that adorned the visible crest of the ring.

"I couldn't afford to buy you a new bike because I was always saving for this..."
.:*:.
It's late as hell, but WHATEVAH WHATEVAH.
Here is my entry for the

Valentine's Contest.
While Misty and Ash aren't my main pairing, I just really wanted to see this happen. 'Coz they're the original pairing, y'know? I decided to throw together a small story explaining the situation occurring (like it isn't obvious) just for funsies. Sorry, I'm not a writer! If you're a writer (professionally, please!) or good at grammar, please let me know what I did wrong! I would love to write fanfic again someday, just gotta get good.
Anywho, enjoy?
Happy belated Valentine's Day 2016!
Artwork (c) Jonathan Castleman

Characters (c) GameFreak, Nintendo, OLM Studios, Pokemon International
Other Pokemon art by me:
AshxBarry is my OTP so GET OUT MY FACE