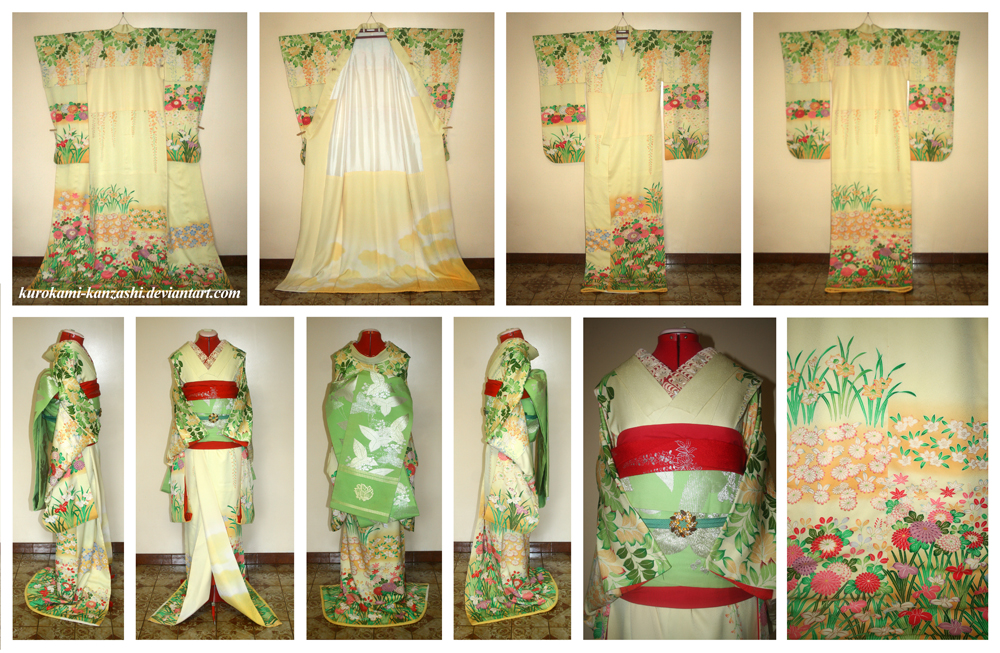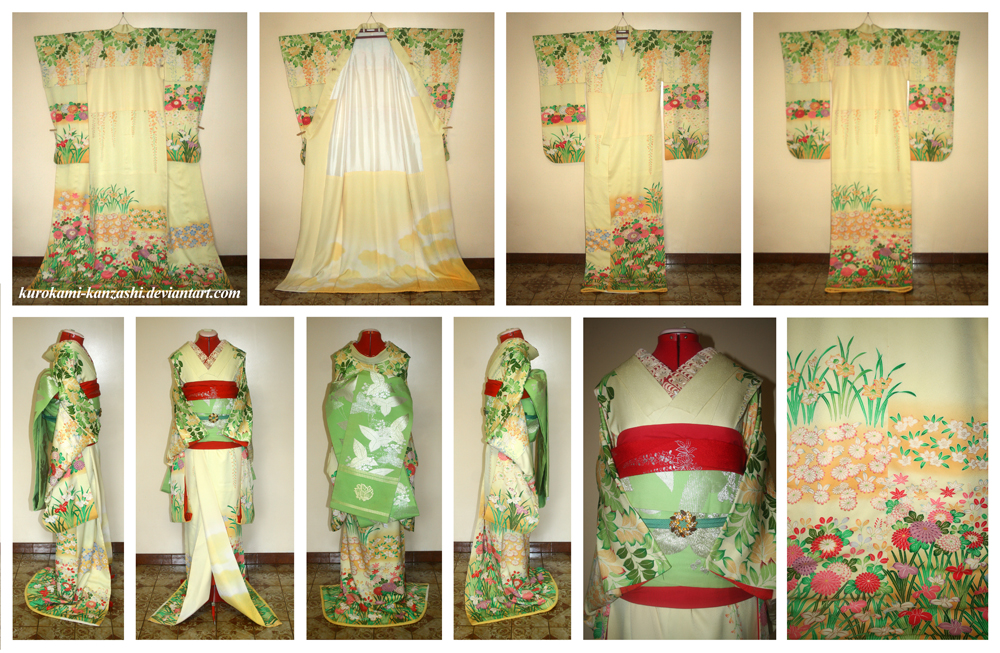 Watch
Harunohana
- Spring Flowers
For those who've been wondering if I'm still making kimono... FINALLY!!! It's finally finished!!! I've been working on this piece for more than a year. This is a project I undertook with the intent of making an entirely accurate maiko hikizuri replica. I painstakingly based this on the measurements, proportions and reinforcement techniques of the 4 maiko hikizuri in my collection.
This project all began with this picture:
fav.me/d2gj52y
I drew it in 2009 and when I finished colouring it, all I could think of was how much I wanted the maiko's hikizuri. A short time afterwards, I found this karinui up for sale:
www.flickr.com/photos/13061699…
It's not exactly like the one in the drawing, but it had some similarities, so I decided I was going to make a maiko hikizuri of that karinui. I thought this karinui was perfect for a maiko hiki as its motifs are mostly season specific and those that are out of season fall into the mirrored season (spring / autumn) category and are therefore appropriate for a maiko to wear. This karinui features wisteria over the shoulders, irises, daffodils and plum blossoms - all spring motifs. Aside from those, there are also chrysanthemums, turning maple and bell flowers representing autumn.
As I searched for matching fabric to make the extension around the waist, I found another kimono with cloud patterns dyed into the hem. I used the fabric from that kimono to make the body extension and the cloud patterned hakkake. There is also cloud patterned lining at the edges of the sleeve cuffs and sleeve openings.
This hikizuri is going to be worn by our maiko in the 2013 Anime North Kimono Fashion Show. You can see the actual kitsuke our maiko model will be wearing here: Our maiko will either be wearing this iris kanzahi set:
kurokami-kanzashi.deviantart.c…
or if I have time I will make a bridge piece to match this wisteria kanzashi for her:
kurokami-kanzashi.deviantart.c…
This outfit features authentic maiko han'eri, obiage and darari obi. The darari obi originally belonged to the Min no Yae Okiya. You can see it being worn by maiko Makino here:
www.flickr.com/photos/augustus…
Unfortunately, I didn't bother to time myself as I completed this piece, so I have no idea how many hours I actually spent on it. It's most likely over 75 hours though. For some reason the fabric was also exceptionally difficult to work with. Eventhough I used the smallest, sharpest needles I could, the fabric was so tightly woven that my needles had trouble finding their way through.