Despite being a much slower con than BronyCon, this weekend still managed to zip by. Apologies to anyone whose names I may have forgotten.
Friday
Even though I left late on a direct flight to Vancouver, the proud tradition of airport annoyances continued. First came the announcement that the plane's lavatory was having issues and that if anyone didn't think they could make the roughly two hour journey without a pit stop, the plane could stop in Calgary (which would both make me late and negate the advantage of the direct flight). Thankfully, no one took them up on that offer.
I then spent the trip squished into my seat. No offense to the lady involved, but she was a bit larger in size and ended up spilling over onto my side of the seats. This made the trip rather awkward and uncomfortable. After that, I totally had the best timing because the free shuttle to the con hotel was nowhere to be found. And it was raining. Forty minutes later, we were en route.
The trip to the con was pretty short, though and the ground floor king I booked mutated into a second floor dual-queen suite. Not really a big deal and the second bed ended up making a decent extra surface for stuff. The slow elevator was a bit annoying, but hardly a real damper.
With Twisuit unpacked, I went in search of a snack and to scout out the location of registration for the next morning. The first was easy enough, thanks to the nearby vending machines. The second was a little more confusing. I was searching for the hallway that would take me to the second section of the hotel, not realizing what was marked on the map was actually the sidewalk outside. Oops.
Anyway, after some helpful directions from a few BronyCAN staff, I found what I was looking for. After that, there was little more to do than kick back in my room until I could go to bed and sleep my way toward sweet con-age.
Saturday

Since I'd missed the (rather narrow) window of opportunity for early badge pick-up, I was up bright and early at 7:15AM. Dashed down to the Tivoli's for some breakfast. It was a bit pricey ($10), but I got a Belgian waffle that was quite filling. After that, I hopped down to the registration line, which had about ten people in front of me. A really easy wait compared to BronyCon's monstrous 2.5 hour line-up, especially since BronyCAN's started moving about 15 minutes before reg was actually due to open.
I snuck over to wait for the vendor hall to open at that point, then, like an idiot, didn't think to get dibs on a Nicole Gauss commission. I did, however, snag a blob Pinkie plushie, a couple Enterplay binders and a Pinkie promo foil. With nothing pressing to do, I ran back to my hotel room to drop off my swag. On the way back, I noticed a set of
Dashie and Flutters fursuiters
hanging around before opening ceremonies. I got to talk to them for a bit before the hall opened up and we parted ways.
Following that, I decided to camp autographs while also waiting for

to arrive. I was second in a line that grew to be about an hour's wait. I did end up having to wait about half an hour past the 45 minutes before the autograph room opened since priority badges and kids got to go first. Not really a big deal, since I got to chat with some random people and see all the cosplays going by (including a... CMC themed Jedi, I think, and Shining Armour, who gave us
this nice dueling pose
. Hazel/Trouble did show up too, but I was still stuck in line.
Once I did get in, I nabbed a photo with Andrea Libman and got her to sign my Pinkie promo. We both agreed that it's a great representation of Pinkie (
see the right-mid side of this
). After that, I got Tabitha to sign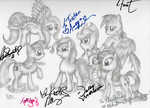 , which puts me one Ashleigh Ball away from having all the non-singing VA sigs. Sadly, Rebecca and Vincent had been pulled off for a new panel, so I wasn't able to make this my only autograph run.
Anyway, after that I ended up back at the vendor hall looking for Trouble. I found her, along with some of the other Tumblr blogponies (including
Rose Quartz
,
Desiree Dreams
and
Scarlet
Hooves
) and after a brief chat, the group split, with Trouble and I stealing Scarlet. We decided we were hungry, so we went to check out the Ceili's. They had pretty good food for pretty good prices.
After lunch, the schedule was a bit tight, so I went to get suited up in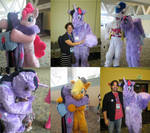 so I could head right to the cosplay contest. We then went to the Tumblr blogpony meet-up in the park across the street. With every scattered and the usual con-schedule throwing everything to the wind, there weren't very many of us. And it wasn't long before I needed to head out to the cosplay contest.
This contest was a bit more organized than BronyCon's and the categories were arguably better: youngster, commissioned (majority assembled from pre-existing or purchased pieces) and handmade (majority constructed by the wearer from raw material); each category had a winner picked for design, attitude and runner-up. I didn't even place again, but I'm okay with that, since I lost out to that
amazingly detailed Shining Armour
. Also, the Dash fursuit from before got the attitude award for the commissioned category (I was happy to see fursuit actually get picked).
Following the contest, I desuited and we checked out the games rooms (where the board games were pretty dead, but the karaoke in the other room was going strong). Then we hit the Mad Greek for supper. I had somehow forgotten just how much energy fursuiting takes and proceeded to fix that by getting a nice, big plate of pasta.
The rest of the night was basically killing time until the pony PMV pajama party, which ran into more than a few hang-ups (including an initial lack of laptop and the legal inability to actually show pony stuff). Some of the Tumblr blogponies broke out into a flash mob of Helping Twilight Win the Crown (which also resulted in me getting a set of handmade Wondercolt gear,
which can be seen in the top middle here
).
We ended up leaving after a bit, though and parting ways a bit early in the night. It was probably for the best, though, as I returned to my hotel room and found that my toilet had suddenly decided to clog itself. One call to the front desk, a maintenance call and then a shower, later, I noticed that my Twisuit was in need of some repair (normal wear and tear, but thing is, once interface starts peeling off, or a stitch breaks, it snowballs a bit). So I spent a good portion of the remainder of the night on that.
I can't remember exactly when, but I had done a quick check of the vendor hall and apparently no one was selling Flash Sentry prints. Initially, I hadn't been sure if I was going to get his, so I didn't bring anything. With no other options left, it was time to break out the sketchbook.
Sunday
With Rebecca's and Vincent's autographs on the brain, I got up with the intention of running to Tivoli's again. I had completely forgotten about the Saturday Morning Cartoon (on Sunday) event, so I was a little confused when the door guy stamped my hand and directed me to the adjacent panel room. But free breakfast is free breakfast, so I very carefully weaved my way over to the little buffet stand.
I started with a bowl of oatmeal (yes, Pinkie, I am crazy). I wasn't too big on the texture, so I grabbed a couple bowls of cereal instead of second helpings. I went for the Frosted Flakes, but if the dispensing bowls were any indication, everyone else loves Fruit Loops.
With my stomach full, I ran back up to my room to don Twisuit. This put me quite a bit farther back in the autograph line, although I'm not sure if it really mattered too much. I did end up waiting for a while in the glass hallway between buildings, which was a bit brutal at times, since despite the tinting, it was still a bit of a greenhouse. Anyway, hanging around in the hall gave me a chance to attract a few cameras and hug, as well as a really odd encounter.
The hall was kind of noisy, and this girl came up to me and what I thought I heard was "Are you registered?" to which I gave a confused (not that anyone could see the confusion) nod. Then she tried to give me money and when I asked what it was for, it became apparent that for some reason she must have asked if I
was
registration. Once that was cleared up, though, I had her going in the right direction.
I ended up being able to hop the rest of the queue when one of the con staff came out asking for people who only wanted Rebecca Shoichet, Vincent Tong and/or Lee Tocker autographs. Which was perfect for me, since that covered exactly what I had missed out on Saturday.
So I had Claire shout her approval over her table at me, got to talk to Lee (got a bit lost in the crowd trying to find Vincent and ended up by his table where he recognized me from BronyCon) and then snagged my autographs. I got Vincent to sign the fruits of my previous night's labour: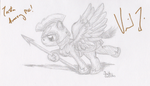 . Then I snagged a couple pictures of him, including
this
, as requested by

.
Next, I found Rebecca, who was equally as impressed with Twisuit. I got her to sign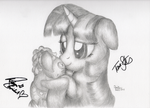 ,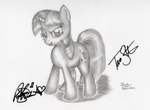 ,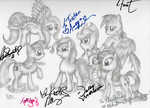 . She gushed over all three, but with the first, she told me she thought it was going to make her cry. It was a bit surprising, as I'd never had my work elicit such a strong response before (the closest was with the same piece where Tara Strong looked at it with a big "d'aw" face). Anyway, once I'd gotten my photos with Rebecca and finished gushing about how much I loved her singing in Winter Wrap Up, I went off to go find Trouble and Scarlet.
Thanks to the queue bumping, I was able to sneak into the last half of the Nicole Gauss Q&A. I don't think there were any huge revelations, but I did find out Nicole likes flowy manes, which is something I can relate to. I had to wait until that panel ended before I could regroup with Trouble and Scarlet, though, since they had seating and I was just hanging out in the back by the door. They wanted to attend the Tumblr panel and since it was in the same room, it was easy enough to hunker down with them. I picked up on a few organizational tips that I may or may not attempt to implement later on.
Desuited, grabbed a late lunch, then ended up at the Table-Flip for Charity event. Basically, it was $5 to flip a cheap table with a cheap tea set on it at Force Start Comedy (one of the vendors in the vendor hall) and if a piece so much as brushed him, the flipper was allowed to choose to cream pie or water balloon him. It was particularly interesting when people in costumes went up. Of note was the
Sweetie Balloon
that threw its own kind under the bus to soak Force Start; an Assassin's Creed guy in a CMC cape, who did a drive-by cream pie assassination while shouting something about Force Start killing his parents and the Rainbow Dash fursuiter, who inspired this: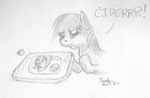 .
I decided that I wanted to suit up again, so I ran back to my hotel room. On the way over, I noticed that the afternoon's autograph session was winding down, with no line in sight. I had been debating trying for a Nicole Gauss autograph and I figured that was the time to make a decision. So I swung in and went to grab said autograph. What I didn't expect her to do is ask which pony I wanted her to draw. After some initial hesitation, I asked her if she would draw Dusky (with Twi being totally fine if she didn't want to). Well, she said okay and having never seen Dusky's design before and working off the only reference I had on my phone (which, to be fair, was a photo of my Lauren Faust drawn Dusky), she
produced this in a mere 5 minutes
. I was suitably humbled.
Anyway, I finally got back to the Table Flip, where we continued to relax. After the line thinned out a bit, they started calling for more volunteers and I ended up going up to do the whole thing in full Twisuit, during which I yelled about M.A. Larson not giving me wings, flipped the table and then soaked Force Start's shoes and pants. From watching the other people play, I noticed the water balloons being used were too durable. Even after adding a puncture, a lot of the times it would deflect off of Force Start. So I employed ye olde FPS rocket tactic of "aim for the ground".
With the Table Flip done and over, only the closing ceremonies remained. After killing a little bit of time, we headed in. I got a few more photos with people, then we listened to the con head and Lee Tocker give some grand and heartfelt speeches, and more hanging out and photos followed.
We snuck in a bit more visiting, but it was soon time for Scarlet to go off for supper with his relatives. Trouble and I hit Ceili's again for supper, then hung out a bit more, trying to squeeze every last bit of visiting in before her uncles showed up to take her home.
But that wasn't quite the end of the con for me. As it turns out, they were a bit short-staffed and clean up was going rather slow. A bunch of us final loiterers got recruited to help take apart the last of the main hall's audio equipment.
With that, I headed back up to my room, took a final assessment of
all the swag
that
I had accumulated
and started packing it all away. The next day, I would leave the con behind and head off to hang out with my aunt for the next couple days.

It seems like you had a great time at the con, overall. And you found some nice treasure as well, including several gifts from Trouble I see.