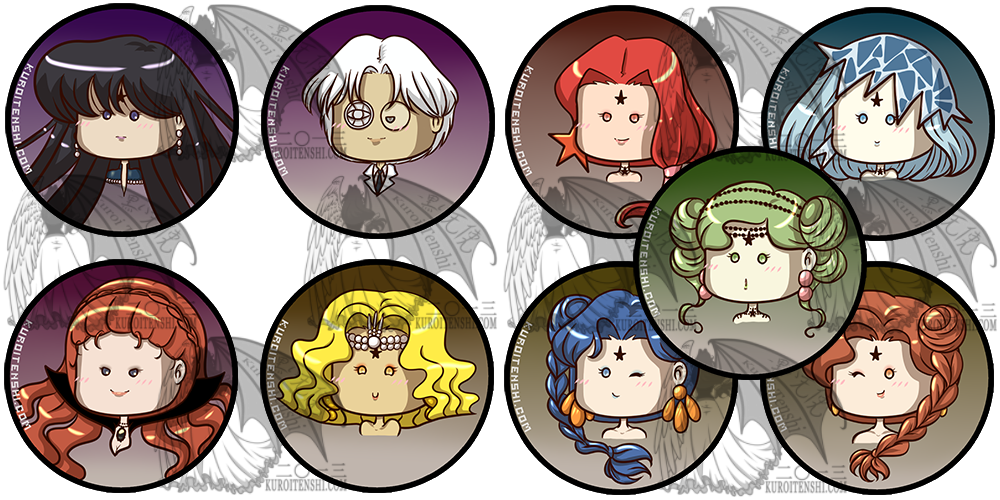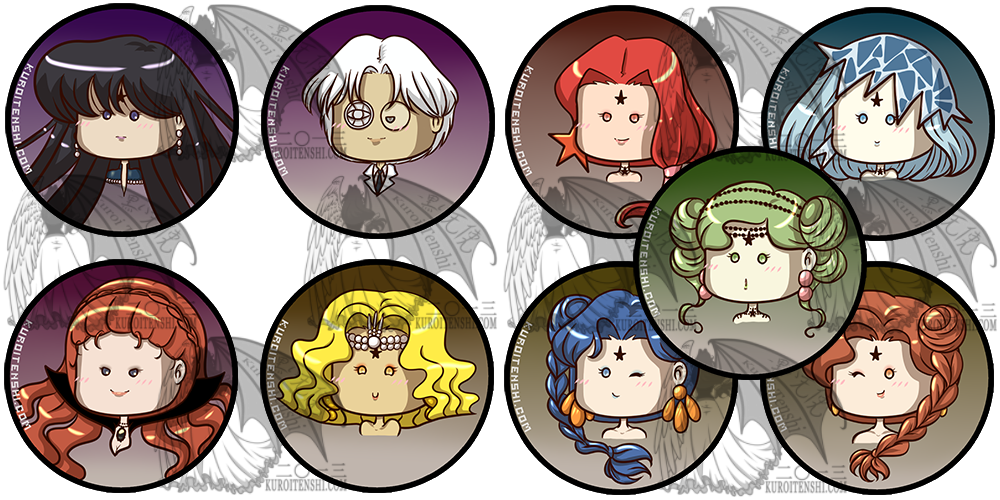 More SM characters, finally got around to doing the S Villains, I kept out Pharaoh 90 as well, he's space with eyes. If enough people demand him I will put him in. Also, why oh why did Naoko sensei go yes, Witches 5 - let's make it 6 characters! Small buttons $3 for the first, each after $1.50.
Please comment or note if you're interested.
Other 1 1/4" Button designs -
OC Buttons Part 4
Sailormoon Buttons Inners
Sailormoon Buttons Outers
Sailormoon Buttons Cats, Tux n Chibichibi
Sailormoon Buttons Original Villains
Sailormoon Buttons R Villains
Sailormoon Buttons R Villains 2
Sailormoon Buttons Starlights Kakyuu Galaxia
Sailormoon Buttons Q Serenity and Animates
Shoujo Kakumei Buttons

Reply

Reply

YES! I will be at Shuto and I will have the set all packaged and ready to go~ And with a con there is no shipping fees.
Reply

Reply

EEEEEEEEEEEEEEEEEEEEEEEEEEEEEEEEEEEEEEEEEEEEEEE!!!! And Mimette is my fave of the Deathbusters. Heeheehee. I look so forward to meeting you! Just look for my banner, I use the same two for conventions and I try to put it above the table for easier distance seeing. <3!!!
Reply

xD Such enthusiasm!
I have no clue who my favorite is. They are all awesome to me, but I think I relate best to Eudial or Tellu.
The finished briefcase prop is in my DA gallery btw.

I will definitely keep an eye out for the banner so that I can buy all the buttons!

Did Shutocon post an artist alley map by chance? This will be my first time going and I wasn't sure if they provided something like that in advanced.
Reply

MUWHAHAHAHAHA! Someone that loves them makes me enthusiastic. It's rare these days to find someone that is like buttons, I want them, and I will actually see you and buy them from you. It makes me happy~ Yes they did. I need to in the next couple of weeks post where I'm going to be, I think I'm closer to the entrance doors this year. WOO~
Reply

These are always so cute!
Reply

Awww, thanks. I plan to have all of them at Shuto.
Reply

Ugh. What cuties. Look at their little eyes and their adorable little expressions.
Reply

Thanks. I tried to give each their own personality.
Reply

I love when they each have their own expression.
You did a good job. c:
Reply

Thanks. I already have...jeeze 49 now.
Reply

Oh goodness that's a lot. I have. I have none. Oh noes.
Reply