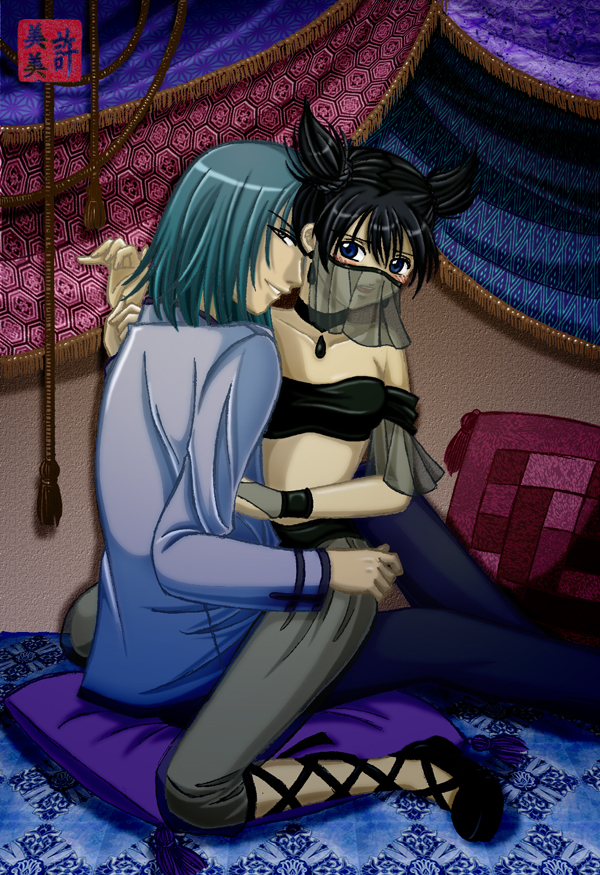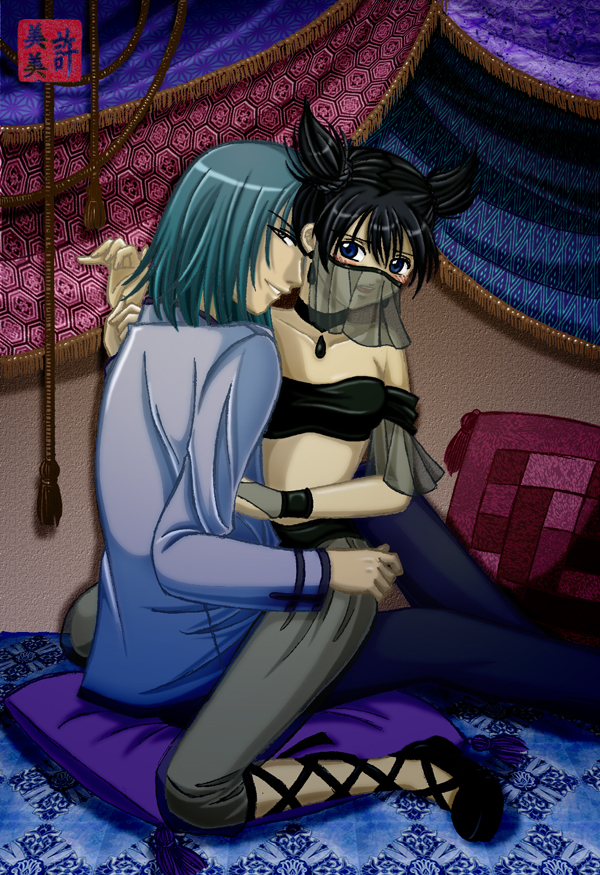 "How much does she know?" Hiiragi asks.
"We had just picked her up the other day," Temaki answers in a distasteful tone, "she is still a child, my prince. She does not even know how to behave as proper slave! Surely I have someone more suited for y-"
"I will take her."
"I mea-... what? I'm sorry but did you ju-?"
"Name your price. Do not keep me waiting."
"Of... of course."
-------
12,345 Mini Kiriban Contest still ongoing!
-------
After debating with myself as to how... appropriate... this image would be for public viewing, I finally decided that... heck... there's nothing, absolutely n-o-t-h-i-n-g going on in this picture aside from Hiiragi being obviously possessive over Kuromi.
...and also from the story behind it that Kuromi was bought by Hiiragi to be his slave, and later become his wife. (~*3*)~
Watch your hand, Hiiragi-sama! >E
Inspired by the Arabian Night curse in Polychromatic. It was a random sketch I did on scrap paper I found somewhere. I'm not all that sure why I designed Kuromi's outfit this way, because I think it could have been better. *nit-picking*
It took me ages to finish this piece. The colors, the fabrics, the pillow, the rug... Aiyah, I've never used so many patterns in one illustration! I finally decided to finish it today because I was getting tired of seeing it in Photoshop. Oi. x.x;;;
Hope you guys like it. x3 I promise to draw fanart from other series soon! >.<;;;

Wow you are very good

Reply

Hiiragi likes his pretty slave girl very much. <3
Reply

..watch where you put them hands, I seh. >E

Reply

Why? >3 .. I also had a really weird dream about you.
Reply

Why? Why you ask..?
...
Carps.

YOU KNOW WHY!
And... YOU MUST TELL ME! ..how'd you even dream about me when you don;t know what I look like?

Stupid AIM (or system admin) won't let me login!

I'll chat with you tomorrow or something.

Reply

Oh very good and intriguing.
What anime is this?
Reply

The characters are from Onegai My Melody.

But this isn't canon, it's a fanfic that was written by several people a few months back.

Reply

Kuromi looks awesome as a human!

Reply

Reply

That's good to know.

At least it doesn't look as weird as I thought.

Thanks!

Reply
Great work

Reply

i like it its so captivating

Reply