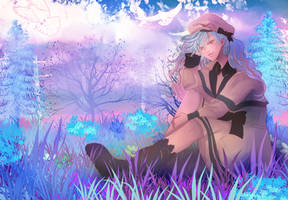 Early access
early access to wip and thing. This can entered my early access of new gallery around internet,fastest,exclusive with sketch and private life, Inspiration,etc.
---

A.illusions: Feline Sisters
Description
For *nyanko-chan's contest!
<-- which I lost horribly! And now for #
Ocart
's contest!
I have no cats anymore, because my mom doesn't like their smell...

I'm wondering if this is even a valid entry at this point.

But it was a fun piece nonetheless! Those butterflies were all drawn and colored one by one, as well as the sakura flowers.
Eri and Naru are sister computers as their owners are brothers. They are both feline, but Eri is more advanced, giving her a human body, while Naru is still a kitten. Both are characters from my webmanga.

I hope you like them!
*******
Series:
A.illusions
Characters: Eri-hime and Naru
Materials: Bond Paper, Inks, Photoshop
EST: 20-30+ hours (maybe more)
Blog:
[link]
Image size
768x1000px 813.8 KB