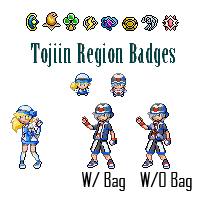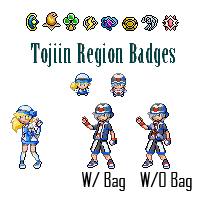 Watch
Sprites of Lukan, Lumaiya, and Badges. (Pokemon Sprites built from Pokemon D/P Sprite bases)
Badges- Left to Right-
-Moon Badge from DARK Gym Leader Luna
-Kindling Badge from FIRE Gym Leader Cindy
-Canopy Badge from from GRASS Gym Leader Grant
-Quake Badge from GROUND Gym Leader Terry
-Thought Badge from PSYCHIC Gym Leader Brianna
-Colony Badge from BUG Gym Leader Buzz
-Tempest Badge from WATER Gym Leader Rayne
-Power Badge from NORMAL Gym Leader Reggie
Badges and Gym Leaders by Ella B. and Dave C.
NOTE: The male images are mixed up.


your Canopy Badge looks a lot like my Care badge
Reply

From what I can see you started uploading sprites 1 year and following after this post.
Reply

yeah You definatly made yours first.

I just thought it was funny that we have similar badges even though neither of us could have been inspired by the the other.
Reply

That is weird-- well I've seen a lot of similar ideas coming from fakemon artists. I guess we all have similar ideals for how the pokemon world should be.
Reply

*still thinks that the three of us should be random trainers in the pokemon world D=*
Ebby, Dave and Rei~ Random trainers yay! XD
Oh gawd I rhymed D=
Reply