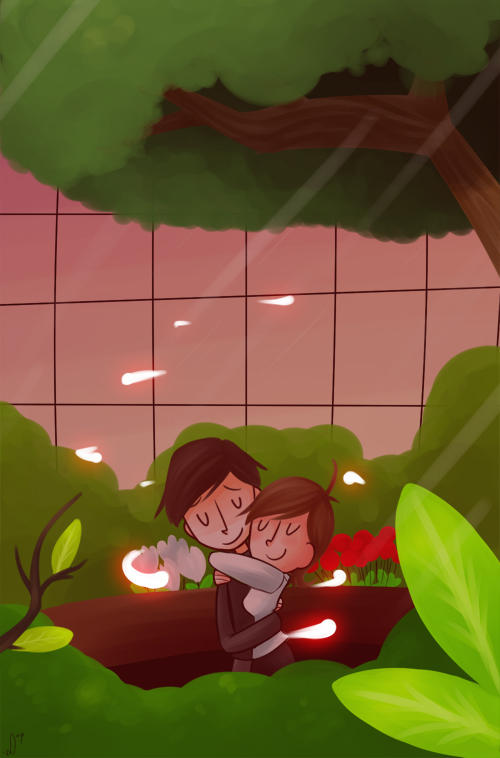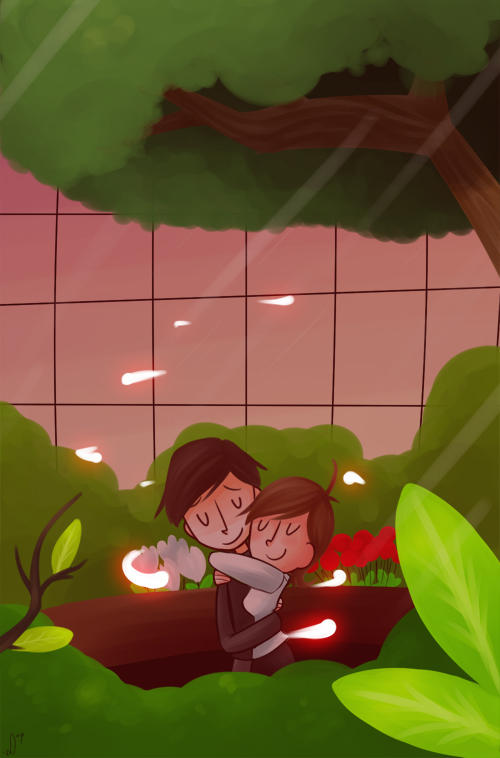 Watch
I'd like to make myself believe
That planet earth turns slowly
It's hard to say that I'd rather stay awake when I'm asleep
'Cause everything is never as it seems
--
Based on Owl City's
Fireflies

I can't help but imagine something like this when I listen to it ;u; fhggfhgfhgf <3
As always, more practice with backgrounds anndd trying different types of shading! 8D apparently I like switching between super-bold shading and paint-y shading, hmm. It's fun.
I'm not very fond of the tree, though...but ah well D|
Younger Sir&Claire (hence the lack of monocle) from the not-really-a-series-but-still Asterisk!

and that's totally Frederick's greenhouse. Of EPIC dimensions.
comments & critiques are loved~ x)
________________________________
Photoshop CS3 + Paint Tool SAI + Tablet.
all characters © =Kuriru aka me!
Do not steal/copy/redistribute!
Que te digo, es muy genial, aunque el pelo sin lineart se ve un poco extraño. Los efectos están buenos. El brazo de Clari se ve un poco extraño, pero imagino cuanto te cuesta dibujar menos chibi.
El resto es bueno, o sea..en cuanto a shading y pintado más acuareloso. Me gustaron los efectos de las ramas y los arboles.
Eres demasiado seca dibujando plantas o_o enseñame.
Originalidad. Bien, no es tan cliché, a pocos se les ocurriría, aunque una escena romántica siempre acude al cliché pero está bien para ser romántica. No es cursi en extremo. Me gusta.
Visión. Me gusta el enfoque, es como si estuvieran como escondidos dentro del ambiente en general.
Técnica. Bien, me gustó y como tu best friend for ever hay que admitir que has innovado harto quitando lo que es lineart para hacer parecer todo más realista. Me gustó la iluminación, es algo nuevo.
Impacto. Como impacto igual es bueno, aunque sabes que como un frio iceberg no me impacta tanto este tipo de cuadros románticos. Pero sí, viendolo desde otra perspectiva, es interesante.

Eso ha sido todo por hoy~

Que arreglado encuentro una critica de tu mejor amiga, pero whatever...asi es la life.

si lo encontraste muy bajito, dejame decirte que soy toda una passalaqcua...y no importan lo que digan...que este que critica...y LEROLEROLEEEEROOOOOOO~*mueve la cabeza*
The Artist thought this was FAIR
12 out of 14 deviants thought this was fair.
I think this is super cute. I like your subtle way of shading. It looks as if this is taking place in a green house

I looks as if they are happy

I like the colors that you've used. Very neutral

A couple of suggestions I would make. The green of the leaves in the tree are much brighter than the greens of the bushes below. I think it might look better if you matched them a bit more to give it some more continuity. The 2 large leaves in the front are a little distracting, since they are so well defined, it competes with the couple. If anything, I think you should blur it so that it looks out of focus and the couple is more important again

The light thingies look really nice, but if they give off a glow, I think some of it should reflect on the people as well

Overall this is an adorable piece

The Artist thought this was FAIR
10 out of 11 deviants thought this was fair.