How long have you been on DeviantArt?
According to my timeline, 11 years, a long time ago.
What does your username mean?
It means
"Crash"
in Japanese, 'cause Crash as a username is always taken. It's stuck though, I now go by "Koo" as a name out in the weird world of reality, I like it.
Describe yourself in three words.
Weird, creative, cynical.
Are you left or right handed?
Right-handed, my left hand isn't that bad as far as hands go, but I wouldn't trust it with a pen, pencil, brush or knife.
What was your first deviation?
... I was really into
"Escaflowne"
and was trying to copy screencaps, plus Dilandau was a cute little psycho.

What is your favourite type of art to create?
Probably simple cartoon drawings of stuff that makes me laugh, I enjoy drawing Quintus and Flintlock a lot.
If you could instantly master a different art style, what would it be?
Digital art. I'd need the tech' and software, but I reckon I could be quite good if I had it, certainly a lot faster.
What was your first favourite?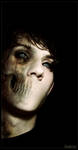 ... I was a moody teenager, I liked weird things.
What type of art do you tend to favourite the most?
Fun cartoony stuff, hot women, mechs, cute demons.
Who is your all-time favourite deviant artist?
... Probably
jollyjack
, he drew Quintus for me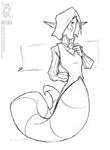 , plus he draws very sexy women, he makes me laugh and I really like his style.
If you could meet anyone on DeviantArt in person, who would it be?
:dev
alohalilo: because he's one of my favourite animators, he draws beautifully curvy women in skimpy outfits, plus Lilo & Stitch, big fan.


How has a fellow deviant impacted your life?
Given me someone to talk to... I get quite lonely.
What are your preferred tools to create art?
Rum, Rotring CORE Mechanical pencil, Rotring CORE Fountain Pen, Sharpie, paper, Derwent colouring pencils.
What is the most inspirational place for you to create art?
Bedroom. Private sanctuary, nobody really bothers me here.
What is your favourite DeviantArt memory?
Looking back on a lot of my work and remembering why I made it in the first place, usually makes me smile or inspires me to create more.