Information

Activities

Supplies

Misc.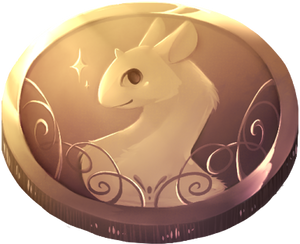 Occasionally an admin will see a picture or literature where they feel that there is excellent story telling, clear improvement made or way more effort put in than usual. We want to reward people going for extra steps, and here it is: Tokens!
---
What do Tokens do and how do I use them?
Tokens are account bound, and are given to the artist/writer
. They cannot be given to or transferred to other members. You may only give your tokens to your Kukuris (One token has one use). If a Kukuri with tokens is transferred to another user, the Kukuri will lose it's tokens - however ranks and such will not be depleted would they go to negative due to this.
A token equals 3FP.
You can give a token to your Kukuri by simply putting an image of a token in their tracker, with a link to the proof of your token under it. A FP counter will mark your token used when they come to it.
You may put your tokens in a brand new "Tokens" tab, or use them at "misc" tab.
---
I feel I should've earned a token
You should NOT request for tokens
. Any harassing admins for tokens will give you a warning. Treat tokens as something that you should never expect, and as such it's a nice little extra you can get.
---
Any admin can give a token
. There are two qualifiers for you to give a token, which go as following:
★ Did the piece give excellent story telling? Was it captivating, well thought out, something that stuck to your mind?
★ Is the quality something what goes beyond what the user usually draws/writes, did they try something they don't seem to usually try?
★ Some other reason? Specify this under the token.
Remember to scroll the comments quickly before giving out a token. This is to ensure that one piece does not give multiple tokens, and it's because of this that it's important to use the image version of the token text (it's easy to spot).
Naturally, you can't give a token to yourself. Likewise, if you seem to favor a friend, you will be put under a watchful eye and potentially banned from giving out tokens.

Use this form when giving out a token:
You've been awarded a token!


@ username who received token
[give your reasoning here. It can be well thought out compliment, or simply something like "storytelling." But reason MUST be given.]