Information

Activities

Supplies

Misc.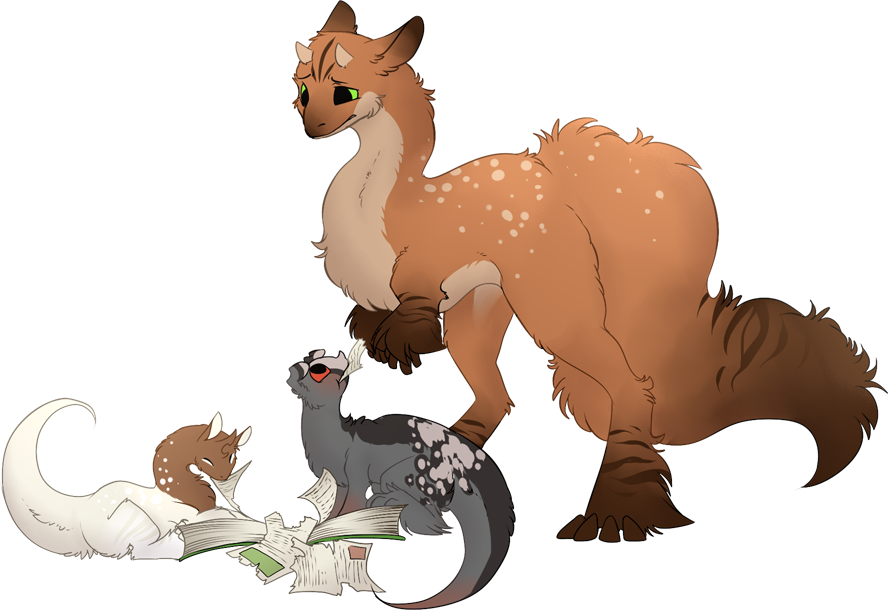 This guide is here to help those who're new or confused about some facts. If you as a newbie or past-newbie have something what confused you and it's not mentioned here, please feel free to comment so we can effeciently help other new members and give them easier time beginning?
---
What is an ARPG?
The term
ARPG
is short for '
Art Roleplay Game
' or '
Artistic Roleplay Group
'.
It is basically an RPG game made by artists for artists: it combines elements of RPG gaming with art. Generally an ARPG will focus on an original species designed by the group, such as the
Kukuri
.
How does it work?
A lot of you are probably familiar with classic
RPG
games where you create a character, kill monsters, do quests and gain EXP (experience points) to level up and become stronger. An ARPG works more or less the same way, except it's art-centric!
Every time your ARPG species is depicted in an artwork of any medium, they gain 'experience points' that will level them up!
If these artworks are 'activity' artworks, you can be rewarded with loot too!
For Kukuris, these points are called "
Fate Points
" (or FP for short).
Your skill level in art will
not
affect how much FP you gain, as everyone is compared to their own gallery. A more experienced artist will not have any advantage over a newbie artist; everyone levels up the same way.
You can acquire
loots and items
,
craft
equipments and potions, encounter or trigger various
random events
, etc, all by participating in activities within the group such as
hunting,
traveling, quests
and more!
ARPG terms
There is a lot of terms that float around ARPGs, and when shortenings come in it can get quite dizzy! Hopefully this section will answer some of your questions!
Genotype (geno) and Phenotype (pheno)
Genotype is a string of letters that basically tells how the Kukuri looks colorwise and markingwise. A lot of people refer undesigned Kukuris as "genos," as they are still only strings of letters without much identity.

Genotype always starts with the Kukuri's color. If the letters are small, that means that it is not present in the genotype. A big first letter and a small second letter (Aa) means that the gene is present as a non-dominant form, and when both letters are big (AA) it means that the gene is dominant. Knowing this, the colors respond to following letters:
Aa/ee: This means that the kukuri is CRIMSON, as Aa corresponds the crimson color.
aa/Ee: This means that the kukuri is HAZEL, as Ee corresponds to the hazel color.
aa/ee/Xx: Means the Kukuri is RAVEN. Xx correspons to the raven color, and when neither Aa nor Ee is present, it means it's pure raven.
aa/ee/Oo: is the same as raven, but PEARL color.

However, these colorations can be mixed, and that is when things get interesting. Read more about them in the Coat Colors page!

For markings, the non-dominant and dominant are written little differently. When there is a small "n" in front of the shortening (nSo), it means that the gene is non-dominant. If there is no "n" and the letter repeats itself (SoSo), it means that the gene is dominant and thus more likely to be inherited in breeding and allows the marking to have extra properties!
Related pages:
Genes and mutations
Import/Upload
An import refers to a Kukuri that has been designed, officially been approved by the group and added to Kuku-ri. When someone mentions that they are selling an import or an uploaded Kukuri, it means that it isn't a geno anymore, and cannot be designed again (expect with special items).
Related pages:
Design approval
Semi Custom
Semi custom refers to a Kukuri which is bought from the group from an special event, and the person which bought the semi custom can decide what kind of markings the kukuri has (with limits), regardless of who the parents are. If you're familiar with Closed Species, you could think that semi custom is kind of Make Your Own (MYO), but within limits. Semi customs often come with a short or none lineage.

Slots
Slots are breeding related. Each Kukuri has a set amount of breeding slots (but the amount does raise with the kukuri's rank), which the user can either use themselves or sell for other users. You cannot breed another person's kukuri without owning a slot from the said Kukuri.
You, as an user, also have slots. Unlike Kukuris whose used slots stay with them the rest of their lifes and the total can be increased via art, yours will refresh at the beginning of every month. You can breed 4 times a month (being the person who posts the breeding) and be part of 2 splits in a month (Being eligible for some of the kukuris produced in the breeding but not being one who posts the breeding).
You can check here your personal monthly slots, and the slots any kukuri has used and their total!
Related pages:
Breeding
Breeding Permission
When you've acquired a slot, the person who owns the Kukuri must give you a breeding permission. This is the proof that you own the said slot, and it's required to be shown in the breeding if the Kukuri is not owned by you. The breeding slot must be given on the group provided page, no other proof of the deal is eligible. That's also why it's important to keep these permissions safe, so make sure to copy the link to the comment in the Sta.sh or something similiar!
Related pages:
Breeding
Split breeding/clutch/litter/bun
A breeding where there are two people who will be owning the Kukuris produced, divided by the rules set by them beforehand.
Related pages:
Breeding
POTC/POTL/POTB
Pick Of The Clutch, Pick Of The Litter, and Pick Of The Bun all refer to same thing. This is a term seen in split breedings, and it basically means that whoever has the Pick Of The Clutch gets to decide first what they get.
Related pages:
Breeding
Round robin/dodgeball
Little lesser used term, but also split breeding related term. In this kind of pick system the decided person picks first, the other person second, the first person as third and second person as fourth (provided that the nest produced enough genos for this).
Related pages:
Breeding
Lineage, sire, dam
Lineage means the Kukuri's ancestors (A short family tree, if you may), and it's important when checking for inbreeding. Sire stands for the kukuri's father, and dam stands for the kukuri's mother. That means that Sire's Dam, for example, means the father's mother.
Related pages:
Breeding,
Design approval
Activity roll
A lot of people ask activities as a payment, due to them giving them items that they might need for crafting. With activity roll they mean a kukuri that is rolled for items. Since you can draw up to 3 kukuris in one activity image, if you're asked 3 activity rolls you can do them all in one image, provided that the person owns all the 3 kukuris portrayed doing the activity in the picture.
Related pages:
Hunting
,
Gathering
,
Excavating
,
Traveling
Kukuri terms
As many groups, Kukuris have few things named on their own ways for players to enjoy. These are terms you might see around!
Dove/Rook
These are terms that relate to Kukuri's gender. Dove stands for a female Kukuri, and Rook stands for a male Kukuri.

Bun
A nest of Kukuris (as in a result in breeding) is called a bun.

Loaf
A group of Kukuris is referred as a loaf. Members often describe the "all the kukuris I own" as "my loaf".

Crescent (Cr)
The ingame money that can be acquired with doing activities and then selling them to the shop. You can check how many Crescents you have from your bank, which will be created for you when you acquire your first items/Crescents.
Related pages:
The Bank
Enamored
A picture that is required in every breeding, unless a starter is present.


Requirements for Enamored: Both Kukus must be at least 50% visible, colored, shaded and with minimal background surrounding at least 50% of both kukuris. For writing, 500 words. A same enamored picture/story can be used 2 times.
Related pages:
Breeding
Fate Points (FP)
When you or someone else does art or write stories of your kukuri, it gains Fate Points. This is easiest explained as experience points, and when you acquire enough you gain new ranks that unlock new things for your Kukuri (often more breeding slots and skill points).
Related pages:
Fate Points and Skill Points
,
FP tracker (and how to make one)
Skillpoints (SP)
Skillpoints are divided in 3 different types: Attack (ATK), Defense (DEF) and Speed (SPD). Currently these skillpoints are used in special events, but will also affect quests and coliseum battles in the future.
Related pages:
Fate Points and Skill Points
---
Kukuris and how to get one

Kukuris are closed-species by
Unikeko
, which means you can't just make one 'cause you desire so, but it has to be acquired by either events held by the group or bought from other players.
Read more about Kukuris here.
Adoption Center
is a place where the members can donate their undesired Kukus for newbies to adopt! It is a good place to stalk when you're wishing to get your own. However, your account has to be at minimum 1 month old to be able to adopt your first kukuri.
Kukuris for Sale
- gallery folder is a place you can look through when looking for your own, this is where people will post when they're either selling, trading or auctioning their Kukus for either money, art, or other things.
Looking for Kukuris
- gallery folder is where YOU can post a journal telling that you're looking for your own Kuku - many people are willing to help, especially if you offer something in return!
Buy a slot to 2 starters and breed
! If you'd like to aim for rare markings, try to get something you desperately want and would not like to haggle with the prices, you can try to breed your own!
Additionally, if you're willing to wait, there are some random
events
where you might get a Kuku yourself! Sometimes they're simply monthly events, sometimes they're big ones and will be announced on their own!
---
FP and SP
Fatepoints
(FP) and
skillpoints
(SP) are two ever-growing stats of your Kukuris. Fatepoints are easiest explained as experience points what you can acquire by creating stories and art of your Kukuri!
Skillpoints are stats of your Kukuri, which benefit you on many activities within the group. For example, great speed might help when trying to tame a wild Kukuri, or great strenght may help in a spaw or wits.
Read more about Fate points and Skillpoints here.
---
How do genes work
Genes are limitations of how your Kukuri looks. The long row of letters may look intimidating, but it is mosly for checking is the gene dominant or non dominant and for those who which to try and breed some certain colour.
For example your gene row might look like this:
oo/aA/ee/xx/nCo/SOSO
This means the Kukuri in question is don-dominant
crimson
because there is only one
A
in the row of
oo/aa/ee/xx
. Only one A means that it is not as likely to pass down to the child if matched with EE, for example, which would make your Kukuri
dominant hazel
.
nCo
means that the Kukuri has "
collar
" gene which creates a marking around the neck, but it is
non-dominant
- it is less likely to pass down to a hatchling, and when designing your Kukuri you do not have the dominant priviledges.
SOSO
means that the Kukuri also has the gene "
socks
", which as it says creates colored socks on it's feet. However, this gene is
dominant
since it doesn't have the small n but instead double letters in it, so you're eligible for the dominant priviledges - in this case, if you so desire, the socks can potentially cover your Kuku's whole leg. You are never forced to use any or all dominant options if you wish not to. Dominant genes are also more likely to pass on to the hatchlings.
Read more about genes and colors here
---


Designing your own
When you have acquired your Kukuri, you download the
official import picture
, and navigate through so that you have your Kuku's right ears and horns. That is a start.
Then you pick the
coloration
- while it doesn't exactly have to follow the examples provided, there should be a clear difference between red and brown, for exampe. A very slight shades are allowed to be created, but nothing that is visible enough to be counted as a marking.
When you've finished this, it's time to slap on some markings. You have to follow your Kuku's provided markings, but unless it is specified what color the marking is (especially apparent with white markings which will always be white), they can be any shade close to your base color. So as example, if you have crimson base you can make your colorations light reddish, dark, orange-ish or wine red.
When you've finished playing with your design, you're allowed to put on
minimal amount of white and black
- these are only few spots of said colours which will not be passed down on any lineage, but more here to add one last unique touch on your Kuku. Rule of the thumb is, if your minimal white looks like it could be a gene on it's own, it's probably too much.
You have rather free reign on coloring the horns and ears, however they too much follow the same coloration guidelines with the basecolor. Meaning that a crimson Kuku cannot have an amber horn, for example. It is recommended that any markings put on ears or horns would reflect markings on the body. The markings also cannot be complicated enough to pass as hieroglyphs.
Read more about genes and colors here