Information

Activities

Supplies

Misc.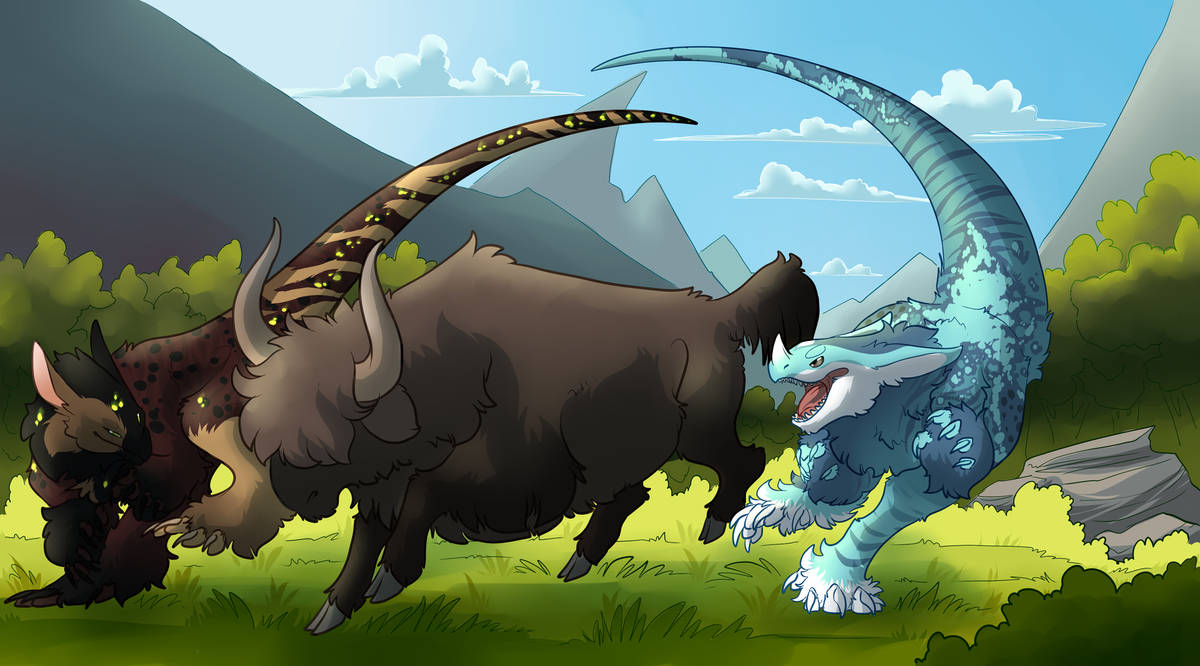 Hunting is one of the activities in the group, where you can hunt with your Kukus for pelts, skulls and bones by drawing art of it or writing. You can later sell these findings, or use them for crafting!
---
CURRENT SEASON:
---
HOW TO HUNT
✿ First thing to do is to create
an activity journal
- this can be made in the sta.sh writer or creating a public journal about it. In the comment section create 4 links - "Hunting", "Gathering", "Excavating", and "Traveling." The minimum requirement for the journal is simply a link or thumb pic (which links back to the import) to your Kukuri, and links to the comment threads (they are required). Using the same journal for all of your Kukuris is recommended.
THIS TRACKER MUST BE SEPARATE FROM YOUR FP TRACKER
to keep things clear.
✿
Decipt your Kukuris hunting for a specific animal. Do note that your Kuku cannot hunt for multiple animals in the same picture - you have to choose one specifically.
✿
The animals are
divided into the areas they appear in
. All animals are huntable all year around, but hunting them when they're in the season gives you bonuses in gaining rewards.
✿
PAY ATTENTION WHEN HUNTING FOR LARGE ANIMALS
, they can be hunted with a single Kuku, but you suffer penalties in the rewards. They require 2 or more Kukus for the regular rewards. Miniatures will always suffer penalties when hunting large animals, even when hunting in group.
GENERAL REQUIREMENTS FOR HUNTING
° One image/story can feature up to 3 Kukuris hunting. You can include more if you wish, but only 3 will be rewarded - any extra kukuris outside the 3 will also not get the hunting FP bonus.
° The images and stories are posted in the "Hunting" folder. One image/story is one hunting trip, which means that you can't collab many journeys into one picture/story, and comic pages are judged as one trip if posted as a page.
° Hunting is about, well, hunting an animal. It's a perfect excuse to practice the actionshots you're always little nervous about trying, but you can also show the stalking of the prey or aftermath of the hunt. You are not required to portray violence, gore or bloodiness.
° The prey must be chosen from the list given below - the prey can have magical qualities, but should still be easily recognized as the animal it is based on (so we can roll it).
° Rolling for rewards is completely random
°

Always link kukuris into description!

Failing this might result for no FP getting rewarded.
REQUIREMENTS FOR HUNTING IMAGES
° At least 75% of the Kukuri must be visible.
° 40% of the prey must be visible in the picture.
° The image must be fairly clean, colored, shaded, and have a background.
° The image must be at minimum 300x300 pixels, where Kukuri is at least 150 x 150 pixels or easily recognizable.
° The image can't be much lower quality than the general standard of your gallery.

REQUIREMENTS FOR HUNTING LITERATURE
°

The story must be at least 1000 words long




°

Every Kukuri in the story rolled for loot requires +700 words, meaning two Kukuris would require 1700 words, and three Kukuris 2400 words.
---
WHERE DO I POST IT
As stated before, you post the finished image into the "
hunting
" folder and then wait. An admin will check your image, roll your rewards and post them to your hunting tracker and automatically add them to your bank.
In the picture, MAKE SURE TO INCLUDE THESE FOR EACH KUKU PORTRAYED:


Link to the import
:
Kukuri's diet
:
Link to the tracking journal
:
Relevant familiars, training, or applied items
:
Proof of lease
: (If leasing is present, if not delete this part)
---

Tundra area
Spring
March, April, May
Small animals
Beaver

Large animals
Summer
June, July, August


Small animals
Large animals
Deer
Yak

Fall
September, October, November
Small animals
Large animals
Winter
December, January, February


Small animals
Large animals