Information

Activities

Supplies

Misc.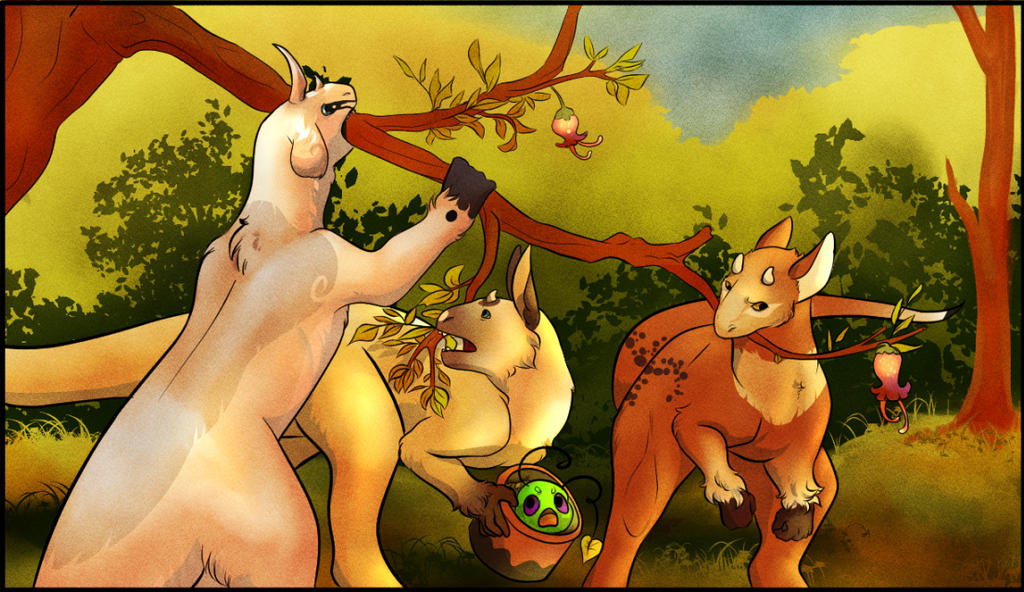 Gathering is one of the activities in the group, where you can search for plants and berries. You can later sell these findings, or use them to craft potions, medicine and dyes alike.
---
HOW TO GATHER
✿
First thing to do is to create
an activity journal
- this can be made in the sta.sh writer or creating a public journal about it. In the comment section create 4 links - "Hunting", "Gathering", "Excavating", and "Traveling." The minimum requirement for the journal is simply a link or thumb pic (which links back to the import) to your Kukuri, and links to the comment threads (they are required). Using the same journal for all of your Kukuris is recommended.
THIS TRACKER MUST BE SEPARATE FROM YOUR FP TRACKER
to keep things clear.
✿
Second step is to draw full body picture of your Kukus searching for possible plants and herbs. While the setting is free,
AT LEAST ONE OF THE FOUNDABLE PLANTS MUST BE VISIBLE IN THE PICTURE
. However, portraying said plants do not raise the odds of obtaining any specific ones.
✿ Biorhytm and diet affect your gathering results. A herbivore is more adapted in finding herbs and gets a slight bonus, while carnivore gets a slight minus. Omnivore gets neither bonuses nor minuses. The biorhytm of your Kukuri gives a bonus if it matches the time of the day presented.

GENERAL REQUIREMENTS FOR GATHERING
° One image/story can feature up to 3 Kukuris gathering. You can include more if you wish, but only 3 will be rewarded - any extra kukuris outside the 3 will also not get the gathering FP bonus.
° The images and stories are posted in the "Gathering" folder. One image/story is one gathering trip, which means that you can't collab many journeys into one picture/story, and comic pages are judged as one trip if posted as a page.
° Gathering is about finding foliage. There must be at least one gatherable plant (listed below) present - it does not have to be from the biorhytm your story is portraying.
° Rolling for rewards is completely random

REQUIREMENTS FOR GATHERING IMAGES
° At least 75% of the Kukuri must be visible.
° The image must be fairly clean, colored, shaded, and have a background.
° The image must be at minimum 300x300 pixels, where Kukuri is at least 150 x 150 pixels or easily recognizable.
° The image can't be much lower quality than the general standard of your gallery.

REQUIREMENTS FOR GATHERING LITERATURE
°

The story must be at least 1000 words long




°

Every Kukuri in the story rolled for loot requires +700 words, meaning two Kukuris would require 1700 words, and three Kukuris 2400 words.
---

WHERE DO I POST IT
As stated before, you post the finished image into the "gathering" folder and then wait. An admin will check your image, roll your rewards and post them to your gathering tracker and automatically add them to your bank.
In the picture, MAKE SURE TO INCLUDE THESE FOR EACH KUKU PORTRAYED:


Link to the import
:
Kukuri's diet and biorhythm
:
Time of the day in the picture and the plant gathered
:
Link to the tracking journal
:

Relevant familiars, training, or applied items
:
Proof of lease
: (If leasing is present, if not delete this part)