Information

Activities

Supplies

Misc.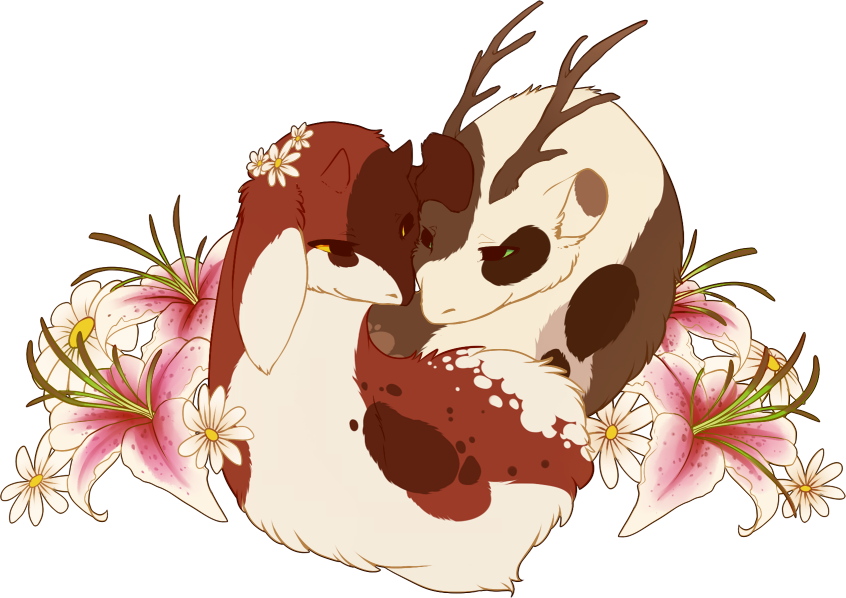 Here you can breed your two Kukuris together and get possibly more Kukuris! The wonders of life!
DO NOT QUESTION ADMINS ABOUT THE PASSING RATES OR PERCENTAGES.
Everything that is public reads on this page.
Fill in the information and stay tuned
for Kuku pups!
Closes before last day of the month.



To allow another person use a breeding slot,
give them a permission here!
Eggs can be found from traveling
and special events!
A slot will be marked used only when the kukuri is bred, non-used slots are not marked here.

You can also check your monthly uses here.

Things to keep in mind:

✿ You,
as an user
, may post
4
breedings a month, and take part in 2 breedings/month that someone else has posted. (Using up 1 of their 4 monthly breedings and 1 of 2 of your split breedings).

✿ A kukuri starts it's life with
5 breeding slots
, and gains more of them as it
ranks up
. Check
here
how many slots you've used up until now!
✿
Enamored
picture is required for every breeding except if
a starter
is present.
Requirements for enamored
: Both Kukus must be at least 50% visible, colored, shaded and with background surrounding at least 50% of both kukuris. For writing, 500 words.
A same enamored picture/story can be used 2 times
.
✿
DO NOT HAVE CONVERSATIONS HERE.
Everything extra should be handled via notes or other methods. Likewise do not start begging for genos here.
BREEDING IN DEPTH
Confused about anything breeding related? This section should answer all your questions.
PERMISSION TO BREED
There are few absolute things that need to be present when breeding your kukus:
✿
The Kukuri must have completed their
Basic Trust Training
and have the badge added to their import by an admin.
It is the responsibility of the Kuku's owner to finish the training before breeding them or giving slots to others - when breeding an untrained Kuku, there is a high chance of things going wrong and your Kuku being majorly injured.
✿
You must have a permission to the Kukuri
. This of course applies when you're breeding any Kukuri that is not your own. Breeding slots are acquired via many methods, but one thing is sure: It must be posted into
breeding slot permissions
to to be officially counted, and it must be linked to the breeding!
✿ If there is no starter present in the breeding,
enamored picture is required
, and it is the job of the dealers and owners to make sure that one is done. It needs to be done once per breeding, and one picture can be used for two breedings of the same pairing. The picture/story doesn't need to be a masterpiece, all we want that there is some proof that these Kukus have met in life and not instantly killed each other. Figuratively speaking, of course.
CHOOSING WHO TO BREED
✿ Are the Kukuris related? If the resulting puppies lineage has same Kukuri twice, it's considered
inbred
. When looking at the parents,
the last row of lineage can be ignored when checking for inbreeding
. However, if same Kuku appears twice in the puppy's lineage, even in the last row, it is inbred and will suffer the penalties. These include infertility, crippling
mutations
, and possible death of the pups.
✿ Choose what kind of parents you want to have. Breeding a Kuku with mostly uncommon and rare genes might be tempting, but as they are harder to be inherited it might mostly result into plain Kukuris. Common markings get inherited most easily! Breeding parents with two same markings together might result into dominant genes, which have higher base to be passed to the offspring, and unlock new possibilities for the markings!
ENAMORED
✿ Enamored is a picture required for every breeding
except if a starter is present, or if A God's Approval is being used.
✿ The picture needs to contain both Kukus who are going to be bred. The image can be pretty much anything from just walking together, having intimate moment, anything really, as long as they are not straight up trying to murder each other. The point of the image is simply to show that the Kukus have indeed met before.
✿
Activity images cannot be used as an enamored!
This includes things like: Hunting, Gathering, Excavating, Traveling, Monthly quests, Events, Quests, etc.
✿ Both Kukus must be at least 50% visible, colored, shaded and with minimal background which reaches at least behind 50% of both kukuris. The picture size must be 300 x 300 or more. For writing, 500 words PER PAIRING IN THE STORY. If there's two pairings in the story, it's 1000 words. If there's one kuku paired with two other kukuris, it's 750 words. 500 words is not enough for kukuri pair if there's other ARPG couple too. It needs to have atleast 500 words for the kukuri pair alone.
✿ Enamored background needs to have at least 3
bigger
elements for passing. To guarantee pass, it's suggested to add many different elements to the background.
✿
The same enamored picture/story can be used 2 times.
✿ For the sake of clarity, if you draw an enamored picture for someone else to use,
please write in the description that the person has a right to use the picture
.
✿
Always link kukuris into description!
Failing this might result for no FP getting rewarded.
PASSING DOWN THE GENES

✿ Everything that the Kuku has has a chance of being passed to it's offspring.
✿ For markings, when you breed a Kuku with a marking to a Kuku without a marking, the percentages go as such:
✿ Common x none: 40% chance to pass the marking
✿ Uncommon x none: 20% chance to pass the marking
✿ Rare x none: 10% chance to pass the marking
✿ Breeding two with the same marking raises both the odds of a marking being passed, and gives a chance of
dominant
markings appearing. Dominant markings allows marking to have special effects listed in each marking's page, and further increases the chance of marking being passed. There's a small chance for a dominant marking passing down directly as a dominant marking, even without the presence of a non-dom marking of the same kind.
✿
Horns and ears are passed by their rarity.
So if you're looking for certain horns, it's better to breed the horntype you want to higher rarity horns or same rarity ones.
✿ Tails and muffles have a chance of creating more common or rare types than what they are.
✿ Common has a chance of creating common and (small chance) uncommon tails and muffles.
✿ Uncommon has a chance of creating common, uncommon, and small chance rare tails and muffles.
✿ Rare has a chance of creating uncommon and rare tails and muffles.
✿This means that common can't create rare, and rare can't create common - however, common and uncommon are significantly easier to pass than rares, but if you're looking for a rare then breeding a rare is your best bet.
✿ There is a small chance that the
mutation
the Kukuri has can be passed. This can create Kukus with multiple mutations.
✿ A random
mutation
will be rolled for every puppy. These will be rolled from the "random mutation" category, but there is a small chance that a "flawed" mutation will appear. Inbred mutations will not appear without inbreeding present.
✿ Breeding different subspecies(Common, Prairie and Aerial kukuri) together have following odds:
✿ Common x Prairie: 1-75 Common, 76-100 Prairie
✿ Common x Aerial: 1-70 Common, 71-80 Prairie, 81-100 Aerial
✿ Prairie x Aerial: 1-70 Prairie, 71-100 Aerial
INBREEDING
✿ When
two kukus appear two times in the puppy's lineage,
the puppy is considered
inbred
. This means that when looking at potential breeding pairs, you can ignore the last line in the lineage of the
parents
as long as they do not appear on the baby's lineage.
✿ Inbreeding makes the Kuku have
at least 2 mutations
; One is strictly chosen from the "inbred" mutation table, and the second one is chosen from both "inbred" and "flawed" table. The Kuku has a small chance of getting 3rd mutation,
and
can roll for usual random mutation on top of it.
✿ Inbred Kukus have a very high chance to be
infertile
. This means that they cannot breed at all, but can take part in all the other activities as normal.
✿ There is small chance of death for every pup born in an inbred nest.
POTIONS
✿ Only
one potion can be used in a breeding
.
✿ The potion used must be in the bank, so if you've put the potion in the craft but it hasn't been put in the bank yet, you can't use it yet.
✿
Etherical rock
or
God's approval
does not count towards the one potion limit
✿ Potions
override mutations
WHAT DO RANKS HAVE TO DO WITH ANYTHING
✿ Kukuri gains
ranks as they gain Fate Points (FP)
via artwork, be it drawing or writing. At certain amounts a Kukuri ranks up and gets a new title to itself, and while most of them are to get more breeding slots or skill points, few are very important when taking breeding in consideration:
✿
NO RANK:
When bred to this Kuku, there's a 10% chance that the mate will just refuse to breed. If they breed, there is a chance of an empty nest.
✿
KNOWN-RANK:
When Known Kuku is bred to Known or above, they do not have their mates turn them down, but the nest might still result into 0 eggs.
✿
ZETA-RANK:
When Zeta is bred to another Zeta or above, there is no chance of getting empty nests.
✿
ARISEN-RANK:
The highest of ranks, Kukuris in this will never result into empty nests, not even when bred to no ranks or knowns.
HOW DOES THE BREEDING WORK IN PRACTICE
✿ 1. You acquire the permission to two Kukuris with their BTT training finished, or own two Kukuris with the training.
✿ 2. You or someone else creates the Enamored picture. It doesn't matter who creates it, as long as the contents fit the requirements.
✿ 3. You fill the following form and post it to breeding requests as a reply to
THIS
comment thread;
Dam:

(Link to the female's import sheet)


- Permission

: (Delete if dam owned by you)


Sire

: (Link to the male's import sheet)


- Permission

: (Delete if sire owned by you)


Enamored

: Link to the picture (Not required if a starter is present in the breeding)


# of the month: Remember, 4 is the max per month, and you may be part in only 2 splits.
Is inbreeding present

: (Last line of the parents doesn't matter)


How the nest is split

: (For example does someone get first pick, is it split, etc.)


Familiars/traits

: (Delete if none. Only ones related to breeding thank you, and which parent has it. Mutations, markings etc. are NOT traits.)


Potion applied in the breeding

: (You may use only 1 potion per breeding)


Tagging

: (Delete if none)
When filling the "How the nest is split" part of the form, anything except full to the poster is seen as a split slot.
If someone other than the poster gains something from the breeding by default, the breeding is seen as a split and will count to all parties monthly slot usages.

Admins are not responsible for following any additional member made rules set on the extra info part of breeding form.
These are rules set between members and administrative will not interfere with them.


Do NOT use thumbs when filling the form. Using them will result the breeding to be skipped and it has to be re-posted.
✿ 4. You wait, and it's good to be mentally prepared to wait at least for a week - while we try to be faster, sometimes other things get in the way. An admin will roll the breeding for you and post the results as an answer to your request. You may then decide to keep the pups, or sell, gift, trade, or donate to adoption center. When selling, gifting or trading, please post it as a reply to the admin comment as long as the geno isn't still designed. It can simply be "#2 sold to XXX".
OVERBREEDING
✿ Overbreeding happens when you use more slots than your Kukuri has available. For this reason it's important to keep track of your sold slots.
✿ In the first overbreeding accident your Kukuri will gain scars, with a large scar which must be healed within a month or it will cause infertility. Just using stitches for this scar is enough (if you don't mind the scar showing).
✿ If the Kukuri is bred second time while having this scar, even if the breeding was posted immediately after the first one, the Kukuri will be made infertile.
✿ Even
after healing the scar,
if the
same kukuri is ever overbred again
, the Kukuri will be made immediately
infertile
.
✿ Only the slot of the oversold kukuri gets used when overbreeding happens. Other kukuri slot, enamored or monthly breeding slot will not be used, unless it's the kukuri's owner who posts the breeding. In that case everything will be used up.
✿ If kukuri has become infertile, but you still have a slot permission written on it before infertility, the slot is still usable. If you're owner of the kukuri, you can't use the permission or take part to the breeding.
RETIRED THREADS
✿
Below is an archive of retired Breeding and Slot Permission threads, which can be used to find old proofs and permissions.
Do not post breeding requests to these threads
- any comment posted there will be hidden.
OLD BREEDING THREADS

✿
July 19-August 19
✿
April 2019 - June 2019
✿
July 2018 - April 2019(broken thread, do not comment)

✿ July 2018 - April 2019 Moved threads
PART 1
-
PART 2