Information

Activities

Supplies

Misc.

---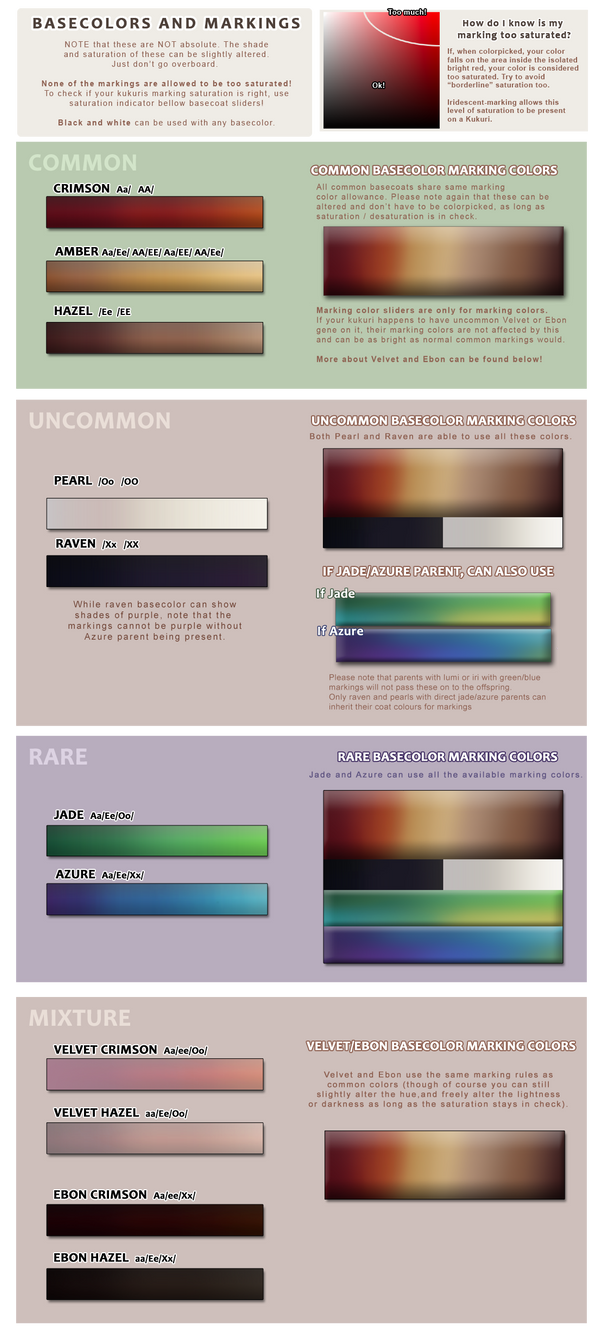 Kukuris come in total of 7 base colors; Crimson, Amber, Hazel, Pearl, Raven, Jade and Azure. Out of three of those, Crimson Amber and Hazel are the most common, Pearl and Raven uncommon, and Jade and Azure rare.
BREEDING COMMON COLORS
Crimson, Amber, Hazel


Breeding Crimson with Crimson will always result Crimson, same with Hazel. However, breeding Hazel with Crimson may create Amber, and breeding Amber with anything may create either Crimson or Hazel pups too.
BREEDING UNCOMMON COLORS
Pearl, Raven


Pearl and Raven are colors that negate each other - this means that two of them can never appear in same Kuku. They share the same rarity, and if bred together the pup will result either of them with 50% chance. As whole though they are quite rare, and since they're required for Jade and Azure, it makes those colors the rarest of all.
BREEDING RARE COLORS
Jade, Azure


Jade and Azure are sought out colors for the luxurious hue. To breed Jade you have to breed Amber with Pearl, and to breed Azure you need to breed Amber with Raven. Breeding these colors to anything else than to themselves may create basically any colored pup from the list.
---
HOW DO THE COLORS WORK?

Genotype always starts with the Kukuri's color. If the letters are small, that means that it is not present in the genotype. A small first letter means that the gene is present as a non-dominant form (Aa), and when both letters are big it means that the gene is dominant (AA). Knowing this, the colors respond to following letters:Aa/ee:

This means that the kukuri is

CRIMSON

, as Aa corresponds the crimson color.

aa/Ee:

This means that the kukuri is

HAZEL

, as Ee corresponds to the hazel color.

aa/ee/Xx:

Means the Kukuri is

RAVEN

. Xx correspons to the raven color, and when neither Aa nor Ee is present, it means it's pure raven.

aa/ee/Oo:

is the same as raven, but

PEARL

color.

However

, these colorations can be mixed, and that is when things get interesting. Basically any combination of letters is possible EXCEPT Raven and Pearl cannot appear in the same genoline.

Aa/Ee

: When both Crimson and Hazel are present, they create

AMBER

.

Aa/ee/Xx

or

aa/Ee/Xx

: When either Crimson OR Hazel, but not both, and Raven is present, they create

EBON

coloration. This is darker variation of the Crimson/Hazel, depending on which one is present.

Aa/ee/Oo

or

aa/Ee/Oo:

Same as Ebon, but when Pearl is present they create

VELVET

, which is lighter version of the Crimson/Hazel.

A rare color occurs when all the colors are present, expect Pearl and Raven cannot occur in the same geno.

Aa/Ee/Xx:

When Crimson, Hazel and Raven are present, they create

AZURE

coloration.

Aa/Ee/Oo:

When Crimson, Hazel and Pearl are present, they create

JADE

coloration.

That means if you desire to breed for a rare coat, when combined the parents must have Aa, Ee, and either Xx or Oo. Breeding an Amber and Raven/Pearl is one occasion, but you can also breed an Ebon/Velvet Crimson and Ebon/Velvet Hazel to achieve the same effect!
---
WHAT IF ONLY ONE OF THE COMMON COLORS
PASS WITH AN UNCOMMON?
When breeding with uncommon colors and up, it's not too rare to meet a gene where either Hazel or Crimson did not pass, but Pearl or Raven did. These create
Velvet
and
Ebon
colors.



Velvet lightens the coat without making it completely white, and is dominated by the Pearl gene.


Ebon darkens the coat to almost black (but not black), and is dominated by the Raven gene.
This only affects
Hazel and Crimson colors
. Notice that the markings are unaffected!
---
HOW ARE THE MARKINGS LAYERED?
Markings can be layered in any way you desire, with few rules!


1.
A marking can't be both over and under something. For example something like Dalmatian can't both be shown gradually go under smoke, and have clear dalmatian spots over it too.
2.
A marking that states it's color as "White" always goes over any other markings!
---
ARE THERE GENES THAT CHANGE THE COAT COLORING?
Yes! These are called Haze, which greys out the coat almost completely, Candied, which pastel outs the colours of the Kuku, and Iridescent with saturates the coat and makes it glimmer to the similiar effect of magpies or colibris.