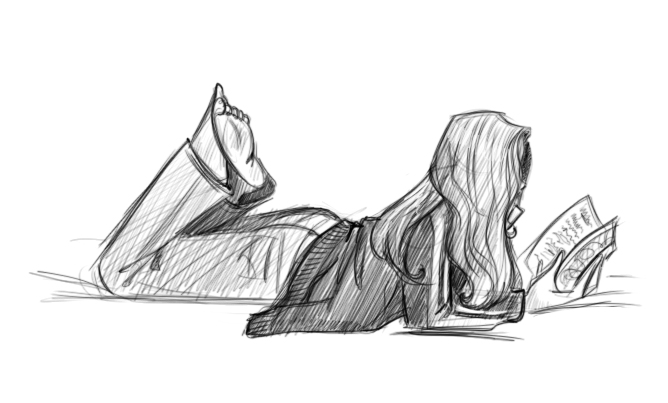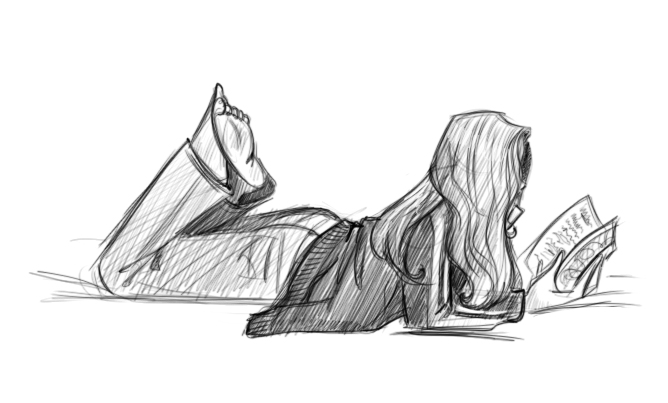 Watch
Photoshop
2010
When we first arrived in London we were waiting for a couple of days before work could officially start (and before internet service could become more reliably available), so I took the time to do some sketching. The Wife evidently took the time to do some reading. She was and is such a nice and willing (though sometimes unaware) model.
See an updated colored version here:
[link]
By the way, The Wife is an artist too. See her things here:
[link]
You'll be glad you did.

Hi! I love this sketch.

Could i use it as header in my book blog?
Reply

I would really have preferred you to ask me BEFORE you went ahead and used it for your blog, but it's okay, on the condition that you credit me somewhere. I would appreciate it if you would include the URL for my dA profile on the image itself (small and unobtrusive is fine, as long as it's there somewhere), and if you would include a link somewhere on the sidebar. If you are willing to meet these minor conditions I have no problem with you using my art (and overlooking the fact that you used it before I had a chance to give my consent).

Reply

I have no excuses for my stupidity. You're totally right and I should have waited your answer before using it.
I hope to have credit you properly now.
Please excuse my rudness, and thank you for being so kind to me despite what I did.

I'm so sorry.
Reply

No worries! I'm just glad you mentioned it to me, and thanks so much for adding the credit! It looks perfect.
Reply

Love the pose, definitely changes it up a little!
Reply

Love the texture of this sketch! So much detail in these loose lines. Ditto on how gorgeous she is. If her hair is really that perfect, I ENVY your wife. lol
Reply

Yeah, I like to try to keep sketches rough and still fairly detailed in a sketch like this. And she does have quite silky smooth hair.

Thank you!
Reply

your wife seems incredibly beautiful

<3
Reply