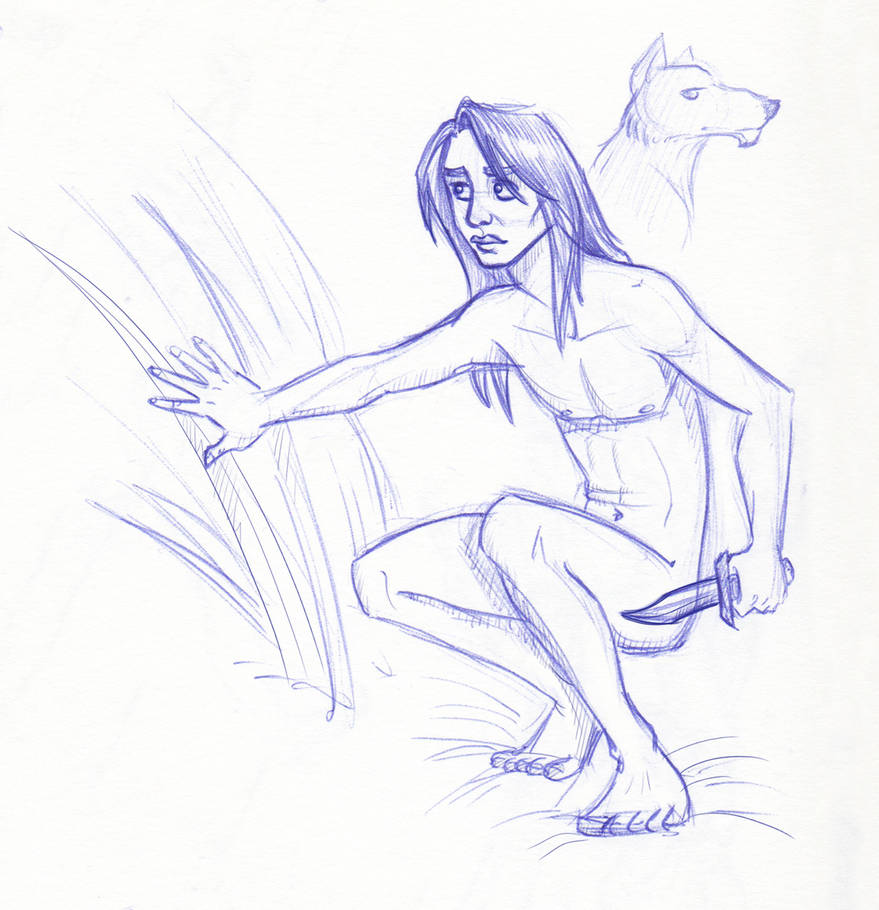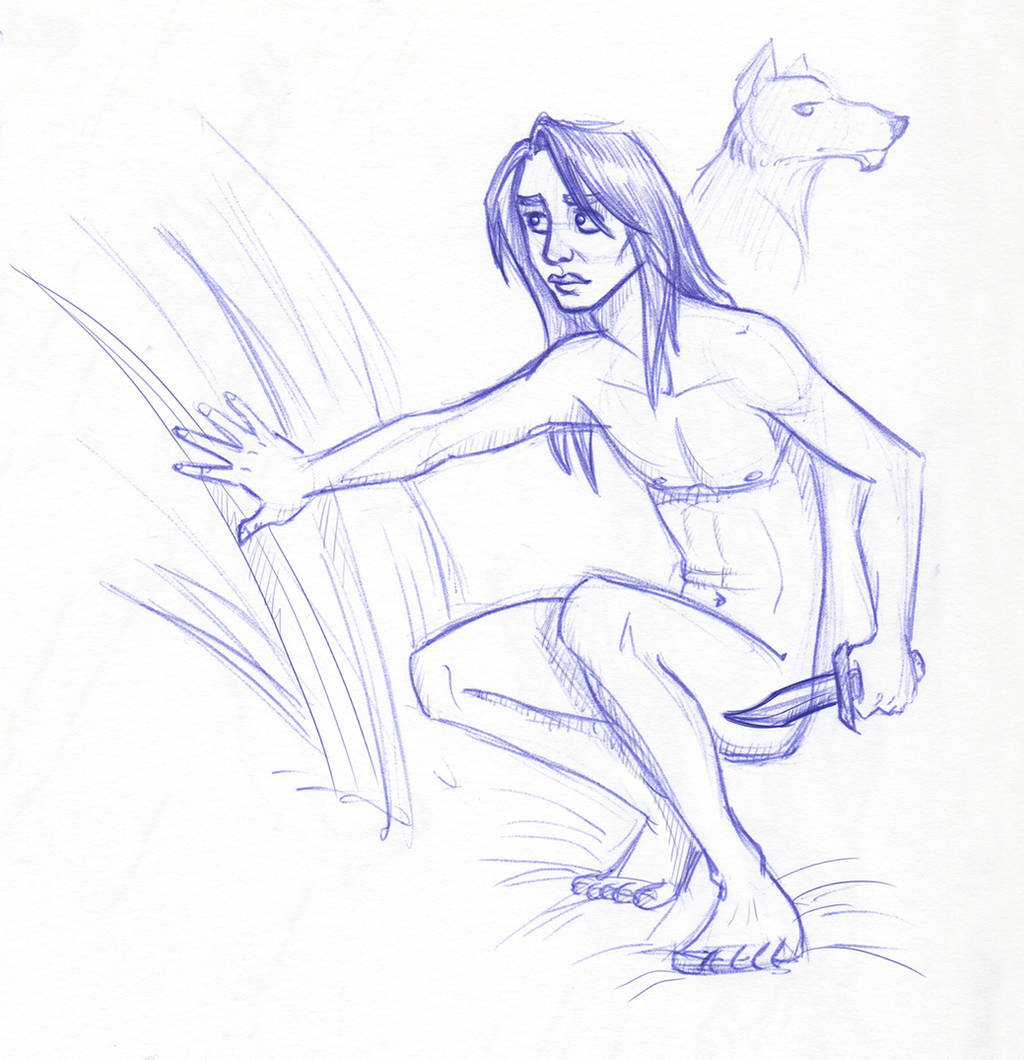 Watch
Pen
June 2014
The next in my series of Disney source material character sketches is the wolf-raised Man-cub himself (review of
The Jungle Book
and its sequel
here
and
here
). I really liked these books, and even though they're a little darker than the Disney version, I think it's a pretty good adaptation in some ways.
(Also, I thought and thought about putting a little scrap of something on him, but it's just not the way it was or would be in the books, and I also thought and thought about marking this as mature, but it's just not. It's quite as innocent as it can be.)
UPDATE: Painted version
here
Snow White
here
.
Pinocchio
here
.
Denizens of Sleepy Hollow
here
.
Cinderella
here
.
Alice In Wonderland
here
.
Peter Pan
here
.
Sleeping Beauty
here
.
The Wart
here
.
Mowgli
here
.
Robin Hood
here
Taran
here
.
Basil of Baker Street
here
.
Oliver
here
.
The Little Mermaid
here
.

How old is he? And which wolf character is right by him?
Reply

Mmm, looks maybe 13-15 here? Maybe a bit older? Definitely in between Disney's child and adult versions. And I think the wolf is just a generic representation of a wolf since he was raised by them.
Reply

Alright, though I was thinking it was the main wolf characters. Like Akela, Father Wolf, Raksha or Mother Wolf, or Gray Brother.
Reply

Probably Akela, though I don't remember thinking of any specific one when I drew it. I think I actually meant it to represent Mowgli himself as a wolf, since he was adopted as one, like the jungle side of him.
Reply

Excellent job on the sketching.

Reply

... Oh dear. .3. He IS kinda cute.
Reply

he's kinda cute!

Reply

This is awesome. I still can't get enough of this series you're doing.
Reply

Thanks! I'm glad you're liking it. There are several more on the horizon in the coming months (and one in the coming moments).

Reply

I like this whole series, but this is my favorite so far.
Reply

Interesting! What is it about this one that especially appeals to you, do you think?
Reply

I suppose I really like the fluidity and the angles on the limbs. Maybe the fact he has no clothes has contributed to my seeing that more than in your other drawings??
Reply

EXACTLY! I've always hated Mowgli wearing some scrap clothing over him that he magically found, when he's supposed to be raised in the wilds of the Jungle.

Of course, he was also much younger, and would look even moreso, just like actual Feral Children.

Reply

Yeah, I can totally see why they would put a little something on him, but it does make more sense that he would just go au naturel, and that's definitely how he's described in the book (in vaguest detail, of course). Maybe in the movie he's just wearing the blanket that he was found in, and fashioned it into a little diaper because instinctively he knew he wasn't just an animal? Ha, I don't know.

Do you mean he was younger in the book or in the movie? In any case, it's interesting, he goes from infancy in the books all the way to adulthood. I just decided to draw him somewhere in the middle there, since that's where he spends most of the stories.
Reply

How the heck would he have the know-how to professionally fold a blanket into a diaper, let alone make it last for so long as he grew up, is beyond. me.
I say, just keep the kid Naked & then the closet perverts that is the parental group can bitch about it later.

Younger in the novels. Being a 10 year old in the wilds, he would look very scruffy, skinny, but also strong & durable, too.
Reply

Oh, I'm sure he could figure something out. How hard could it be to wrap something around your legs and tuck it in? Instinct and all that.

And yeah, he was pretty young at times in the books, though he definitely grew to manhood as the stories went on, which gave it an interesting sense of scope.
Reply

Go tell that to
Real
Feral Kids.

Being a kid is awesome, and childhood shall always haunt the lot of us.
Reply

Yes, just as the prospect of adulthood haunts and eludes us as children.
Reply

The preface of Puberty can sometime be a kid's Apocalypse.

Reply

Very eloquently (and dramatically) put.
Reply
(2 Replies)