Hey guys, as some of you know, I started a patreon a couple months ago but since it wasn't very clear the goals, how everything was going to work and all that, I decided to make a journal explaining all that and some other things as well.
Patreon is a website that allows people to support individuals that create "content" (in my case, art).
What is your part in that?
As a
patron,
you can support the artist's work with small donations (that can be $3, $5, $10 or whatever amount the person wants to donate). By doing so, not only you support that artist so it can continues to create the content you like, but it also gives you access to rewards based on the amount you donated.
What is my part in that?
As the
artist,
I create art and offer additional "rewards" for the people that support my work on a monthly basis.
What are those "rewards"?
Depending on the donation amount, you will get: High res versions of the drawings (~4000px resolution), Step by step stages of the drawings, the original .psd file with all the layers and be able to vote and help me choose future drawings.
In order to make it easier to understand, I made a small chart with the things you can get.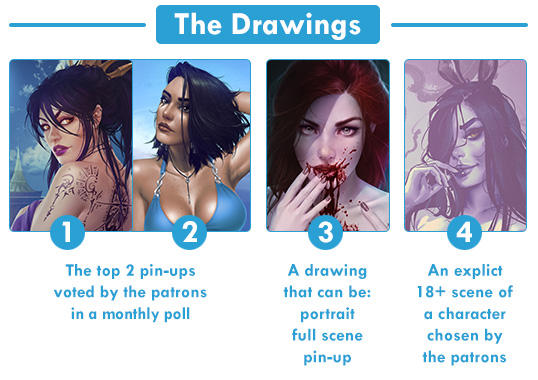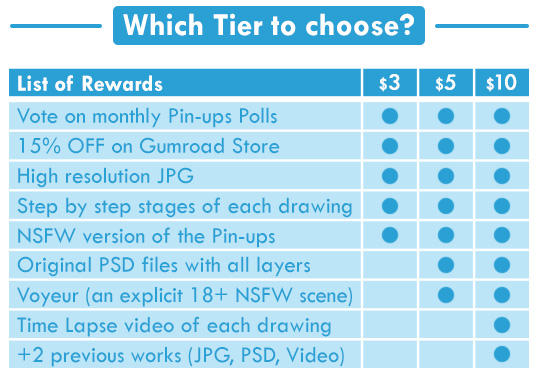 My Gumroad (
gumroad.com/krysdecker
) is an alternative way of supporting my work. It's basically an online store where you can purchase my previous works.
There, you can get ~4000px
resolution .JPGs and the NSFW versions of the Pin-ups.
Comissions *** Currently Closed ***
* There's no estimated date when they'll be available again. But if they do, this post will be updated accordingly.
With all that, how will my deviantart work?
It will work exactly like it always did, so no worries. I'll still post my work here (and other places like facebook, artstation etc) in the same resolution I always did, which is usually 1080p or something like that. I mean, I've been doing that for the past year and it didn't change anything, so rest assured it will be that way

.


Hope that gives you a better idea of how those sites works, but if you have any questions, let me know