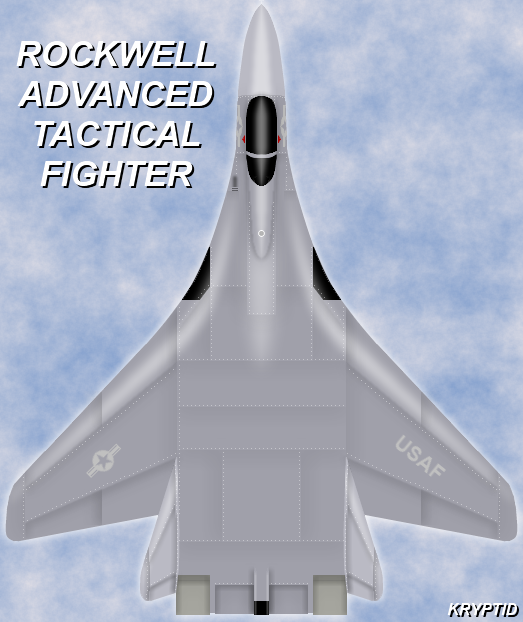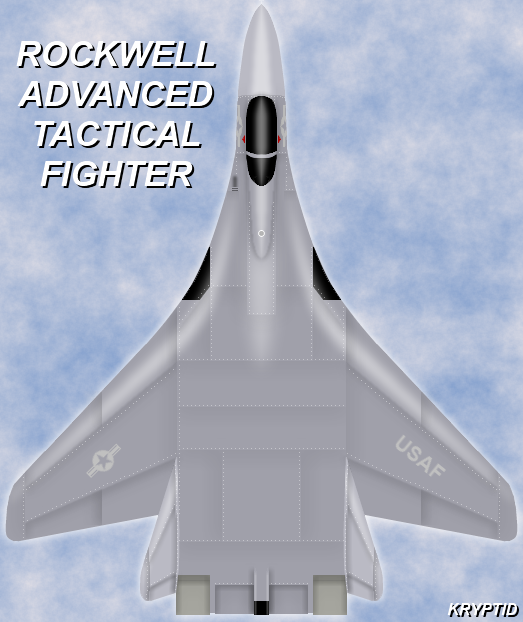 Watch
The ATF (Advanced Tactical Fighter) program was a requirement by the United States Air Force for a fighter jet to replace the F-15C. The final result of the program was the F-22A Raptor (which was designed by Lockheed Martin).

However, it wasn't the only concept that the ATF program spawned. The next most famous contender would have been the YF-23 (by Northrop Grumman) which lost to the YF-22.

Rockwell International proposed this design for the ATF program. According to what I understand, the original requirement for the program was an aircraft with a Radar Cross Section (RCS) of 0.5 square meters or less (probably in the range of the Saab JAS 39 Gripen). This requirement, I believe, was greatly tightened until we ended up with the super-stealthy designs of the YF-22 and YF-23.

This Rockwell design might have been able to meet the 0.5 square meter requirement, but would not have been close to the level of stealthiness of the F-22A. This is likely one reason why it was not chosen. As I understand it, Rockwell did eventually develop a more stealthy design but it was not chosen for prototype development.

Still, I thought the design looked cool so I did this art of it. It has some flaws, but I guess it's good enough.

This aircraft concept is/was a trademark of Rockwell International/Dr. Daniel P. Raymer.

Oooooh neat! And interesting history

I learned something new about stealth while I was reading stuff at a library in that one naval yard in D.C.! Passive Radar and other methods! I've always been skeptical of the whole stealth idea

here's more about this idea:
[link]
Oh and more interesting stuff: about 2 weeks ago, while my dad and I were driving home after going out for dinner, we saw this thing in the sky. It flew past at such a high speed [and was so far off] that it could not have been an airliner. And it was SILENT! I opened the window to check!! Now I'm not going to make any claims here, but it got my dad and I into an interesting discussion. This is what we began to come up with:
You may already know about pulse-wave detonation engines: the fuel is ejected onto the aircraft's surface and burns externally, it's shockwave acting like a nozzle for the hot gases [inverted ramjet of sorts.] If this type of propulsion combusts in pulses, it would flash, like the thing my dad and I saw. Now, this aircraft would also have internal engines, because pulse-wave-detonation requires a high speed to operate. Let's say that this internal engine is a pulse-detonation engine. If the pulse of the internal engine is moments after the pulse of the external pulse-wave engine, the sound cancels itself out, and you have a silent jet that goes super-fast!
What do ya think? I thought it might interest you! :3
Reply

I think it's true that stealth as we know it will eventually become obsolete, but I don't think it's threatened too much in the near future. It will still prove effective against countries that can't afford stealth countermeasures.

That's an interesting sighting you've had. As far as PDEs go, I do believe that they can operate at zero airspeed as well. They aren't really like ramjets or scramjets. The common design idea is to close a valve in front of the detonation and then open it when the detonation is over to admit more air in for the next detonation and so on. That allows it to operate at zero speed (unlike a ramjet, which requires high mass flow in the inlet to get started).

That's how internal PDEs work anyway. I don't know much about the external ones. Noise is actually one of the big issues with PDEs today. It's not silent at all. I also think it would be somewhat difficult to make two different engine types (internal PDE and external PDE) offset their sounds just right to cancel each others' noise.

However, there are headphones that use active cancellation of sound to make themselves quieter. It's possible that in the Black World this technology has been advanced to include applications in aircraft as well. I do think I once read that one witness was surprised at how quiet the B-2 is, for example.

In the White World, PDEs are just starting to gain ground. It's possible that at Groom Lake the technology has matured sufficiently for use in an opertational jet.

There are plenty of reports and rumors of unusual aircraft, variously known as Aurora, Black Manta, Tier 3, Brilliant Buzzard, etc.
Reply

Yus that's true I suppose XD

Yep, PDE's work at zero airspeed, but the pulse-wave detonation engine requires the shock wave formed by the aircraft flying at supersonic speeds to run. They're like an inside-out ramjet XD

That's also true, you have to synchronize them just right. [I have a pair of those headphones btw, they're great!] But I wouldn't be surprised if it's already been done, knowing how much the military and government hides from the public.

Aurora is the one I know best, but I didn't know there were so many sightings!
Reply

I think it's either the Aurora or the Black Manta (which I call the "Supersonic B-2").
I think the SR-75 Penetrator (aka Brilliant Buzzard) would fly at higher altitudes, since from what I read, it's a mothership for smaller aircraft (Auroras maybe? Who knows...)
Also, most TR-3B Astra sightings show a slow moving black triangle with 3 lights.
So I'd either go for the Black Manta or the Aurora.
Reply

Interesting design for the horizontal stabilizer. It looks like the elevators are at the center of the plane only. I wonder how that affects its flight characteristics.

Probably fine with modern flight control systems.
Reply

I actually asked Dr. Daniel P. Raymer (the designer of the airplane) on his blog about that. He said that the aircraft's pitch authority and turn rate would have been just fine (based on wind tunnel models and dynamic simulations).
Reply

Nice, and such an accurate design!

Ah, I wish I could draw machines and vehicles too.
Reply

It looks nice, very interesting history too

Reply