ENGLISH :
here we go!
Albert le Petit Chien (the little dog in french) is the Motion Comics I've been working on for many months ... a lot of work and not enough time to share the progress with you. Maybe ... a little fear that if I share, it doesn't happen .... (I've already experienced that with other projects. And you? It's very frustrating

)
In short, ALbert le Petit Chien (episode1) will be launched during the San Diego Comic Con

(July 18-21, 2019 )
I promise I'll show you every day a little from behind the scenes.
Have a great day !

FRANCAIS :
Et c'est parti!
Albert le Petit Chien est le Motion Comic sur lequel je travaille depuis plusieurs mois ... beaucoup de travail et pas assez de temps pour partager avec vous les progrès réalisés. Peut-être aussi une peur irrationnelle que si je partage avant la sortie.. et bien que ça plantes… (je l'ai déjà vécu avec d'autres projets. Et vous? C'est très frustrant

)
En bref, ALbert le Petit Chien (épisode 1) sera lancé lors du Comic Con de San Diego

(du 18 au 21 juillet 2019)
Je promets que maintenant je vous montrerai chaque jour un peu les coulisses d'Albert .
Passez une bonne journée !

News News News

In English

et en Français


Yes I'm alive !!!!!!


Oui je suis vivant !!!!!


A lot has happened since Eclipse took me a little way from DeviantArt: D


Beaucoup de choses se sont passées depuis qu'Eclipse m'a éloigné de DeviantArt.


The first episode of Albert Le Petit Chien (the little dog in french) is over, and will be released during the San Diego ComicCon this week, at the launch of The Cauldron (a new Label / Publisher at Madefire.)


Le premier episode d''Albert Le Petit Chien est terminé, et sortira pendant le San Diego ComicCon cette semaine, lors du lancement de The Cauldron ( un nouveau Label/Editeur chez Madefire.)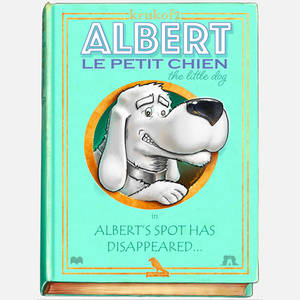 And here is the cover of the English version of Albert Le Petit Chien.


Et voici la couverture de la version Anglaise d'Albert Le Petit Chien.
:bu
Albert is ©®&TM krukof2
Image details
Image size
1080x1080px 849.25 KB