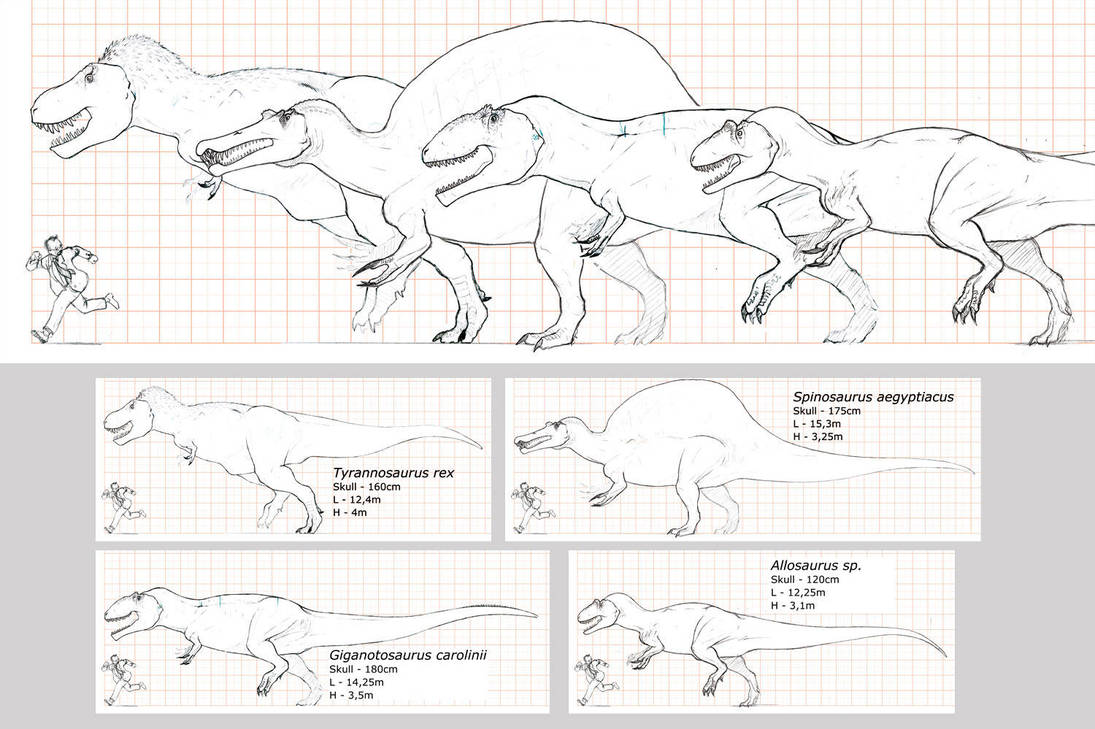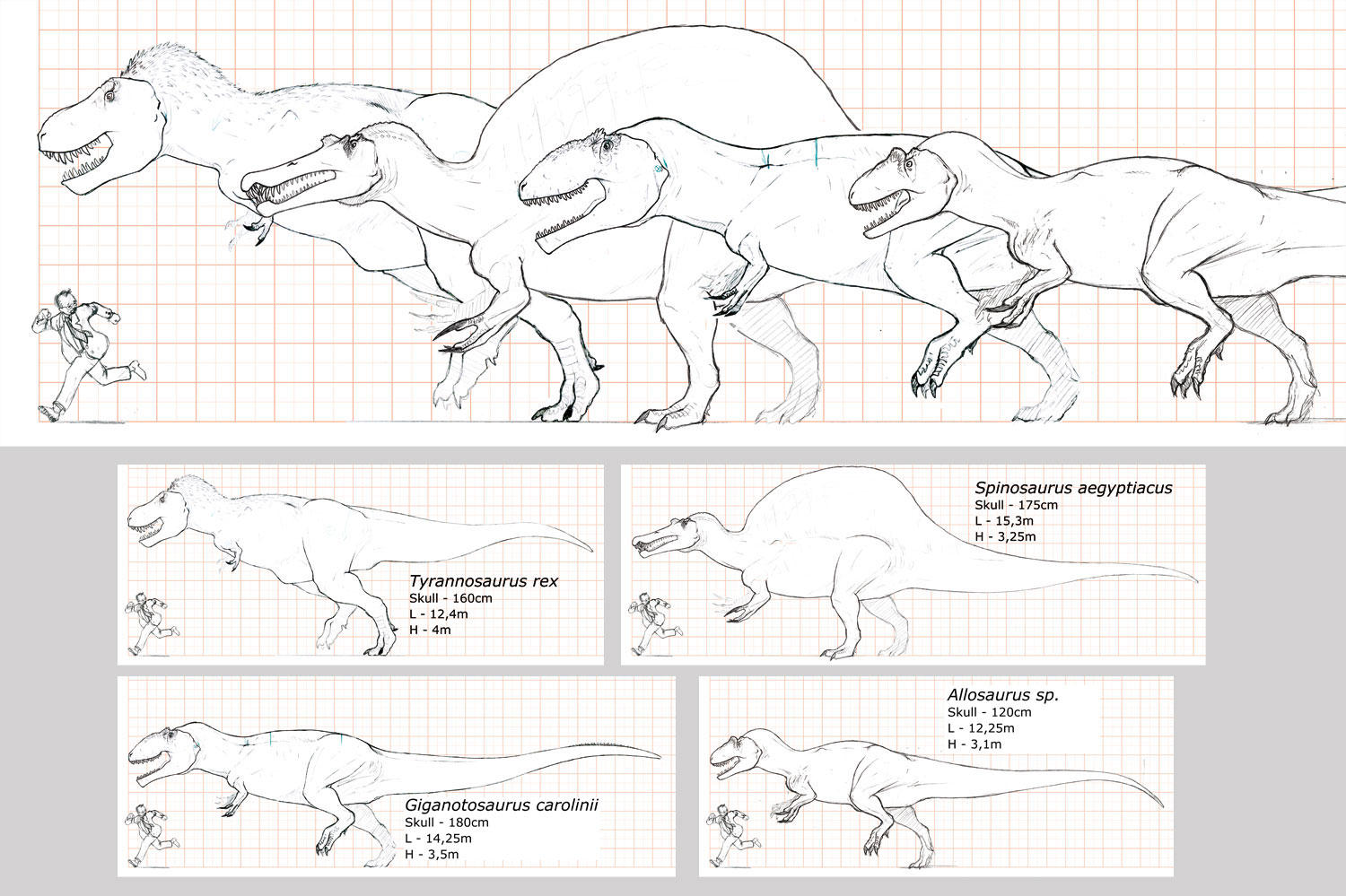 Watch

Titolo - The Biggest - the Baddest! (REVISED)
Tratto - Matita B
Colore - xxx
Software - Adobe Photoshop CS/CS4
Hardware - Macintosh PowerPC G5/MacPro
Originale - Matita su carta - formati vari
Data - 2008/2009/2010
EDIT - Ho editato il disegno ed il post a causa di insistenti e poco garbati commenti ricevuti per questa deviation. Questa era partita come una iniziativa non del tutto seria, ma pare che qualcuno non sia capace di prenderla come tale. Quindi ora faccio sul serio pure io: difendo il mio lavoro perchè anche se sono umano e faccio errori – come tutti – non sono un deficiente e non sono abituato a lavorare a caso.
Qual'è il dinosauro predatore più grande mai esistito?
Spesso si tratta di stabilire le dimensioni di animali che vengono descritti sulla base di scheletri incompleti, e spesso i calcoli che vengono fatti dai paleontologi danno risultati molto diversi tra loro. Emblematico è il caso di Spinosaurus: di questo animale conosciamo solo parte del cranio ed alcune vertebre, e la lunghezza stimata varia dai 16-18 metri (Dal Sasso 2005) ai 12,5 (Therrien & Henderson 2007). La paleontologia non è una scienza esatta, la Natura non si può rinchiudere in rigidi schemi matematici e – anche se è possibile arrivare ad una stima di massima – sarebbe meglio evitare di fidarsi al centimetro delle stime che si trovano nei libri o negli articoli.
Tempo fa mi sono trovato a voler avere un riscontro mio su questo argomento: ho incollato su una griglia (il quadrato più piccolo misura 25cm di lato) i diversi profili che avevo prodotto di 3 dei candidati "alla corona" più Allosaurus/Saurophaganax, un outsider.
Ci tengo a specificare che non sono uno che lavora "a caso" e tendo sempre a cercare di essere il più accurato possibile nelle ricostruzioni che faccio, osservando e misurando fotografie e disegni scheletrici. Ho controllato e ricontrollato le proporzioni (anche stimolato da commenti qui ricevuti dal tono non molto amichevole) ed in questi disegni ho riscontrato solo due errori oggettivi: la "vela" di Spinosaurus era troppo bassa (in questa versione del disegno è stata corretta) e le gambe di Tyrannosaurus sono di qualche centimetro troppo lunghe (ripeto: qualche centimetro, non abbastanza da invalidare il risultato).
Ho poi regolato le dimensioni dei vari animali secondo questi criteri ottenendo diverse sorprese:
• Tyrannosaurus
: secondo il più grande Tyrannosaurus confermato – "Sue" – che misura 12.4 metri. La sorpresa sta nel fatto che disegnando un Tyrannosaurus con le proporzioni di Sue, per fargli raggiungere i 12.4 metri il cranio deve essere lungo 160cm e non 140 come da misure dichiarate. La prova sta nel fatto che dimensionando allo stesso modo il perfetto skeletal di Scott Hartman (
fav.me/d21wpi8
) con un cranio di 140cm Sue sarebbe lungo "solo" poco più di 11 metri. Siccome Hartman è un grande ed il suo skeletal è sicuramente rigorosissimo... se non vi bastasse, ho fatto la stessa cosa con una fotografia dello scheletro di Sue quasi perfettamente di profilo, e la risultante per un cranio di 140cm è poco più di 10 metri! Anche considerando un margine d'errore dovuto ad una probabile prospettiva, si può dire tranquillamente che anche la fotografia non può raggiungere i 12.4 metri di lunghezza.
L'altezza del mio Tirannosauro (tenendo conto del fatto che sta correndo) risulta di circa 4 metri;
• Spinosaurus
: secondo il cranio più grande che possediamo, che secondo le stime sarebbe lungo 175cm. Con una testa di quelle dimensioni – e tenendo conto delle regole generali allometriche secondo cui più è grande un individuo più la sua testa è grande in proporzione – Spinosaurus sarebbe lungo 15,3 metri ed alto 3,25 metri al garrese;
• Giganotosaurus
: secondo il cranio più grande che misura 180cm. Ho visto personalmente un calco dello scheletro di Giganotosaurus e conosco bene le sue proporzioni, e la risultante (con la testa ridisegnata di questa versione è lievemente più piccolo di prima) sarebbe 14,25 metri per un'altezza di 3,5 metri;
• Allosaurus
: secondo il cranio più grande dell'esemplare che secondo alcuni appartiene al genere Saurophaganax, lungo 120cm. L'animale sarebbe lungo 12,25m ed alto 3,1m.
Il perchè di queste discrepanze – a volte molto importanti – non me lo spiego... posso ipotizzare che forse nei calcoli allometrici non si tiene conto della curvatura della colonna vertebrale, ma davvero non saprei dare una risposta.
Una cosa è certa: io ho disegnato questi profili come "character design" senza avere misure o calcoli in testa o senza righello e calcolatrice in mano (disegno animali, non ponti), ma solo cercando di essere il più accurato possibile nelle proporzioni, e solo quando ho deciso di regolare le dimensioni dei dinosauri su una scala mi sono reso conto dei risultati. Sospetto che in giro ci siano molti disegni e skeletal (molto belli e precisi, senza dubbio) che però vengono realizzati in modo da combaciare con le misure dichiarate negli articoli.
Il mio lavoro può non piacervi e siete liberissimi di non essere d'accordo con le mie umili conclusioni, ma concedetemi due cose: rispettate la mia dignità professionale e – soprattutto – non prendete quello che esce dalla bocca dei paleontologi come fosse oro colato. Traete voi le vostre conclusioni e pensate con la vostra testa senza essere influenzati da nessuno e senza che qualcuno vi dica cosa dovete pensare.
EDIT (17/10/2010) - C'è un troll dai nickname poco fantasiosi che si iscrive a DA appositamente per lasciare lunghi commenti puntigliosamente deliranti a questa deviation. Mi scuso per la enorme quantità di commenti che ho dovuto nascondere.
-------------------------------------------------------------------------

Title - The Biggest - the Baddest! (REVISED)
Ink - B pencil
Color - xxx
Software - Adobe Photoshop CS/CS4
Hardware - Macintosh PowerPC G5/MacPro
Original - Pencil on Paper - various formats
Date - 2008/2009/2010
EDIT - I edited the drawing and the post because of some insistent – and a little unpolite – comments I had for this Dev. This Dev wasn't a totally serious initiative, but I guess someone is not able to take it this way. So I'm serious too: I defend my work because even if I do made mistakes – as we all do – I'm not dumb and I don't work randomly.
Which one is the largest predatory dinosaur ever lived?
Often we have to estimate the size of animals whose description is based only upon partial skeletons, and quite often such calculations made by different paleontologist gave different results. The Spinosaurus case is pretty emblematic: we just have some skull fragments and some vertebrae, and the estimated length for this theropod varies from 16-18 meters (Dal Sasso 2005) to 12.5 meters (Therrien & Henderson 2007). But paleontology is not an exact science, Nature cannot be locked in hard matematics and – even if it's possible to get an overall length estimation – it's better if we don't get too much trust n the sizes we read in books and papers.
So I wished to verify sizes by myself: I edited together on a scale (the smallest square you see has a 25cm side) the three major "candidates" for the title, plus an outsider: Allosaurus/Saurophaganax.
I'm not a person who works randomly and I always seek for the maximum possible accuracy in my reconstructions, carefully observing and measuring photos and skeletal drawings. I checked and re-checked my reconstructions proportions and I found only two objective mistakes: Spinosaurus "fin" was too short (I amended it) and Tyrannosaurus legs are a bit too long (a matter of a few centimeters, not enough to invalidate results).
Then I scaled the sizes of the figures according to these criteria... and I obtained some surprises:
• Tyrannosaurus
: I scaled it according to the biggest described fossil – Sue – which is 12.4 meters long. The big surprise is that if you draw a Tyrannosaurus with Sue's proportions, to get a 12.4 meters overall length the skull must be almost 160cm long, and not 140cm (which is the declared length for Sue's skull). The proof of this is that if you scale the wonderful skeletal by Mr. Scott Hartman (
fav.me/d21wpi8
) to get a 140cm skull, Sue would be "only" 11 meters long. Since Mr. Hartman is a great artist and his skeletal is rigorous for sure... you do the math. Not enough for you? I made the same scaling with a photo of Sue that is almost perfectly took from the side, and the result – with a 140cm skull – was a little bit more than 10 meters! Even considering an error margin because of a little perspective effect in the pic I used, we can just say that even using a photo of the skeleton mount we cannot reach 12.4 meters in length.
My T. rex (taking into account that it's running) is 4 meters tall;
• Spinosaurus
: scaled according to the biggest described partial skull, which lenght is estimated to be 175cm. With a skull that long – and taking into account the allometric rule which says that the bigger an animal is, the bigger its head is in positive proportion – Spinosaurus should actually be 15.3 meters long and 3.25 meters tall at its shank;
• Giganotosaurus
: scaled according to the biggest described skull, which is 180cm long. I personally saw a Giganotosaurus cast and I know its proportions pretty well, so I got an animal 14.25 meters long and 3.5 meters tall;
• Allosaurus
: scaled according to the biggest known skull (120cm) which belongs to the specimen sometimes described as Saurophaganax. The results were 12.25 meters long and 3.1 meters tall.
I can't explain the reason of these discrepancies between my results and the published lengths... perhaps in allometric calculations they didn't take in account of the spine curvature... but really I don't know.
One thing is for sure: I made this profiles as "character design" for my books, without sizes or calculations in my mind and without a calculator and a ruler in my hand (I draw animals, and not bridges), but always trying to be as accurate as possible with proportions; only when I decided to scale these dinosaurs I got these results. I guess that a lot of drawings and skeletals around the web (very beautiful and accurate, no doubt about it) are purpose-made to match thedeclared sizes.
You may don't like my work and you are free to disagree with my conclusions (of course), but please grant me two things: respect my professional dignity and – above all – don't take as god's words what paleontologists say. Draw your own conclusions without being influenced and don't let anybody to tell you what you must think.
EDIT (17/10/2010) - I have a troll with dull nicknames who joins DA expressly to post long unswerving nonsensical comments to this deviation. I apologize for the huge amount of comments I had to hide.