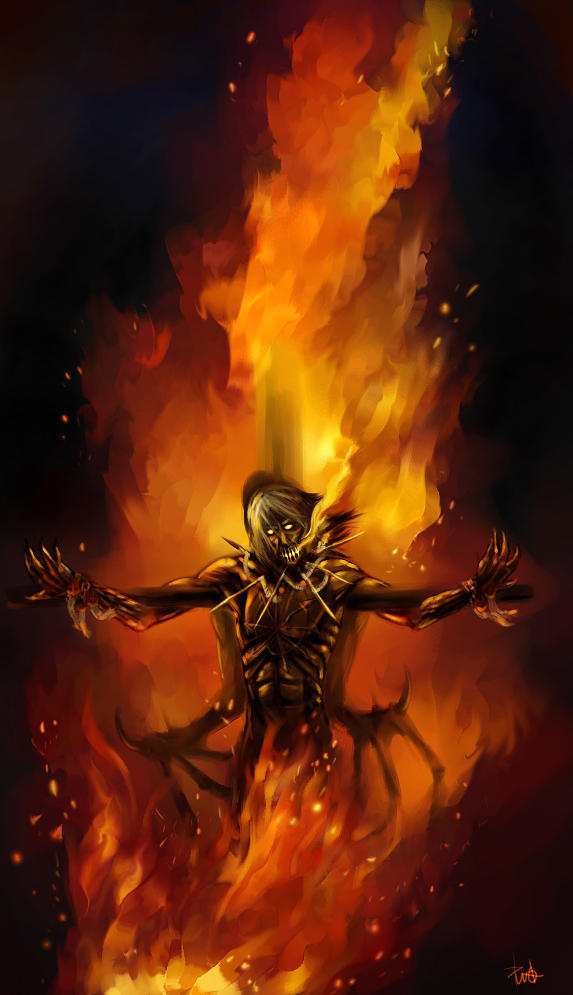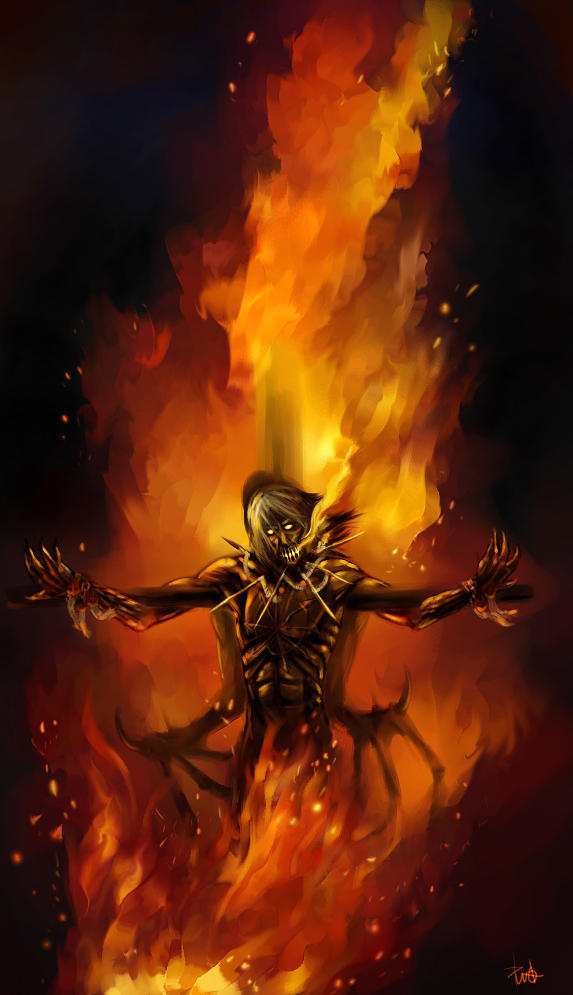 "And he said: "Which is borned of fire, burns... and cannot be burned"/ So they kneeled down and asked: "Oh wise men, how can we extenguish what we created with our foolishness? The wise men fell silent, for they knew one answer: the flame of hate burns deep within one's heart, noble or corrupted"

Basically it's about what happens when you try to burn down a chaos zealot.
I've done this in gaps between doing more "serious" work, but it still was a nice study on lighting 0 though now i know that I suck at drawing fire and something strange happened to the dude's anatomy.
On the other hand, there's some plot behind the pic, which is rare for my work, and it kinda... reflects my mood.

Oh yeah, the inspirrring soundtrack:
Dimmu Borgir - "The Forshadowing Furnace" (yeah, i DO enjoy listening some pop-BM%))

It is very pizdato )))
Почему-то из всех новых картинок эта больше всего понравилась, даже не знаю чем. Хотя сначала удивило то, как у него руки выгнуты, они у него вроде сломаны должны быть )
Reply

well, I've just slapped on some colors and then used a distortion brush - not what I call real handwork))
Reply

Excellent work. Looks really impervious.
Reply

smashing work! I love it

Reply

absolutely amazing. I love his pose and the fire effect.

Hopefully you wont get me irritated asking...have you seen the recent game Jericho? I think you'd totally dig it.
Reply

Thanks, I had to make the fire with non-painting techniques, but it still... not quite realistic((

Clive Barker's? I've read about it, but there's two things - I won't be able to play until i upgrade (I'm still hypnotizing Bioshock in the store each time I pass by), plus, I'm a bit confused about the fact it's tactical, like ghost recon and shit... Though yeah, from the screenshots I've seen the design is outstanding. But then again, it's Barker%)))
Reply

The thing is, it wont strike you as something produced by clive barker. Also dont worry about the whole tactical theres only two positions you can command your team to do. Its more to do with unloading a fuck load of bullets into the enemy.

Also Bioshock is totally worth it.
Reply

Really? That's cool, 'cause tactical shooters always scared the shit outta me.
One thing, it has GORE and BLOOD. Eh... for the blood good. Well, from what I've seen. That matters, modern games are like bloodless/ No fun(

duh, I'm waiting for mah salary to buy a new videocard (still that's hopeless struggle against Crysis%))) and then, Bioshock.
Reply

I find it retarded when a FPS or TPS doesnt contain blood. I can understand it for other genres but the whole point of a shooter is the satisfaction you get from blowing someones brains out.
Reply

cool, i like to imagine this is the Emperor himself. Muahahahahaahahah!
Reply