Hi guys! This was supposed to be a Christmas adopt but I have been too busy to complete the design, so it has became a White Valentines day adopt LOL On a side note, Capella is one of the brightest stars in the sky so I find it quite fitting!
Willarc prototype
(Their species info page is still under construction, but you can view their lore here)
Alt preview for a clearer view of the design: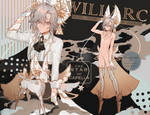 [Auction Policies]

Due to chargeback issues, I only accept buyers with an active dA or TH profile(posting/commenting) for at least 6 months. I will be extra weary with empty profiles.

I reserve the right to reject your bid for whatever reasons.

If you're bidding on behalf of another user, please specify.
Payment via Paypal, in usd only.
Please bid responsibly. Do not edit, retract, hide your bid comments. Irresponsible bidding behavior may result in a block.
Only bid if you have the money on hand. Full or downpayment(please see below for payment plan) needs to be sent within 24 hours after confirmation. No holds allowed.

The adoptable will be open for auction/purchase again if I don't receive the payment in time.

By obtaining an adoptable from me, you are agreeing to the following TOS
Krawark's Adoptable Policy.

Violation of any of these rules may subject to blacklisting.
AUCTION DETAILS
END TIME: March 2nd 6pm Pacific Time
snipe guard: 30mins after last bid
Auction will be extended for 30mins, for each new bid placed after 5:50pm.
SB:$100
Min Bid Increment:$5
AB: n/a
Bid comment :
www.deviantart.com/comments/1/…
A 1-2 month payment plan can be arranged for bids over $350 (a non-refundable down payment required), however, please read the Payment plan TOS and let me know about your plan before placing a bid.
You'll receive a non-transparent png of both the clothed and unclothed version upon payment. A bonus waist up painting will be included if the bids go above $900. But please bare in mind that I work slow!

---
Aracalie and Willarc are closed species. Please do not create your own.

Do not use, copy, trace, heavily referenced, repost any of my artwork or designs.
Image details
Image size
1065x820px 733.64 KB