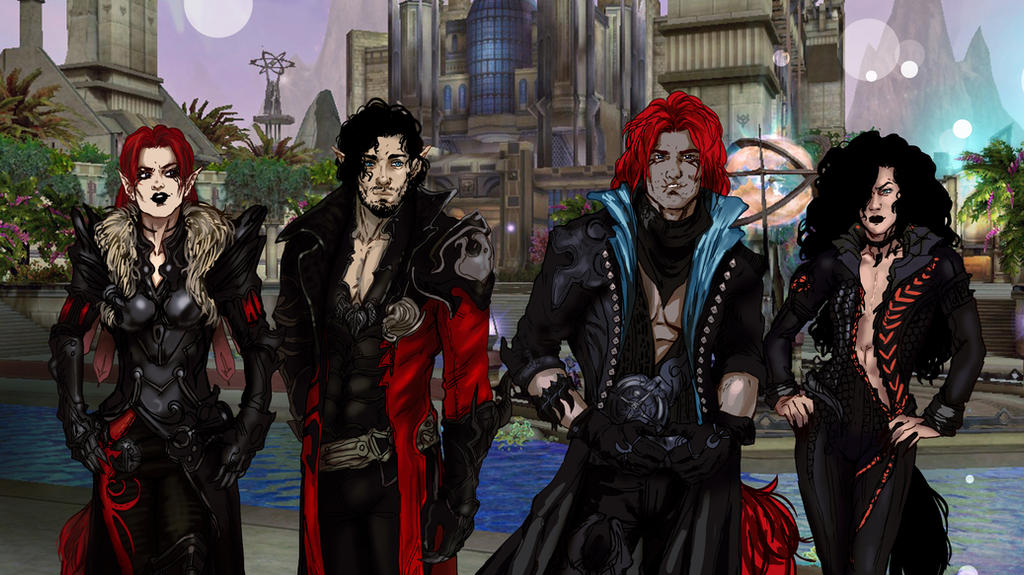 Sur une note plus légère, le premier chapitre du jeu est sorti : Guild of Twins - New Recrue, Chapter One - Morheim

Pour ceux qui ont déjà joué à l'intro, vous pouvez la passer en utilisant "SKIP". Le premier chapitre est un peu lent à charger après l'intro, ça reste sur un écran noir quelques secondes, faut juste recliquer sur la flèche en bas à droite (ou attendre que ça charge)!
Hésitez pas à me faire part de vos avis (bons ou mauvais, c'est pour la déconne de base mais j'aimerais quand même vous proposer un truc de qualité), de vos choix préférés, ou encore de votre perso préféré..

C'est un visual novel qui prend place dans l'univers d'Aion, du côté Asmodien, votre personnage essaye de rentrer dans une guilde qui manque cruellement de healer.
Le boss final existe dans le jeu ce n'est pas un OC, mais j'ai pris certaines libertés quant à ses expressions, en particulier le "happy" et "angry"...
Les autres appartiennent à

Kylie-no-Hime

pour les bruns, et à moi-même pour les rouquins.
Guild of Twins - New Recrue, Chapter One - Morheim is out!!
You can play it by following the link. After the short introduction the chapter can take a moment to load (there's a black screen and you have to click a few times on the arrow on the right side of the screen)
If you already played the introduction you can use the "SKIP" button to go right to the Chapter one.
It's a fantasy visual novel taking place in the Aion world, with Asmodians characters (original charas belong to Kylie-no-Hime and myself).
It's KIND OF a otome since you can flirt with the NPCs but it's not a romance game.
It's really just for fun, but I hope you'll enjoy playing it.
What's your favorite scene or choice and who's your favorite characters of the quartet?