!!!!This community deserves to know what happened!!!!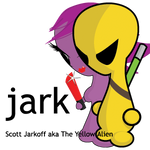 August 7th 2005 will be a yellow day for uploads on deviantART!! I say anything you upload has to do with the color YELLOW in suppprt of Jark!
The Day: August 7, 2005
The Idea: Every deviation has something to do with the color Yellow.
The Reason: To show our support for Jark!
Jark has been removed as DA Staff for reasons not known to the community. Jark is one of the co-founders of deviantART and needless to say is not a happy camper right now. There have been suggestions of no uploads that day, I say we go one step past doing nothing, we upload images, poems, anime, everything to do with the color yellow, if you know anything about Jark you know why.

Everything must have a yellow preview, image, theme......So what do you think??
Yellow day forum -
forum.deviantart.com/devart/ge…
Edit
Do not get me wrong, I support doing anything, even the silent day that some of you are joining. Just do something get involved, when DA started it was so much more about community and artwork than it seems to be now. Seeing everyone doing something, anything is the idea.
Edit agian:
After you upload your Yellow themed deviations, start commenting on deviations, older ones, browse around, visit the forums....Keep your yellow deviations up in your galleries. We can join the silent protest after we show Jark our support, do this for as many days as you can!!

:thumb21181014:

Above you will see a wonderful Yellow Day stamp, thanks to

for creating it for us to use.